Water touching rooftops, books reeking of mold, barges and the USS Batfish broken from their moorings — these are some of the memories of floods that covered the area one year ago.
A week of relentless rain caused the Arkansas, Grand and Verdigris rivers to swell around Memorial Day 2019. Miles of roads and countless buildings were submerged for weeks. Then came the arduous clean-up.
One year later, some have recovered. Others still have work to do.
District 1 Muskogee County Commissioner Ken Doke recalled being surprised when U.S. 62 went underwater.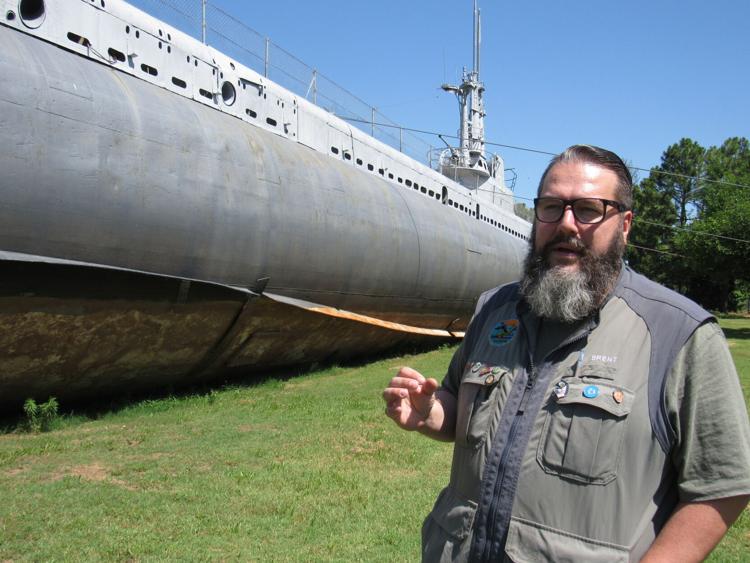 "When we came in and started doing mud-outs, people in house after house after house literally piled up all their belongings, and just mountains of debris," he said. "The community responded exponentially greater than how government responded."
Doke said the state secured $36 million for federal Community Development Block Grants to help repair infrastructure and homes. Of that, $30 million goes for Tulsa, Muskogee and Sequoyah counties.
Area agencies also are working to keep future floods from causing such extensive damage. Doke said the county and Muskogee City-County Port Authority are seeking a grant to fund a levee around the Port of Muskogee and the City of Muskogee water treatment plant.
"One of the lessons we learned is that we need to take mitigation efforts to make sure those types of assets are protected," Doke said. "You'll never completely be out of harm's way. The thing is, you can mitigate known areas of concern."
Damage in the millions at Port
Port of Muskogee Director Scott Robinson said the flood caused more than $150 million in damage — not just in buildings, machinery and equipment, but also loss of production, layoffs, and alternate forms of transportation. Robinson said shippers changed from barges to trucks.
"The additional cost of transportation was a significant cost to industries," he said. "When barges don't move, barge lines charge a fee. In Oklahoma, that alone could have amounted to $20 million."
The River Center at Three Forks Harbor, was under 22 inches of water. Port officials expect to move back into the River Center this week, Robinson said.
"We still have a lot of repairs at Three Forks Harbor," he said. "We had damage to roads, sidewalks, embankments, sheet piling."
Webbers Falls School recovers with help
Webbers Falls Elementary Principal Lisa Ward remembers how dark the whole school was after the flood.
"Dark hot, stinky, slime on the floors. You couldn't walk without slipping. The stench was incredible," Ward said. "Going into my office, I was actually scared to go in there. We were worried about the possibility of snakes."
Everything in the library was gone, she recalled. "The shelving, standing in the water, began to float and tip over and all the books fell out."
Ward also remembers "all the volunteers who showed up to help."
"We just had people out there and three or four dumpsters lined up," she said. "It was almost like an assembly line. It was people going in and out like a cycle throwing the furniture, chairs, books into the dumpsters."
Volunteer labor, plus donations from all over, helped Webbers Falls School start the new year — nearly a month late.
Muskogee Public Schools donated computer tables, file cabinets, and bookshelves from the former Alice Robertson Junior High. Area schools donated thousands of library books, Ward said.
"Plus I got a $20,000 library grant from Dollar General," she said.
Most recently, the school library received new bookshelves, chairs and tables from the Nix Foundation, she said.
Family loses two homes
Hilldale Assistant Superintendent Chad Kirkhart, who lived by the Verdigris River on Oklahoma 16, recalled getting a call at work saying the flood was going to get "pretty bad that day."
"I went home and, basically our church really helped a bunch, and a lot of people from school, coaches," he said. "We were able to evacuate both houses in about five hours. We couldn't have done anything close to that without all those people."
The family, who owned two houses on the property, managed to remove all their furniture and possessions before the water hit, he said.
Kirkhart said the powerful current ripped all the Sheetrock "and completely stripped the inside of the house, all the windows and doors out."
Water rose to their second floor roof, he said. "We're definitely not going to rebuild. We're just going to hold on to it for now."
He said his family now has a new house closer to the school and farther from the river.
USS Batfish not stable yet
One year after flood waters nearly carried it away, the USS Batfish is back on land. But it's still not safe enough for inside visitors, said Brent Trout, director of Muskogee War Memorial Park.
"We've been doing interior work to it, pumping water out," Trout said. "We are in the final stages of our FEMA grant, which will allow us to have the money to repair it."
Trout said they have been paying engineers to come up with a plan to stabilize the submarine. The uprooting caused more of the Batfish to be seen, including the rudder.
Trout said earth is eroding under part of the submarine.
"This soil is not preloaded or erosion matted," he said. "If we don't get the funding soon, we're going to have a whole other issue and spend money to stabilize it."