Thanksgiving Day, Greg Curl, his wife Adrienne and daughters Nya and Iyanna will likely share a meal like other families and give thanks for blessings.
They'll share the day, somewhat, with their son and brother, Kamren, but not at the table, wherever that may be in the area around Arlington, Texas.
COVID-19 has chased this family just like any other, impeded it, but not caught it and certainly not conquered it.
Kamren will be working that day, and that alone is a benchmark of blessing for them.
They'll watch Kamren in person for the first time since he joined the NFL's Washington Football Team, which until this year carried the nickname Redskins. 
Kamren, a member of Muskogee High's most successful team of the last decade when it reached the Class 6AII semifinals in 2016, was picked in the seventh round of the April NFL draft. His journey to get there started when he told his dad around the age of 6 he wanted to play in the NFL.
According to a study conducted by the NCAA in 2013, eight of every 10,000 kids who reach their senior year on a high school football team hear their name in the NFL draft. Kamren was the 216th selection of 255.
Along the way, Greg promised Kamren that if he committed to the work, dad would climb that mountain with him, even if he himself suffered from congestive heart failure.
But it wasn't long before Greg saw real evidence his son had a chance, just after the family had moved from San Diego to Muskogee.
"When it gets to the point that you don't have to tell him what needs to be done," Greg said. "When he took it upon himself to do more and work more, it showed me he's on track and he's going to do this. It has everything to do with preparation. About the eighth or ninth grade he'd get up on Saturdays and go call some of his friends to go work out, and if they didn't show up, he'd do it by himself."
By Kamren's junior year, they hit the road on weekends, doing some groundwork for a foundation aimed at a Division I college scholarship, They went to five colleges — Tulsa, Oklahoma State, Southern Methodist University, Texas Christian University and Arkansas — just to meet a member of a staff to network.
No offers received, just laying a foundation.
"I learned almost every coach in college football is on Twitter and the thing was if I could just get somebody, anybody there to look at his tape, you can go to any college website and you can see who the recruiting coordinators are," Greg said. "I'd send tape to them and hope they could pass it on to the coaches. If they had previously seen him, they might say 'hey, I remember that kid.'"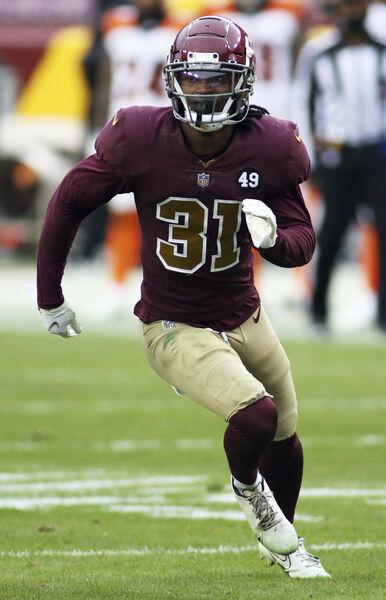 To this day, Greg looks back at the value of personal initiative.
"To any dad out there, I'd say the best thing you can do for a kid with dreams like this is to be proactive. Don't sit back and expect someone to do it for you," he said. "A coach will help a kid to get noticed but that's not (primarily) what he's paid for. Be proactive yourself. Learn the process."
The offers began flowing — 24 in all. In the end, Kamren chose Arkansas from a final group that included TCU, Oklahoma, Ole Miss and Baylor.
***
Three seasons at Arkansas made him one of the Razorbacks' bright spots in a period that saw two of the worst win-loss records in school history. It came over a frame of time that saw three coaches in as many seasons, one as an interim, and a fourth coming for a senior season he chose to forgo and take his shot at the big show.
From there, he cleared the first hurdle by becoming one of the underclassmen invited to the NFL combine in Indianapolis. There, he tied for the best bench press mark of any defensive back with 24 reps of 225 pounds. His 4.6-second 40-yard dash time drew some question marks.
Team visits and tryouts were hampered by the COVID-19 restrictions. That's not a problem for players projected to go high in the draft. Kamren generally was anywhere from fifth to off the board.
A happenstance visit with the special teams coach at Washington during the combine left an impression, and in the end, was the spot he wound up at, the last day, the last round. His mom recalls a trying Saturday as the family gathered with Kamren in Fayetteville, Arkansas, to watch and wait.
"Every time the phone went off, everyone got quiet, and he wasn't getting the call he wanted," recalled Adrienne Curl. "So I remember sitting back there praying 'God, I need the phone to ring,' and I changed my prayer to 'God, I need to have a call and a contract."
Kamren got that call moments later, just as he stepped outside the Air BNB the family was staying. A hug with his older sister and his eyes catching mom led to a family group hug with few words in a moment that really didn't need any.
***
Kamren went off to training camp about the time Greg had his own battle.
"I was doing errands and suddenly I started sweating profusely and couldn't breathe at all," he said.
He spent 13 days at Saint Francis Hospital in Tulsa with blockages that had his heart operating at 15 percent. They got it up to 20 before Greg's cardiologist recommended him to Baylor Hospital in Dallas for further work.
On Sept. 14, just after the weekend of Kamren's NFL opener, Greg underwent a quadruple bypass in Dallas.
Adrienne confronted the thoughts of her husband not seeing the top of that mountain.
"Before the surgery you have those thoughts of what if he doesn't make it, but the day of the surgery I put that aside," she said. "I didn't want him to see that in my words or actions because those carry so much power.
"To me, it didn't make sense that the day after his first game that this would be it. All we had been through not just with health or goals but just as a family unit, I just didn't see the God we serve would do that, and that was the thought that got me through."
Today, Greg feels as good as he's felt "in a long time." But because of COVID-19 and restrictions on fan attendance at most NFL outposts, getting to a game was going to take some doing.
Ironically, the best option was Thursday, a 4 1/2 hour drive south, where the Cowboys, with a peak capacity of over 100,000 allowing 25 percent of that to be filled per game.
They'll see Kamren start at safety. In a familiar path, he wound up the starter due to another's injury, the same way he wound up a starter in only his second game at Arkansas.
But those COVID restrictions will keep them from getting any closer than perhaps the rail separating the stands from the field at AT&T Stadium.
They've been through worse.
"I'm used to getting out there early, hugging and kissing him, talking to him a little bit. It's a routine I've had from little league to college," Adrienne said.
"I won't say it's frustrating. Because when I see him out there, at the level he had dreamed to be at all these years …"
Her voice begins to break, flowing with the thoughts dating back to where she'd hold on to him and make him drive her into the end zone so when he got up against the other boys, he'd be ready.
"We don't have a handbook for this thing and you do the best you can with what you have at the time, but after raising kids for 20 years, I think I can say 'good job Mom.' That's how I'm going to feel, like you did a damn good job, honestly."
***
There's a bit of a humorous fate in this for Greg.
He's been an avid Cowboys hater for a while, so Kamren landing with the team considered Dallas' most historic arch-rival will make him a loved man in his first trip in Washington.
That will have to come later. First things first.
"Going down there and getting the win in Dallas is the cake," he said. "Kamren sacking the quarterback or getting an interception is the icing."
As Muskogee has a significant Cowboys following, most would rather have a Dallas win and a few interceptions or sacks by their native son.
Either way, the Curls' plates are pretty full, at the top of that mountain. 
How to watch
Kamren Curl plays for the NFL's Washington football team, which until this year carried the nickname Redskins. Washington is at Dallas to take on the Cowboys on Thursday afternoon (TV: 3:30 p.m. Fox 23).