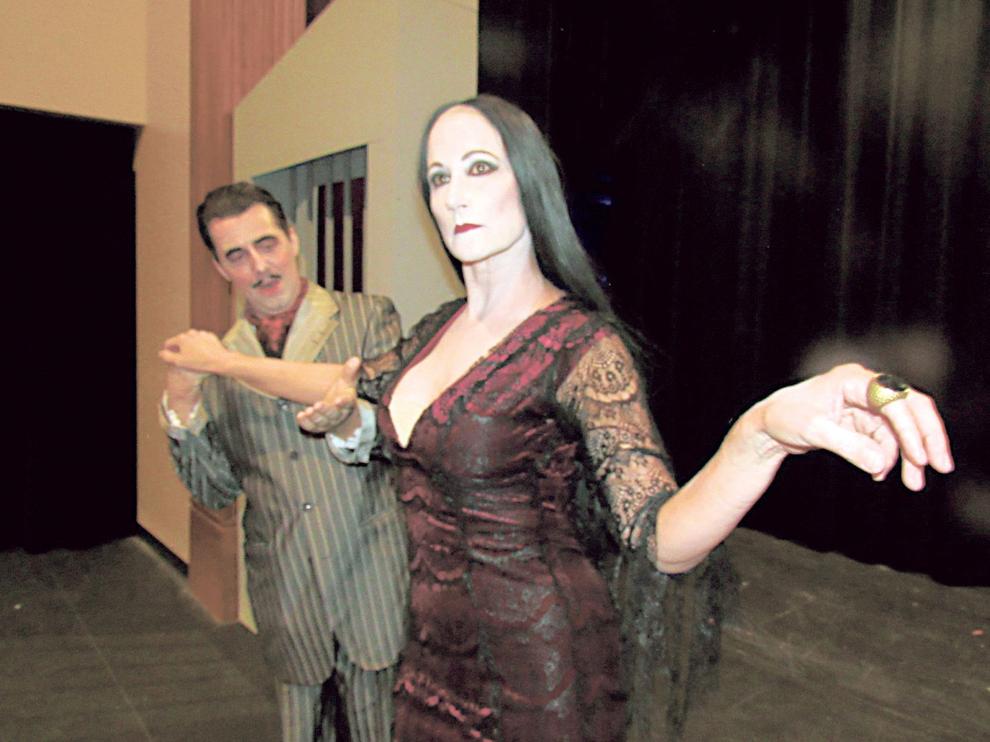 Lurch, Uncle Fester, Morticia and other members of the Addams Family bring their creepiness and kookiness to Muskogee this weekend and next.
Muskogee Little Theatre will present a musical version of "The Addams Family" at 8 p.m. Friday, Saturday and Aug. 10 and 11; 2 p.m. Sunday; and 7:30 p.m. Thursday.   
"The Addams Family" has gone through several incarnations since it appeared as a "New Yorker" cartoon in 1938. The family morphed into a TV comedy from 1964 to 1966. The family hit the movie screens in the 1990s and the Broadway stage in 2009.
MLT production director Doobie Potter said she remembers well the television version.
"After we got our TV, as a child, I watched the original TV series in black and white," Potter said.
The musical brings back the family, including the imposing butler Lurch, the amorous patriarch Gomez and the ghoulishly glamorous Morticia.
Potter said the musical focuses on the Addams' dealing with their teenage and young adult children.
She said the plot deals with Wednesday finding a love interest in "the real world."
"She's out bow hunting one day and she meets this guy named Lucas Beineke," Potter said. "The whole plot is based on her (Wednesday) trying to get the courage to break the news to them that not only is she engaged, but the family is from Ohio, and they're coming to dinner. She's trying to get her family to act normal."
Potter said the audience gets to see what each Addams thinks is "normal."
"Which, of course, is not the Beinekes' version," Potter said.
The Addams are backed by ghostly "ancestors," including Cleopatra and Marie Antoinette, who help the family in magical ways.
Potter said she's excited about the production because there are a lot of newcomers she has not worked with.
"I think we're going to have the best Lurch," she said. "I don't think anyone can have a better Lurch than us. And this is his first play."
Potter said Larry Jordon, who plays Lurch, is tall, has a brooding, deep voice and "looks different."
Jordon said he agreed to play Lurch as a favor to a friend. He said apparently, MLT was having trouble finding the right fit for the role.
"I thought it was the most insane thing anyone's ever asked," Jordon said. "And that's when I said yes."
Jordon said he guesses he was cast because of his height and deep voice. 
"I never in my life acted, and I'm having the best time in my life," he said. "I can't wait for this to open this weekend and I can't wait to do this again someday. It's just been fantastic."
He said his main challenge has been understanding the theatric jargon.
"Stage terms like spiking and marking, and when our choreographer uses dance terms, the word like plie'," he said.
Otherwise, Jordon's lines have been easy to learn. Lurch doesn't talk in the play.
"He has a lot of grunting and groaning," Jordon said. "There's a couple of pretty good physical interactions he has. But I think I have it down pretty good now."