Muskogee Parks and Recreation seeks public help in keeping its trails clean.
The city is reviving its Adopt a Trail program to help keep Centennial Trail and other trails litter-free.
Muskogee Parks and Recreation Director Mark Wilkerson said the city had an Adopt a Trail program several years ago, but it fell apart. He said Recreation Assistant Director Brooke Hall is working on a Facebook group page for people who want to help.
Muskogee Parks & Recreation posted about the revived program Monday on Facebook.
"Keeping our Parks and Trails clean is one of our biggest challenges," the post said. "If you would like to help, we would love your help! The "Adopt a Trail" information packet is on the P&R Trails webpage. We currently have Centennial Trail divided into 10 sections, 3 are adopted. Please let me know if you are interested, contact Brooke Hall at bhall@muskogeeparks.org."
Bicyclist John R. Selby said he often sees litter all along the trails.
On Sunday, he posted on Facebook about prescription bottles he said he found along Centennial Trail north of Broadway. His post, which had three photos, said trash is "strewn up and down the trail."
Selby said benches along that section of the trail have "so much trash piled up around them."
"And it's never addressed, never picked up," Selby said. "There's always trash. You'll be down on that part of the trail where there's no homes, no access by cars and there's a big pile of trash scattered all over the trail."
He said the trash along the trail does not get addressed "until someone calls it out." 
Centennial Trail runs 7 miles from Depot Green and the Oklahoma Music Hall of Fame, around Hatbox Sports Complex then stops at Main Street south of Douglas Street.
Selby said the city does not adequately maintain the trail.
He said members of a Muskogee cycling group clean the trail every spring.
"Last year, we did that and the city's like,'if you pile trash up by the side of the road, we'll pick it up,'" he said. "Last year that trash sat there for three weeks."
Selby said he has seen "literally dump trucks full of trash."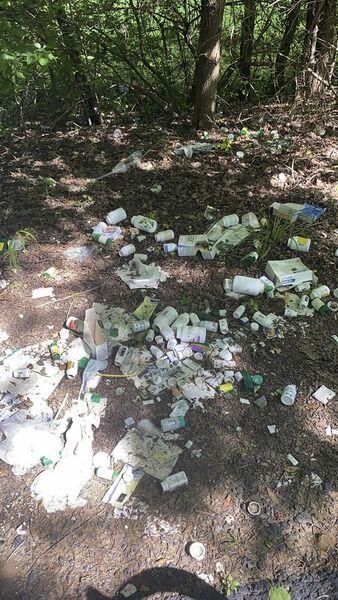 Wilkerson said the trash at Broadway and the trail was brought to the city's attention late last week.
"We made a request of the community service people to pick that up, and they still have it on their schedule, but they couldn't get to it that weekend," Wilkerson said. "In that area, there are some homeless folks that migrate through there. It looks like somebody's been going through some dumpsters over there. It was pointed out that there were Economy Pharmacy name on some of that stuff. Somebody's probably gone through there, pulled out a sack of trash and dumped it or went through it."
Wilkerson said he has an ongoing problem with litter. 
"People that use the trail don't carry trash with them," Wilkerson said. "It's not the trail users that are dumping the trash. It's unbelievable to me. It's not just trails. People are just disrespectful. Throw trash out of their car. Streets are littered."
Also, the north side of Centennial Trail goes through a lot of vacant property and intersecting roads, so there is a lot of illegal dumping.
"It's something the city has battled for years and it doesn't seem to let up," he said. "Sometimes it's illegal dumping that's not on the trail, but close enough to the trail.... Mattresses. I heard there was a washing machine out there, and a tire. People report them to us."
The city also has a Citizen Action Center on its website. 
City of Muskogee spokeswoman Tera Shows said littering, illegal dumping and rummaging through trash receptacles is against the law. Fines are $160 for littering and $260 for rummaging through trash receptacles or illegal dumping.
Wilkerson said the city will try to do a better job on keeping the trail clean.
"Try to get out there more often and inspect," he said. "It's not easy to do because it's not like a park where you can go up there and take a look at something. On a trail, you have to walk."
Several people who read Selby's post offered to clear the prescription bottles from the trail. According to one reply, someone had picked up the bottles by Monday afternoon.
Wilkerson praised such efforts.
"I think that's great when people step up and try to help," Wilkerson said. "But most of the time, they just have to notify us, and we'll either ask for volunteer help or our employees themselves will go out."