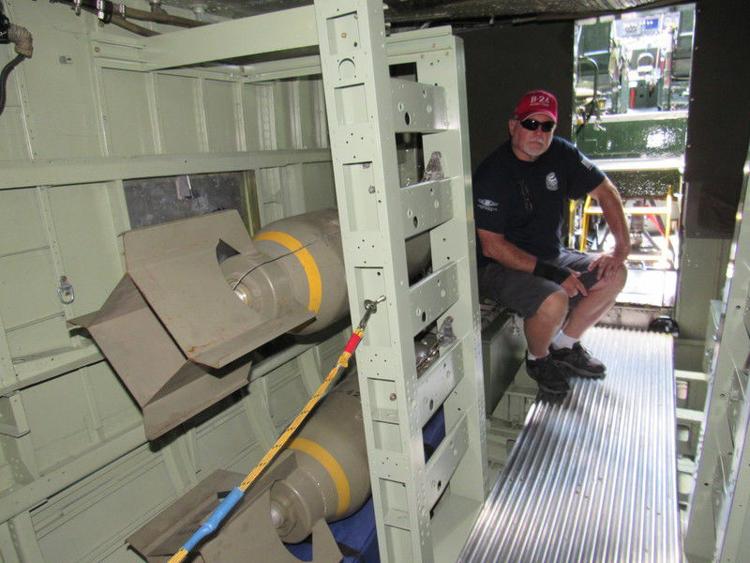 Flight Engineer Mike Laney must duck as he walks through the World War II B-24 Liberator bomber "Diamond Lil."
"It has such low clearance going all the way through the bomb bay area. There are places for you to really smack your head," Laney said, adding that during the war, "this space was full of bombs. " 
Visitors can tour the restored bomber and other warbirds Wednesday through Sunday during the Commemorative Air Force AirPower Tour at Muskogee-Davis Regional Airport.
Other aircraft are:
• AD-5 Skyraider, a jet aircraft used in rescuing downed pilots, as well as ground attack, during the Korean and Vietnam Wars.
• Huey, an eight-seat helicopter used for troop transport, medical evacuation and armed assaults through the Vietnam War. 
• C-45 Expeditor, used as a multiple-engine trainer, light cargo transport and general transport during World War II.
Visitors can take flights on the B-24 Saturday and Sunday morning. Flights on the other aircraft are available each day.
Diamond Lil is one of only two airworthy B-24 bombers in existence, according to a media release. The Liberator bombers began active use in 1941. 
Flight Engineer Tom Ferraro said nearly 18,500 B-24 bombers were built.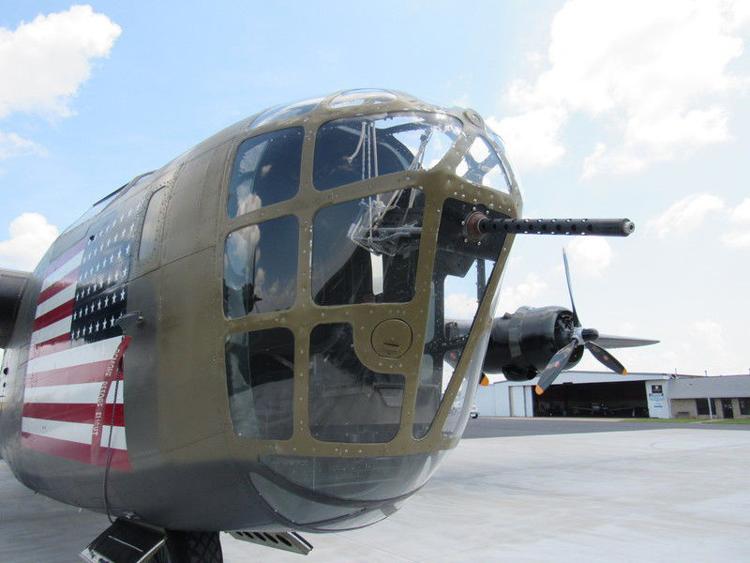 "I think that's the most bombers that have ever been built of any model in history," he said. "They were in every theater in the war, largely in Europe. They were used for multiple different things. Some had gunners on the top, some had gunners on the side. They hauled more bombs and flew faster than the other bombers."
Laney said planes had different gun configurations.
"Some of them had ball turrets, some of them had what they call tunnel gunners," he said. "There was originally a left and a right side gunner."
The bomber also had space, surrounded with windows, for a front gunner.
Replicas of the 250-pound bombs line the walkway. Laney said the B-24 was capable of carrying 8,000 pounds of bombs. 
The old bomber can get loud and shaky in flight, Laney said.
"It gives you a feel of what our folks had to go through during the war," he said. "The conditions they were in."
It also can get hot, he said. 
"When we fly we open up pretty much everything we can," Laney said. "We have a few ports on each side we keep open so we can keep air flow."
He said the CAF B-24 crew uses mostly the same instrument panel pilots used during the war.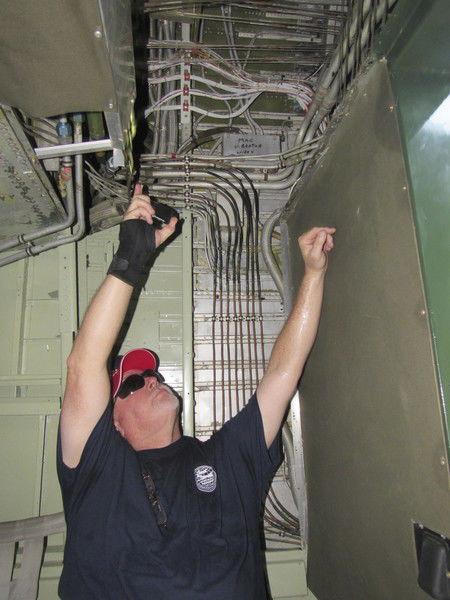 "The radios have been updated. The navigation (system) is not period. The transponders wouldn't be period," Laney said. "That basically sends out a signal to controlled air space to let the Federal Aviation Administration know where you are."
The Commemorative Air Force has a fleet of more than 170 World War II airplanes assigned to different units across the United States.
Ferraro said the CAF crew is honored to bring the aircraft around to honor people in the service.
"It's a real humbling experience when you get in there, and you look back in the aircraft and you imagine guns hanging out of the outside and you're trying to make a bombing run," Ferraro said. "That's what our servicemen had to go through."