On Friday afternoon, the District 27 district attorney recognized a team for their work in the Denney homicide investigation, and presented a retired investigator with a Lifetime of Service Award.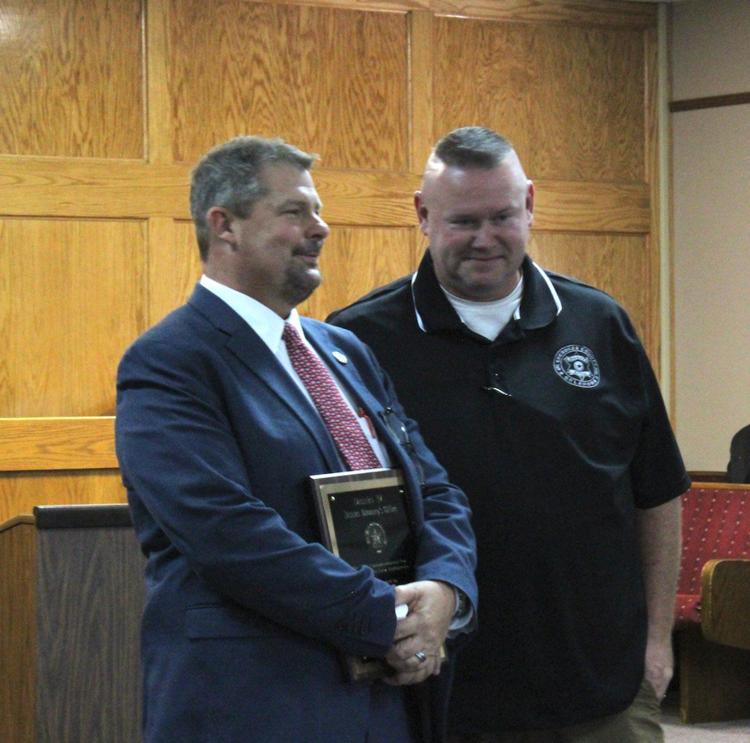 The courtroom in the District Cherokee Courthouse was filled with law enforcement agents, attorneys, judges, family, and friends, as District Attorney Jack Thorp presented awards to Cherokee County Undersheriff Jason Chennault, Oklahoma State Bureau of Investigation Special Agent Dale Fine, and retired OSBI Special Agent and DA Investigator Vicky Lyons for their efforts in the case of a couple who were murdered in 2007.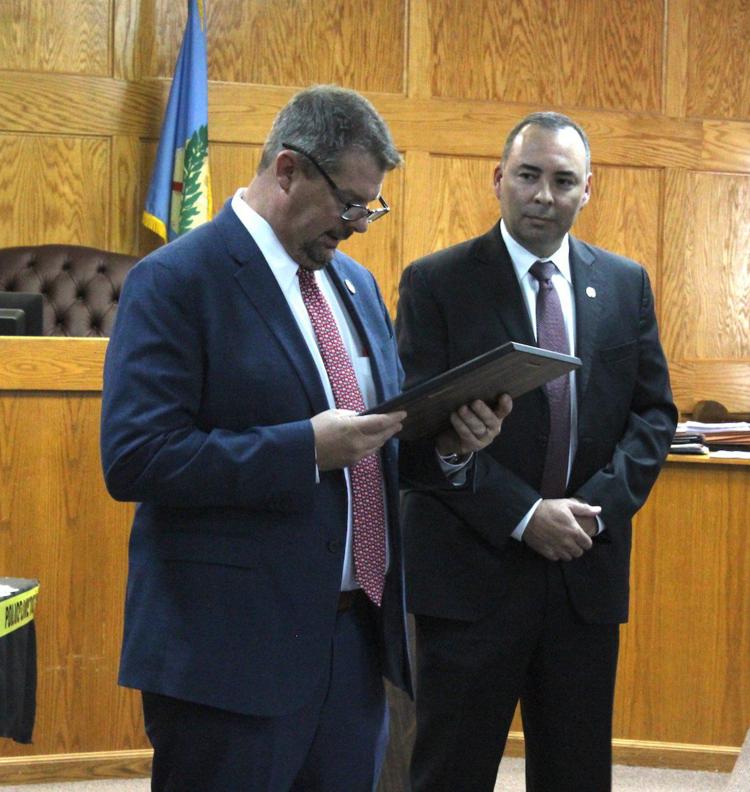 Thorp said he began working the homicide case shorty after he became a prosecutor in District 27.
"As I encountered the case, it was in a box, and I had a passion to solve this," said Thorp. "It was one of the biggest mysteries of Cherokee County."
Thorp said he was blessed in the capacity to have Chennault, Lyons, and Fine. He said the three of them played a vital part in the investigation, the indictment, and the conviction for the murder of Jack and Elaine Denney.
"That case would have never been solved and it would have probably still been on TV shows, and these individuals worked together as a team - fussing with me and fussing with each other - that ultimately brought that case home," said Thorp.
In March 2018, Thorp and his team determined Justin Walker, 33, of Tahlequah, entered the Denney's Locust Grove home and shot each of them multiple times in the torsos and heads.
Already in prison for unrelated crimes, Walker pleaded guilty to second-degree murder and will serve 40 years upon completion of his 10-year federal sentence.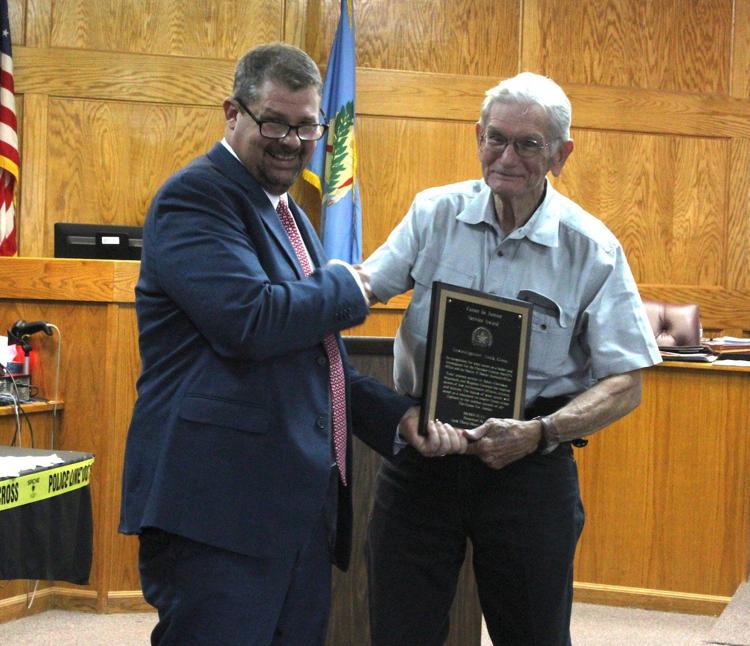 A surprise part in the recognition of the team was the recognition of a man who dedicated hours of investigation on cases, even while retired.
When Thorp stepped into his role as first assistant district attorney in 2011, he said he quickly began to learn about unsolved homicides in District 27.
"With the beginning of the grand jury investigation, with the disappearance of Steven Adams, it quickly became a passion for Brian Kuester and myself where I spent a significant amount of my time working the cases from the past," said Thorp.
He said one of the men he met while he worked on past cases was Investigator Jack Goss. The retiree worked in law enforcement from 1975 to 2003, working for five sheriffs and three district attorneys. He was an investigator with the Cherokee County Sheriff's Office for 10 years before becoming the chief investigator for District 27.
Goss is most noted for solving Cherokee County's Daisy Doe case nearly 30 years after Jeanette Coleman's lifeless body was found floating below the Fort Gibson Lake dam. Twelve years after his retirement, Goss continued to investigate the Daisy Doe homicide and, in 2017, he accompanied arresting officers as they took James Vogel - one of Goss's prime suspects - into custody.
Goss's law enforcement career has been featured in several media outlets, which include: "Investigators," The National Enquirer, "America's Most Wanted," and "Unsolved Mysteries."
Thorp presented Goss with a Lifetime of Service Award for his lifetime achievement in law enforcement. U.S. Attorney Rob Raley and former District Attorneys Greg Combs, Diana Barker Harold, and Jerry Moore shared their personal and professional encounters with the crowd about Goss's commitment to every case, and even his passion as a pilot.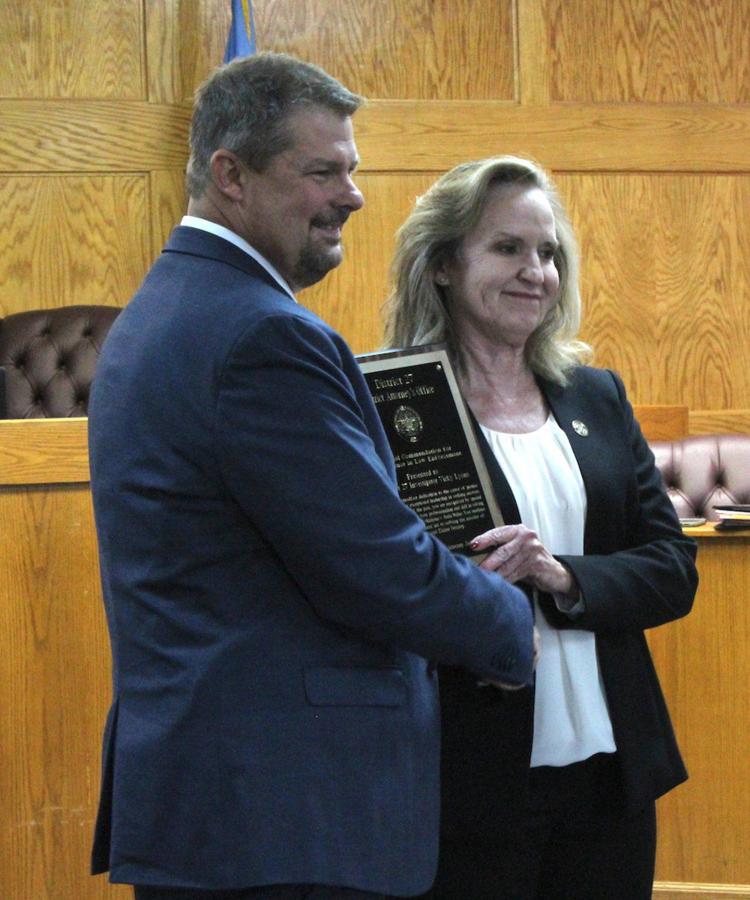 Thorp called Goss a true law enforcement legend as he called him up to give him his award.
"This is the career and justice service award for Investigator Jack Goss; the recognition for your career as a leader and investigator for Cherokee County Sheriff's Office and the District 27 district attorney's office," said Thorp. "Your zealous service in Adair, Cherokee, Sequoyah, and Wagoner Counties has inspired scores of law enforcement officers, citizens, and victims. The legacy of your career will stand as a testament to inspire future crime fighters in the noblest pursuit of all: the cause for justice."