Diners sit one, maybe two, at each round table during the Ark of Faith's lunch and breakfast.
No more than nine are allowed to eat inside the building out of concern for spreading COVID-19, said Ark founder and director, Sally Weiesnbach.
The Ark, a Christian charity at 401 E. Broadway, has offered free breakfasts and lunches for homeless people on Tuesdays, Wednesdays and Thursdays. 
Weiesnbach said the Ark continues to serve the meals, but has been restricting the meals to nine at a time since late February.
A joint resolution by Muskogee County and the City of Muskogee due to COVID-19 concerns, implements social distancing and preventing gatherings of more than 10 people. It also says that "essential businesses" must provide reasonable disinfecting methods, such as availability of hand sanitizer or soap and water, and provide clear signage to alert people of COVID-19 mitigation strategies.
Muskogee City Attorney Roy Tucker said homeless shelters and agencies that feed the homeless are essential businesses.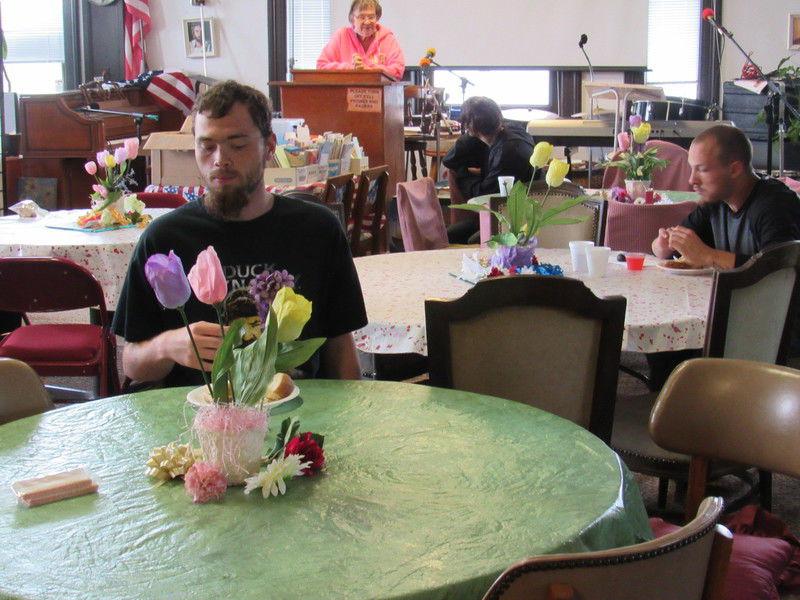 "It makes a lot of sense that they are doing it now," Tucker said, referring to the Ark's restrictions. "The best practice would be to take it and leave, but I understand places where you've got someone who's homeless, you've got nowhere to go. We certainly understand that. Homeless shelters and pantries that feed the homeless are certainly essential businesses."
He said the Ark's set-up is fine, "as long as they maintain the social distancing requirement, as long as they have signage."
Weiesnbach said the Ark begins serving up to nine people at 10 a.m.
"Then we have that nine leave and we can have nine more in," she said. "We start breakfast and we go to 11:30."
Lunch runs from noon to 1:30 p.m., she said. "If someone comes in at 1:30, we don't make them leave immediately, we let them finish their lunch. So, we're feeding them."
Weiesnbach said she sits by the entrance to limit how many people come in and to make sure whoever comes in washes their hands. She also has them sign their names.
"I have them wash their hands with soap and water the minute they come in the building," she said. "Then, they can go out and get their breakfast." 
After getting their meals from the counter, diners sit at six-foot-round tables.
"You can sit one on each side," she said. "And if you don't pull your chair over to where you are touching, you can sit three at each table."
When diners are finished, they wipe the table and chairs with spray disinfectant, or a tub of bleach water, Weiesnbach said.
"We have them wash the top of their table, so the next one can come in," she said.
She said that before they began limiting access, they'd have twice as many diners.
"Particularly at the end of the month, the place was full," she said, "Probably 40 to 50. They could come and go if they wanted to."
Weiesnbach said she had to make other changes to control spread of COVID-19.
She said she used to have people stand in a circle and hold hands. 
Then, she would tell them "this is how God loves us, there's no beginning and no end," she said.
"Well, you can't be separated and hold hands," she said. "Now I say 'atop where you are right now, look to your left, look to your right, we've got to have six feet between us.'"
Concern about COVID-19 also prompted the Ark to temporarily suspend its weekly coffeehouse, as well as classes, such as anger management, deaf signing and veterans' post traumatic stress disorder discussions, she said.
"We had to quit all the classes because our PTSD class had grown so big," she said. "We sit at one place, and it was like shoulder to shoulder."
The Ark continues to offer prayer and counseling by phone or email, she said.