Bacone College will show it some of its treasured art in Oklahoma City in March.
"Bacone Indian art is a treasure, not just Oklahoma's treasure, but the United States," said Bacone President Dr. Ferlin Clark. "It's a historic collection, and it deserves to be showcased for the public to see, appreciate and celebrate."
Famed Bacone College art pieces will be displayed at Oklahoma History Center in Oklahoma City March 2 through 20.
Oklahoma History Center will host a gala art show and fundraiser for the Bacone College School of Indian Art, and the art collection, on March 12. The fundraiser will feature a reception at 5:30 p.m. and a program, dinner and raffle auction at 6:30 p.m.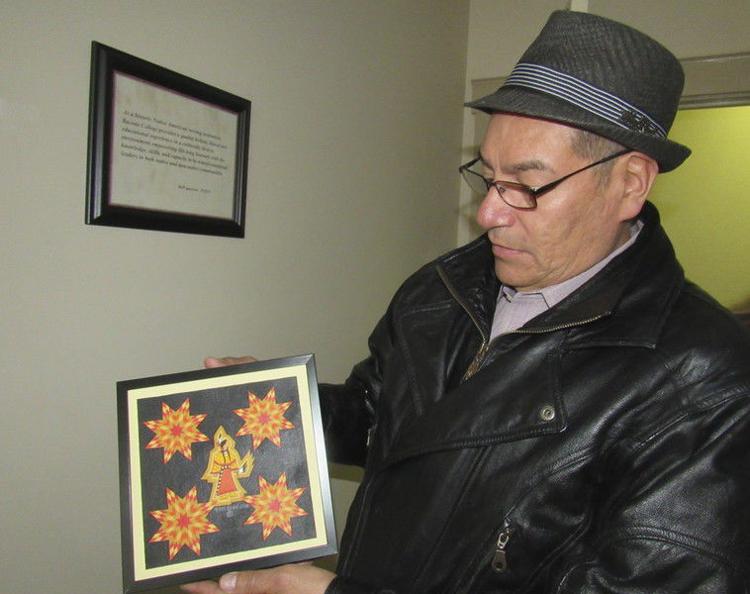 Clark said Oklahoma Historical Society Executive Director Bob Blackburn recently visited the Bacone campus and expressed interest in showing the works.
He said 11 or 12 pieces, dating from 1934 through present, will go on display. They include works by the Kiowa Six, famed Kiowa artists of the early 20th Century. Works representing the Bacone Style of Indian art, known for its streamlined and bold features, also will be displayed.  Dick West, Acee Blue Eagle, Woody Crumbo, Ruthe Blalock Jones fostered the style at Bacone, Clark said.
"It's really about the people, even though it's about the collection," Clark said. "The people that created, that built the Bacone Indian art style — the Indian art in its unique, distinct style. I think they laid the foundation for the different American Indian art that exists today."
Clark said people need to "celebrate these treasures."
Bacone is working with the Oklahoma Historical Society to put on the gala, said Nicole Been, Bacone vice president of strategic initiatives and special projects. The gala will feature speeches by Clark, Blackburn and Bacone College Art Director Gerald Cournoyer, she said. Student artists will talk about their artistic journey, she said. 
Native artists from across the United States contributed pieces for a gala raffle auction.
Proceeds from the fundraiser will help restore Bacone's art collection, Cournoyer said.
"Money raised will go toward the conservation of these pieces," he said. "Some of them need work. We're going to exhibit them once they're restored. We're going to use it for buildings, so we can house the collection in a safe environment for the art, a climate-controlled building."
Proceeds also will help the program buy supplies and offer art scholarships. 
Clark said he hopes to eventually raise $100,000. The college already has $25,000 pledged.
"The Indian art school and the Indian art program deserve to be supported and celebrated," he said. "The college had discontinued the art program five years ago. So, we reinstated it because the art is our American Indian heritage, culture, language, our stories, songs and ceremonies. As we embark on being a tribal college, that American Indian mission, the art is central to that."
Clark said Oklahoma Historical Society's interest in the collection shows appreciation for the contribution of the American Indian to Oklahoma and its history.
"I believe they value Bacone's importance to higher education, not just in the past but in the future," he said.