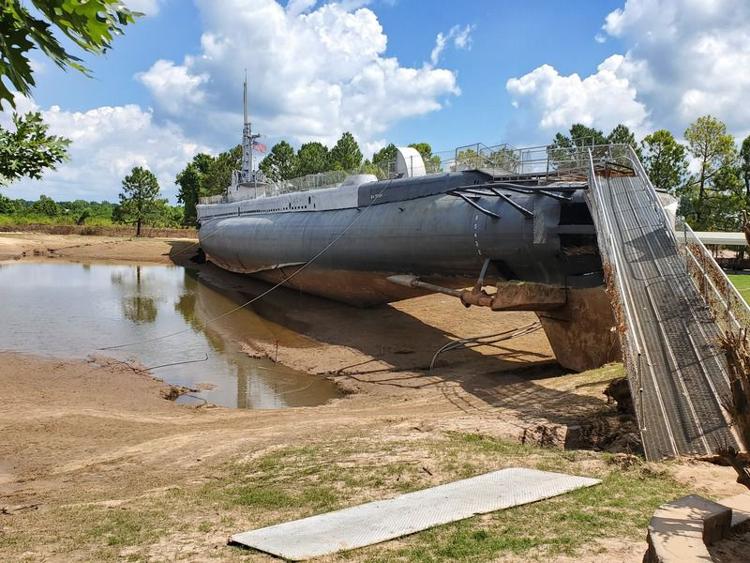 The USS Batfish has a long road to recovery ahead of it following near-record flooding of the Arkansas River in late May.
The World War II-era submarine, ensconced at the Muskogee War Memorial Park, floated for the first time in decades during the river's rise. During that stretch of time, there was a concern that the boat might float away down the river — or that it would be irreparably damaged.
"You can't test a World War II sub on dry land to see if it's watertight," said War Memorial Park Director Brent Trout. "You can't just go to the store and get a seal for a torpedo. We didn't know what was going to happen."
Waters have since receded, depositing the Batfish just beside its original resting spot. A twisted gangplank, concrete bases dangling beneath, leads up to the boat's entrance. Park volunteers have finally been able to re-enter the boat to evaluate the damage.
"It was a waiting game just wondering what was going to be there when we got on site," Trout said. "When we finally made it back on site we saw the gangway was completely destroyed. Two compartments of the submarine were completely flooded. Not only do you have water damage, the humidity was impacting the rest of the submarine. Even the flooring inside the Batfish is peeling up."
Trout said he and his team were choosing to be optimistic about the Batfish's recovery.
"The boat's still here and that's great, and nobody got hurt. We're projecting we can get it open in a couple months," Trout said. "The way the Batfish floated, it ended up in a position we can utilize which won't take the full brunt of another current in case it floods again."
The process begins with clearing away excess water from both the boat and its surrounding area, Trout said.
"The first phase is that we're pumping all the water out of the Batfish and out of the park. During the emergency, we pumped 200,000 pounds of water into the ballast tanks, so we have to get that out," Trout said. "We have to get the water out of those two chambers and then get fresh water in to flush everything out, and then pump that out, too."
From there it's going to be painting, replacement and repair — which could prove troublesome, given the park's penchant for authenticity, Trout said.
"We have to be careful because it's a historical artifact, so we have to find materials from that period. We have to find the kind of tile they used, things like that," he said.
All of this is going to be costly, Trout said, particularly if certain components were damaged.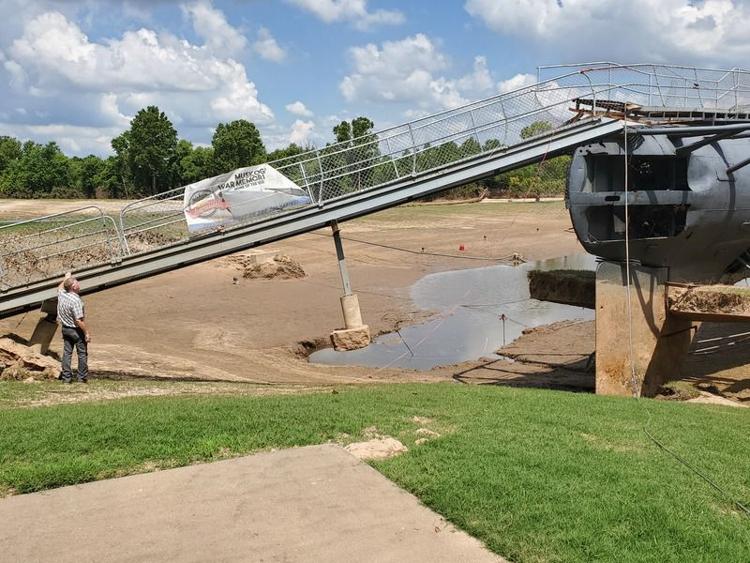 "There's a cathodic system to keep the Batfish from rusting, and if we have to replace that, that's going to be costly. We just replaced it three years ago, and at that point that was a $30,000 system," Trout said. "We don't know what we can salvage from that."
Still, Trout said he and his team are trying to look on the bright side even with all the work ahead of them.
"We're trying to be positive in this situation and say this is a chance to do a lot of maintenance we always wanted to do but didn't have time, but we also have to be timely so things don't start rusting out," he said.