Lauren Fowler felt an obligation to get a flu shot on Friday at Boo on the Flu.
"It's important to make sure I'm protecting myself and others," she said. "We need to protect our health."
Fowler made time in her morning to drive to Honor Heights Park to get her vaccine at the 26th annual event, which was put on by Muskogee Medical Foundation, in conjunction with Saint Francis Hospital Muskogee/Saint Francis Hospital Muskogee Auxiliary and the Oklahoma State University Institute of Technology Nursing Department.
Ched Wetz, who organized the first Boo on the Flu in 1995, thinks it's more important to get a flu shot now than in years past.
"Last thing you want to do is getting two strains of flu," he said. "You want to stay healthy, and this is the best way to do it. This way you have your flu shot but you still must continue to follow those safety guidelines."
Along with workers from Saint Francis were students from OSUIT and Indian Capital Technology Center. Savanna Erkaya, a student at ICTC, realizes how valuable the experience is that she gains from being a part of the event.
"We not only get to interact with the ICTC students but the students from other schools," she said. "We're all working together to support the community and help them get their flu shots so that everybody stays safe."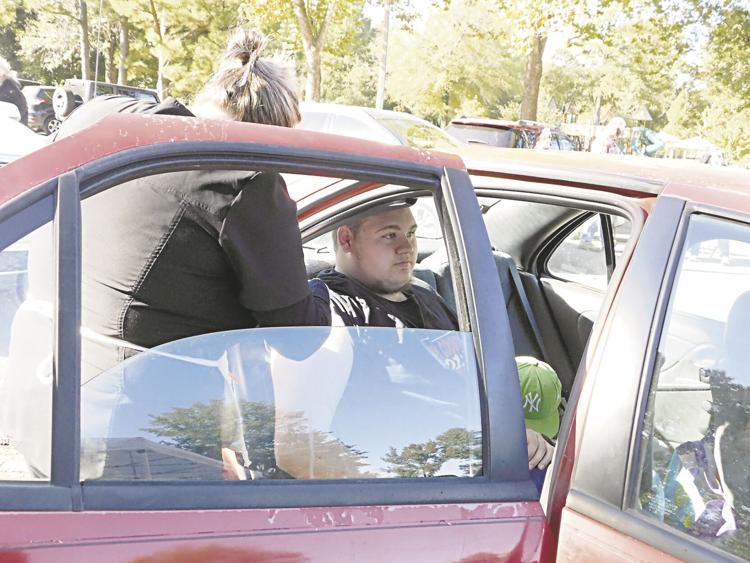 Becky Elliott, the infection preventionist at Saint Francis Muskogee, was the infection preventionist during the H1N1 outbreak and feels it is just more important this year to get vaccinated.
"That year we gave flu shots and we had to get extra vaccines for H1N1," she said. "Now H1N1 is in the vaccine that we give every year. But due to COVID, we're trying to minimize people coming through the emergency room."
Jodi Campbell, an instructor at OSUIT, said the 10-year relationship with the event is very beneficial for the students as well as the people who get vaccinated.
"It's been such a great experience for our students that we keep coming back every year," she said. "I've been out here when it's pouring rain, I've been out here when it's freezing cold. But today is perfect — with no wind I can handle the cooler temperatures."
While some people are squeamish when it comes to needles, most of the students administering the vaccines said there weren't many complaints.
"I've only had one person said they're were scared of needles," said Summer Vargas, a student at OSUIT. "The other people don't look at it. Maybe they are but they didn't show it."