A long-dormant location on Muskogee's northeast side will return to life this fall as an outlet store.
A Burkes Outlet Store will be moving into the space next to Hobby Lobby at Shawnee Crossing, formerly Curt's Center. The store will occupy 24,000 square feet and will provide jobs for 20 or more associates, said Karen Filips, director of communications and community affairs for Burkes' parent company, Beall's, Inc.
Construction workers stripped the facade and began hauling debris out of the building this week.
While there are 500 Burkes Outlet stores in 15 states, this store represents the company's first move into Oklahoma, Filips said. 
"We're always looking for our next best location," Filips said. "We always do a lot of research ahead of where we build next, and Muskogee looks like a great place for us."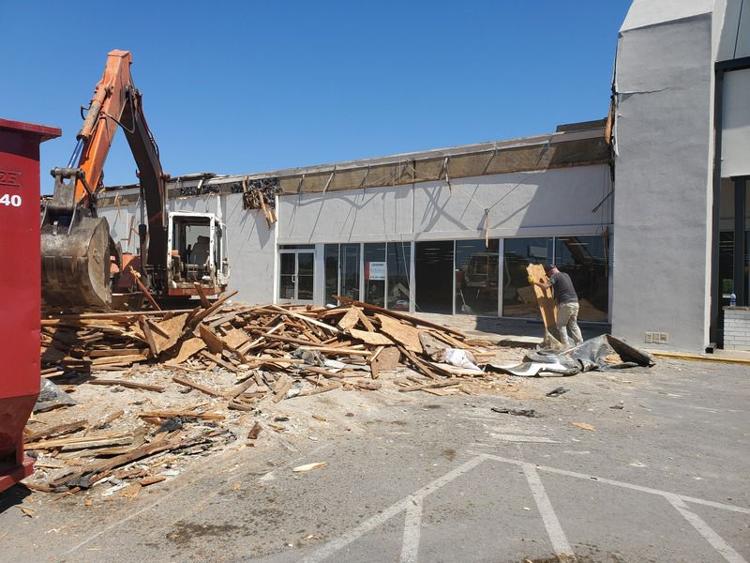 Burkes Outlet's website, https://www.burkesoutlet.com, describes the chain as a place to get brand-name clothing and other items at lower prices.
"Customers can find brand name apparel and accessories for the entire family at up to 70 percent off other stores' prices everyday. In addition, most stores carry shoes, home furnishings, gifts, and toys," states the website. "Our stores are designed to serve customers of all ages and income levels. We pride ourselves in offering great assortments at great prices everyday."
An exact opening date has not been set for the new store.