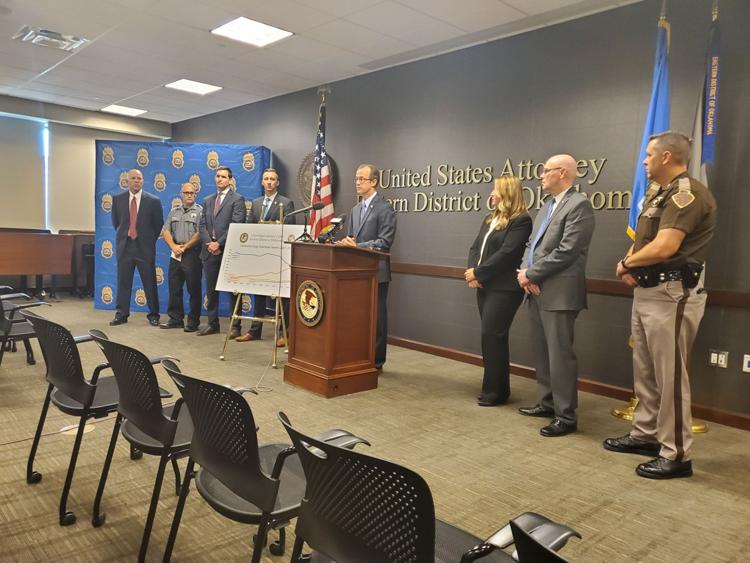 A grand jury has indicted 29 people in relation to a drug ring run by an Oklahoma State Penitentiary inmate using a smuggled phone, said U.S. Attorney Brian J. Kuester on Wednesday afternoon.
The investigation, a collaborative effort between dozens of local, state and federal agencies titled "Operation Pop Cap," led to charges leveled against people from as far away as Alma, Arkansas, according to documents released alongside the announcement, as well as multiple Muskogee residents.
Those in Muskogee charged were Jose Miguel Pacheco, 30, Maricsa Pacheco, 29, Lannie Jo Carter, 18, Daniel Pacheco, 25, Teodoro Renteria Pacheco, 55, Randy Eugene Langton, 61, Tabitha Ann Bryant, 37, Ervin Hernandez, 31, and Christian Jonathan Hernandez, 30.
Others charged were Marc Anthony Cox, 43, of Fort Gibson; Trina Kay Rose, 30, of Fort Gibson; Enrique Pacheco, 30, of McAlester; Liliana Alvarez Soto, 22, of Oklahoma City; Leroy Carl Fox, 40, of McAlester; Matthew Scott Scraper, 37, of McAlester; Alyssa Mae Syvongsa, 19, of Tulsa; Shiana Nicole Johnson, 24, of Ada; Feather Cheyenne Pacheco, 23, of Tahlequah; Krystal Sue-Ann Mayen, 30, of Oklahoma City; Kendall Brent Smith, 50, of Okmulgee; Michael Sean Gunn, 30, of Alma, Arknasas; Magdalena McDonald, Age 30, of Tulsa; Kami Rai Gill, 32, of Del City; Joel David Kzmierczak, 46, of Broken Arrow; and Alexandra Tristian Giemausaddale, 31, of Anadarko.
All of the defendants are charged with drug conspiracy, a news release states. Enrique Pacheco, Carter, Johnson, Rose, Daniel Pacheco, Maricsa Pacheo and Tabitha Ann Bryant also are charged with international money laundering in relation to transfers made from the United States to Mexico. Several of the defendants also have been charged with money laundering conspiracy and distribution or possession with intent to distribute a controlled dangerous substance.
"This operation...targeted an organization dealing deadly drugs in the Eastern District and throughout Oklahoma," Kuester said. "This investigation has been a shining example of how the public benefits when law enforcement agencies collaborate."
According to the indictment, the ring centered on OSP inmate Enrique Pacheco, who used a smuggled cell phone to begin organizing the shipping, receiving and purchase of methamphetamine, cocaine and heroin beginning in November 2016. Pacheco's organization, some of whom were his family members, would, at his instruction, pick up and pay for drugs sourced from Tulsa, Oklahoma City and Mexico, then distribute them around the Eastern Oklahoma district.
The ongoing investigation has recovered 30 pounds of methamphetamine and five pounds of heroin, the news release states.
"Today is a great day for Muskogee County," said Muskogee County Sheriff Rob Frazier. "We've dismantled a major drug organization. We will continue to make Muskogee County a better place."
Each of the law enforcement leaders present at Wednesday's news conference announcing the indictment cited their partnership as the driving force behind the investigation's success.
"The success in this case was a direct result of the collaboration between federal, state and local agencies," said Drug Enforcement Administration Assistant Special Agent in Charge John Scott. "It was a combined effort of everyone involved bringing their respective resources together to go after this criminal organization."
Kuester echoed the sentiment.
"We stand here united to disrupt, dismantle and destroy drug organizations," Kuester said.
Enrique Pacheco has since been taken into the custody of U.S. Marshals and removed from OSP, Kuester said. And, 26 of the 29 defendants named in the indictment have been arrested.