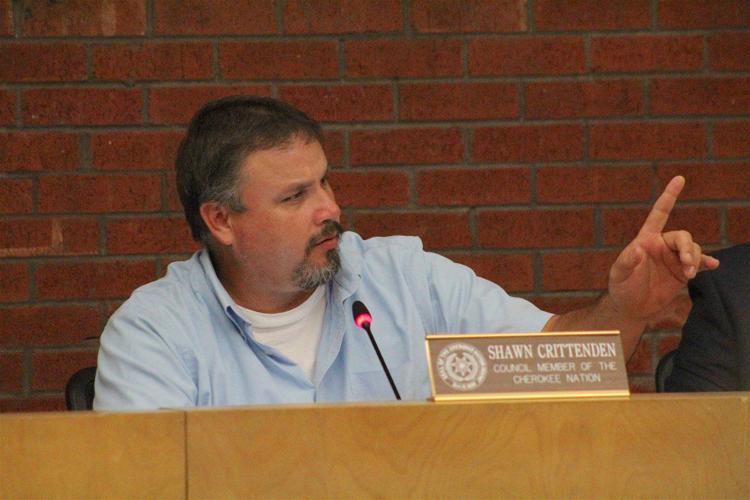 TAHLEQUAH — The Cherokee Nation Tribal Council voted to reject pay increases for elected officials during a regular meeting Monday night.
The council initially voted 9-6 to reject the increases during a Rules Committee meeting Monday morning before a crowd of people in the CN Tribal Council offices. During the time that lapsed between the two meetings, some councilors changed their minds, but the majority still voted to deny the salary hikes, 12-4-1. The result sparked a loud applause from the council chamber, which was full to capacity.
The decision came after the Cherokee Nation Compensation Committee submitted a report in late June, recommending major pay raises for the principal chief, deputy chief, speaker, deputy speaker, and tribal councilors. According to Cherokee Nation law, the recommended increases would have automatically set the salaries, unless legislation to block it was introduced within 30 days of the panel's decision.
If the council had approved the raises, the salaries of Principal Chief-Elect Chuck Hoskin Jr. would have increased to $350,000, an 84 percent hike; Deputy Chief-Elect Bryan Warner to $233,333, a 104 percent increase; Tribal Council Speaker Joe Byrd, $95,000, a 26 percent increase; and Deputy Speaker Victoria Vazquez, $90,000. Other tribal councilors would have brought in $85,000 annual salaries, a hike of nearly 35 percent.
The legislation to block raises was authored by District 8 Tribal Councilor Shawn Crittenden, District 12 Councilor Dick Lay, and District 3 Councilor David Walkingstick. The latter two men had run against Hoskin for principal chief.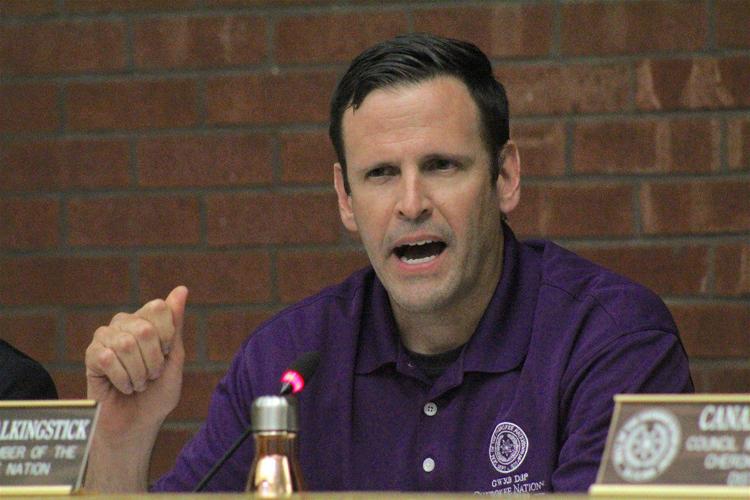 Lay said raises for elected officials are common, but called this latest attempt "obscene." He also pointed out that Warner, who currently serves as District 6 tribal councilor, voted to approve the raises during the Rules Committee meeting.
"Like I said [during the Rules meeting], If I had become chief, I would have vetoed it and-or done an executive order action to stop it," Lay said during the earlier meeting. "Apparently Bryan and Chuck would not have. That kind of deflates me a little bit. They've got a lot of fence-mending to do, anyway."
Warner later abstained from the vote during the Tribal Council meeting.
Walkingstick pointed out the proposed raises were the largest in the Cherokee Nation he has ever seen, as Hoskin Jr. "was going to get $1.4 million in his first term." He also said he expected the motion to reject raises to fail. After the Rules Committee meeting, Walkingstick told a group of citizens that the vote could have ended differently if they hadn't shown up.
The compensation committee is composed of five members. The principal chief appoints two members, the Tribal Council picks two, and the final member is selected by the other four members. Committee members include Chair Deacon Turner, of Denver; Lyndon Emberton, of Muldrow; Suzanne Gilstrap, of Eucha; Teresa Adair, of Tulsa; and Curtis Bruehl, of Oklahoma City.
Walkingstick said he had some concerns about the makeup of the committee. He said that according to documents provided by his campaign manager, Luke Harshaw, four out of the five members donated to the Hoskin/Warner campaign. Turner and Bruehl each made maximum donations of $5,000, while Emberton only donated $50. Gilstrap gave a combined $983.50 through two monetary donations, as well in-kind contributions.
Walkingstick said it was a "conflict of interest."
"I've seen [CN Attorney General] Todd Hembree, I've seen Chief [Bill John] Baker making their rounds throughout the council office all day today, talking to council members to try to lobby to vote a certain way," said Walkingstick. "I think it's an injustice and it's a kick in the front teeth to every hard-working Cherokee."
Some of the councilors flipped their positions on the pay raises during the Tribal Council meeting.
District 9 Councilor Mike Shambaugh originally voted to allow the pay hikes during the committee meeting, and told the audience it would not impact the tribe.
"I wanted to know how this was going to affect us money-wise, if this was going to affect our programs," Shambaugh said earlier in the day. "I knew this was going to come up, so on Friday, I did go talk to our head financial guy. He said, 'Absolutely not. This isn't going to affect our programs.'"
However, Shambaugh decided to vote against the pay increases. District 5 Councilor E.O. Smith and District 7 Councilor Canaan Duncan also changed their votes and rejected the raises. Meanwhile, District 14 Councilor Keith Austin changed his vote to allow them.
Shambaugh added that for those who were concerned about specific tribal programs not being funded, it requires the council to propose legislation to do so.
"So if we're not, as a council, putting money into these programs, that's why not they're not getting more money in them," he said. "It's not about a raise; it's not about anything else. It's this council's responsibility to do that."
Along with Crittenden, Walkingstick, Lay, Shambaugh, Smith and Duncan, those who voted against the raises were Mary Baker Shaw, at-large; Buel Anglen, District 13; Harley Buzzard, District 10; Joe Byrd, District 2; Mike Dobbins, District 4; and Janees Taylor, District 15.
Favoring the raises, in addition to Austin, were Victoria Vazquez, District 11; Rex Jordan, District 1; and Wanda Hatfield, at-large.
Another piece of legislation Walkingstick sponsored was a proposal to provide pay raises of $2,000 to $3,000 for all full-time and part-time CN employees. He said he attempted to amend the Rules Committee's agenda to bring it for a vote, but was not recognized to do so.
Walkingstick implied he will try to place the proposal on the agenda for the Tuesday, July 16 CN Executive and Finance Committee meeting.
Grant D. Crawford writes for the Tahlequah Daily Press.