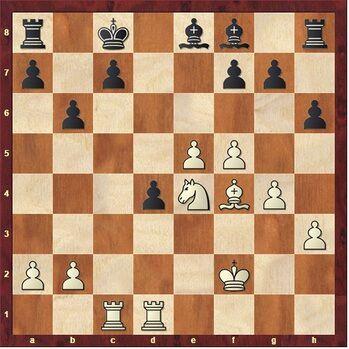 Teimour Radjabov won Airthings Masters this first week of 2021, which was a rapid chess event with the world's top players. Radjabov is from Azerbaijan and is ranked 10 in the world. In rapid chess, each player is allotted a total of 15 minutes in which to make all his or her moves, with 10 seconds added to that player's clock when that player moves a piece.
This week's position is from Radjabov's win in the final round against Levon Aronian, who is from Armenia. Radjabov is black; Aronian, white. Radjabov's knight is under attack and must retreat. Where should black's knight retreat?
The knight has two reasonable retreat squares: b4 and d4. The d4 square is centrally located and would improve black's position but for several tactics. If the knight retreats to d4, white trades knights on d4. White cannot immediately snatch the pawn on d4 with its rook because of bishop to c5, pinning the rook (see next diagram).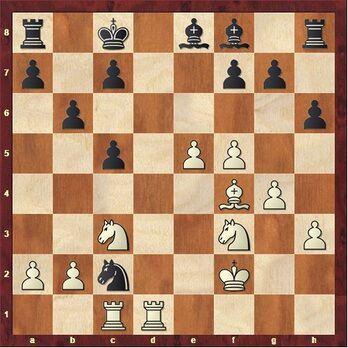 However, instead of immediately capturing the pawn with the rook, white maneuvers its c3 knight to e4.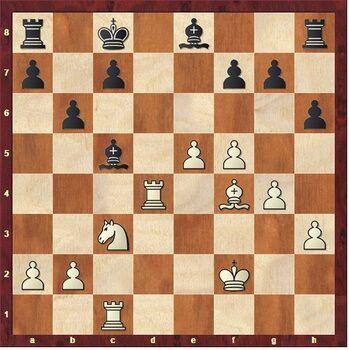 Now white wins the pawn and develops a superior positon. If the black bishop moves to c5, white's knight takes black's bishop followed by rook take pawn. If black advances its c7 pawn to c5, the pawn on c5 is pinned by white's c1 rook, which allows white's d1 rook to snatch black's d4 pawn.
Alternatively, retreating the knight to b4 is safe, as it eventually finds its way back to c6. This is thus the better move.
The lesson this week is that the best move, to paraphrase physicians, is the move that does no harm.