City councilors convened a special meeting Friday to appoint pediatrician Dr. Tracy Hoos as interim Ward IV representative.
Hoos, 44, succeeds Mayor-elect Marlon Coleman, who was elected Tuesday with a nearly 60% majority in a runoff election against three-time mayoral contender Wayne Divelbiss.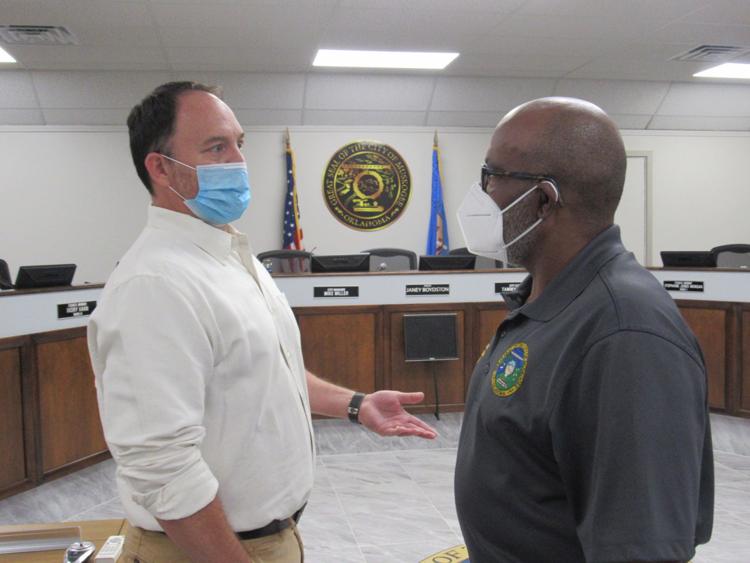 Hoos' appointment will be finalized once the Muskogee County Election Board certifies the results of of Tuesday's balloting, which is scheduled to take place at 5 p.m. Friday. Coleman defeated Divelbiss 3,974-2,745, according to unofficial tallies.
Hoos said he wants to be involved "as Muskogee moves forward."
"I think that, considering the flood last year and the pandemic this year, Muskogee actually has done pretty well,' hoos said. "I'm just pleased that Mayor-elect Coleman spoke with me and has given me that opportunity to represent Ward IV."
He said he would like to see Muskogee grow and bring in more sustainable businesses.
"But that's going to take more than what I can do," Hoos said. "I hope I can provide some insight in decision-making processes." 
Coleman said he has known Hoos for several years, "and has always been a fan and advocate of his work in the community." 
"His family and himself have proven themselves to be lovers of Muskogee," Coleman said. "They do everything they can to make Muskogee a better place."
Coleman said Hoos will bring a level of professionalism the city needs.
Outgoing Mayor Janey Boydston said she has known Hoos since he was a child.
"I understand him to be a level-headed young man with a good, clear vision of what's going on in the world," she said. "I think he may bring a lot of that to us and improve everything about Muskogee."
Hoos has served on the City of Muskogee Foundation Board of Directors. He also has won several awards at barbecue competitions, including Exchange Club of Muskogee's Chili and Barbecue Cook-Off.