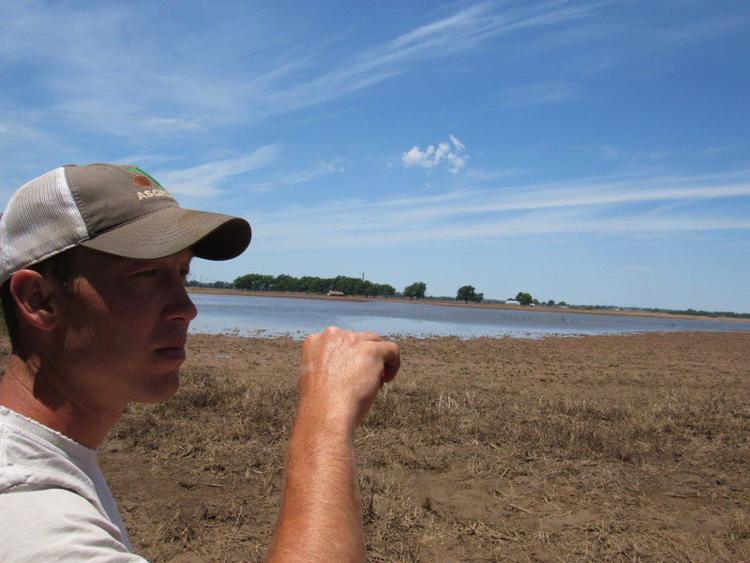 FORT GIBSON — "There's not going to be a corn crop," Fort Gibson farmer Dick Sheffield said. "The Arkansas River claimed everything up and down the river."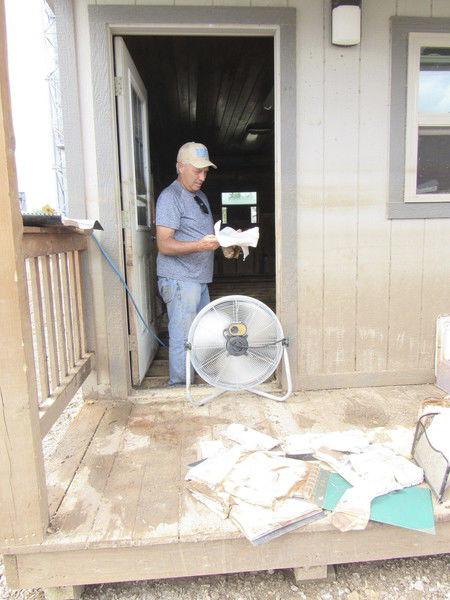 From late May to early days in June, the swollen river covered farms in Webbers Falls and Fort Gibson. 
Bright green cornstalks that reached waist high in May now lay brown in fields.
Sheffield said the flood covered all his farmland.
"The corn crop looked extremely well until water hit it," he said. "The melon crop looked extremely well. Everything looked well."
Sheffield said neighboring farms also were ruined.
"A big acreage over here in wheat looked extremely well. It was just three weeks away from being ready to harvest," he said. "It's gone, too."
He said he could clean areas to plant soybeans.
"Those areas are lucky enough not to have a lot of residue or washed out damaged areas. We probably have time to plant soybeans yet — maybe," Sheffield said. "But that will be the only thing going for a crop this year."
Webbers Falls also experienced loss.
Stan Sheffield of S&J Farms, no relation to Dick Sheffield, said the farm lost 600 to 700 acres of corn and wheat.
"There are a few places we saved," he said. "We saved some corn, but most of it's gone."
Stan Sheffield said he hopes to plant soybeans within the next few days. Soybeans are about the only major crop feasible to plant this time of summer, he said.
Some people might try replanting corn or wheat, he said, "but it would be awful late maturing in the fall."
However, Sheffield said the demand for soybeans wont be nearly as high this year. 
"Everybody's going to be planting soybeans all up in the Midwest because it's getting too late for corn," he said. "There's going to be a lot of soybeans, so the price is going to go down. There's a lot of it — supply and demand."
Stan Sheffield said he has not had to lay off farm workers.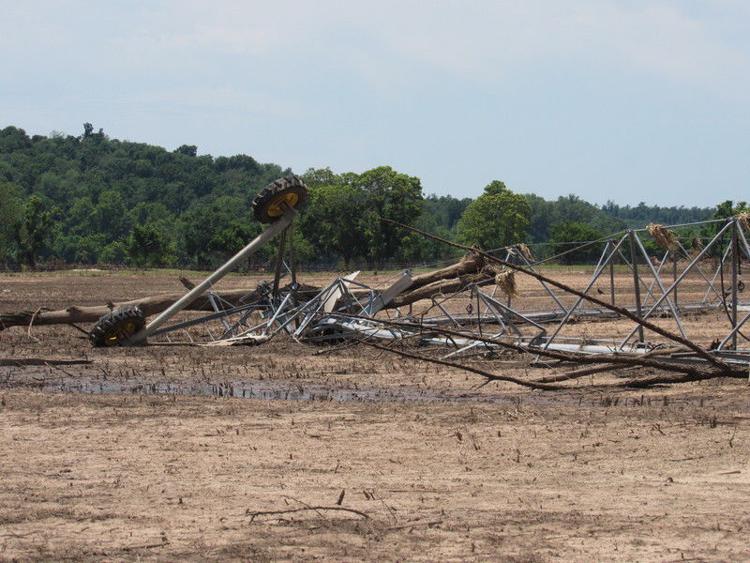 "Everybody's had to work to clean up," he said. "Nobody's going to lose their job around here. There's too much to do. Fields are messed up. We've got debris in them. Washes have to be fixed out in the field. A lot of field, we can plant."
The farm also damaged an office. He had to remove floors and walls to check for mold.
Randy Casinger, a farm hand for Sloan Farms in Webbers Falls, said corn was about waist high when it was flooded.
"We lost about 600 acres of wheat by Tucker Bottom," he said, adding that Tucker Bottom is near the Sallisaw dam. "We lost wheat back in the bottom, a bunch of corn. It's been a horrible year."
However area farmers say they're determined to move on.
"You just wait until next year and plant next year," Dick Sheffield said. "Hopefully, we'll have things in order where we can plant next year. Probably will have. Plant in March. "