FORT GIBSON — Penny Blackburn's plans changed, but she didn't seem to mind. She had delicious barbecue to eat.
The Claremore woman and her husband were going to spend the day watching her grandchildren swim. Those plans were canceled, so they drove the hour from their home to downtown Fort Gibson to enjoy the annual Smokin' the Fort Barbecue and Music Festival.
"My husband found out about this online," she said. "Our plans fell through and here we are. I said to him, 'Let's have a little outing for ourselves.' It's a beautiful day and the food is good."
Blackburn didn't fill her plate with food.
"We're trying to pace ourselves so we don't get too stuffed," she said with a laugh. "They have a lot of good offerings here."
Not everyone had to travel far to enjoy the food and the music. Jason McLauglin, a Fort Gibson resident, has come every year for seven years. He wouldn't miss it.
"You can't beat barbecue," he said. "If I had to say what do I like the most. Is it Italian, Mexican or barbecue. Barbecue is one of my favorites, but they don't have Italian festivals or Italian cook-offs.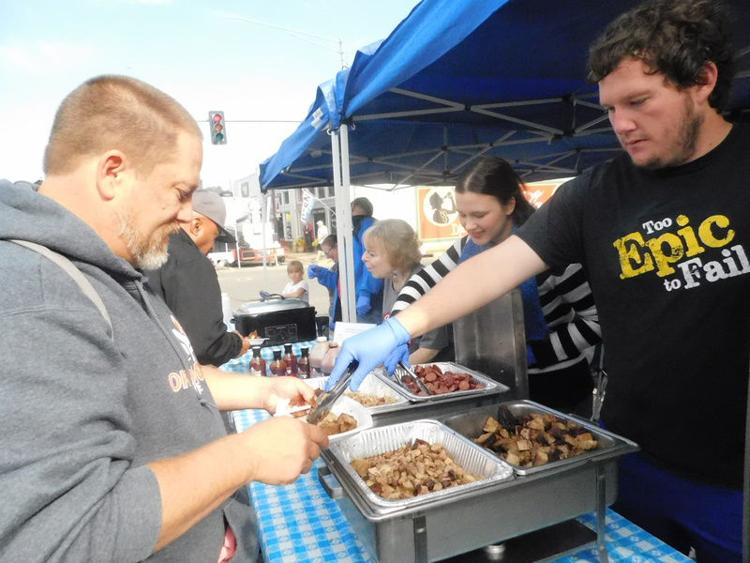 "It's also nice being a part of this community. Fort Gibson's quaint, and everybody knows everybody. I enjoy it."
The selection of the food included brisket, ribs, bologna and links. But meat wasn't the only thing offered at this year's festival, which celebrated its 11th year.
A category called Surprise Us started this year, and allowed for just about any kind of food to be brought. Jams and jellies along with other sweets were entered, as well. Larry Wright was there selling snowflakes, a confection made with butter, salt and almond butter.
"This is to raise money for our church, Muskogee Holiness Church," Wright said. "We're doing what we can by selling salsa, apple butter and bread."
Cassie Tilley sold 33 varieties of jelly at her table.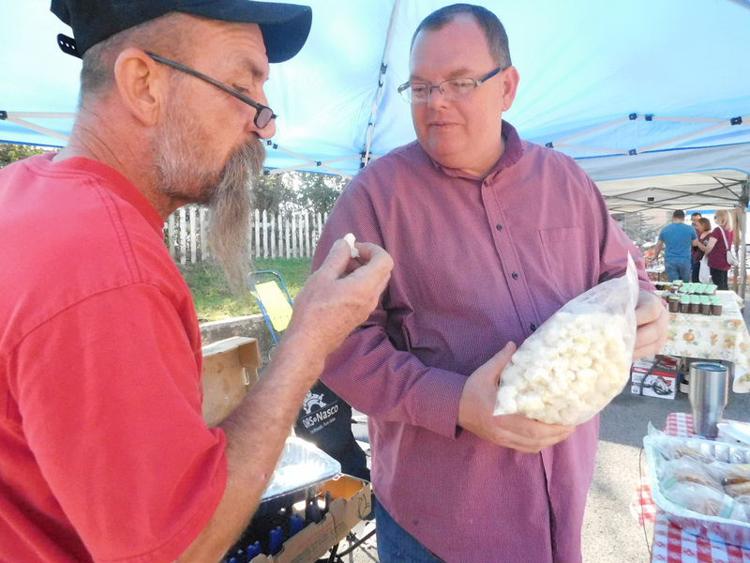 "I was given a bunch of strawberries and peaches and just went crazy," she said. "My girls helped me. This actually has been a lot of fun this summer."
Jessica Fowler, executive director of the Fort Gibson Chamber of Commerce, organized the event. 
"It takes a couple of months to prepare for this, and we tweak it every year to make improvements or do things that are a little different," she said. "We try to make it better each year. I think we had pretty good turnout, at least 20 cooks, this year."
One of those cooks was Samantha Meigs of Tahlequah. She was cooking pulled pork for Cherkoee Casino's entry into the festival.
"This is one of my favorite things to do," she said as cut the pork. "My dad was a chef, and I've been doing it since I was little. It reminds me of him, and it's in honor of him."
Scott Baucher of Fort Gibson had a simple reason why he was at Smokin' the Fort. 
"I love to eat," he said as he filled his plate. "I love the different flavors of barbecue. Regular food is just bland to me. Put some barbecue sauce on this and smoke it, it's much better."