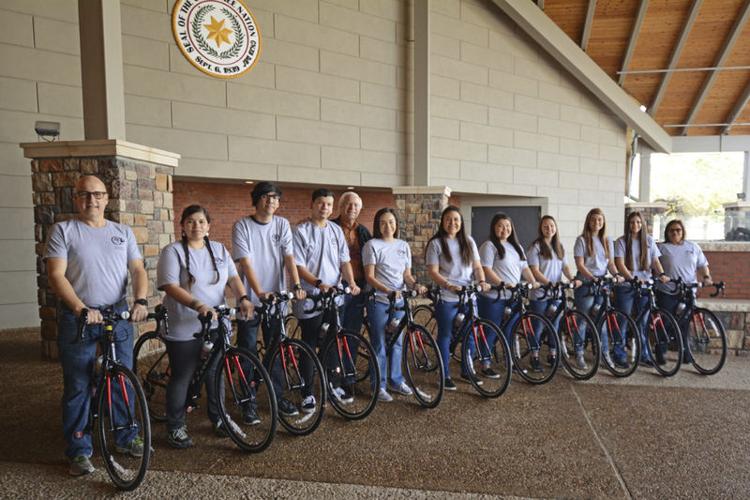 TAHLEQUAH — Nine cyclists and two mentor riders from the Cherokee Nation will participate in the 2019 Remember the Removal Bike Ride this June, marking 180 years since the Cherokee people reached Indian Territory following the Trail of Tears.
The annual ride allows young Cherokees to retrace the northern route of the Trail of Tears on bicycles. Their journey spans about 950 miles from Georgia to Tennessee, Kentucky, Illinois, Missouri, Arkansas and Oklahoma. This year is also the 35th anniversary of the inaugural Remember the Removal Bike Ride that took place in 1984.
The nine cyclists, ages 20 to 24, started training in December. The tribe also selected two Cherokee Nation citizens to be mentor riders: 55-year-old Marie Eubanks, a teaching assistant at the Cherokee Immersion School, and 58-year-old Kevin Stretch, interim director of Cherokee Nation Community & Cultural Outreach.
"It is quite an honor to be one of the few chosen for this opportunity of a lifetime," said Principal Chief Bill John Baker. "By the time these young men and young women leave to begin their journey on May 28, they will have spent more than half a year training together and developing a bond that will last a lifetime. As is true year after year, I am convinced the lives of these Cherokees will be forever changed along this journey. When they return home to the Cherokee Nation in June, having endured some 950 miles along the Trail of Tears, they will have gained a deeper understanding of Cherokee history and of their own heritage."
Cyclists will travel an average of 60 miles each day along the routes used by their Cherokee ancestors, who made the same trek on foot more than 180 years ago. Of the estimated 16,000 Cherokees who were forced to make the journey to Indian Territory in 1838 and 1839, about 4,000 died from starvation, exposure to the elements and disease.
Cyclists were selected based on essays, interviews and a physical to ensure they are up for the grueling challenge.
Cherokee Nation Businesses provides cyclists with state-of-the-art gear, including bicycles and electronics that help track cyclists' physical performance during their training and throughout the summer ride.
Cherokee Nation cyclists will be joined by 10 cyclists from the Eastern Band of Cherokee Indians in North Carolina. Together, they will start the ride in New Echota, Georgia, on June 2.
Information or to follow along during the journey, visit www.facebook.com/removal.ride and watch for the #RTR2019 and #RTR35 hashtags on the official Cherokee Nation Twitter (@CherokeeNation) and Instagram (@TheCherokeeNation).
The 2019 Remember the Removal Bike Ride Cherokee Nation cyclists include the following:
Adair County
Destiny Matthews, 20, Watts
Elizabeth Hummingbird, 21, Peavine
Marie Eubanks, 55, Rocky Mountain
Cherokee County
Joshua Chavez, 24, Tahlequah
Brooke Bailey, 23, Lost City
Kayli Gonzales, 22, Welling
Ashley Hunnicutt, 24, Tahlequah
Steven Shade, 24, Briggs
Kevin Stretch, 58, Tahlequah
Mayes County
Sydnie Pierce, 23, Locust Grove
Sequoyah County
Shadow Hardbarger, 24, Marble City