People can play games, hear live music, get some exercise and grab some food at the Depot Green this summer.
Starting Friday, families can see a free outdoor movie each month.
"The Parks Department has taken on the responsibility to see that the park is programmed as an event park," said Muskogee Parks and Recreation Department Director Mark Wilkerson. "We want to have as regular and as many events down there as we can. We're trying to bring life to downtown, particularly after 5 p.m."
Wilkerson said Depot Green, located at Elgin and Third streets, "gets great reviews and raves" on social media.
"The challenge is getting people to come down, give it a try and experience it," he said. "The numbers have been low, but it's new and we're just trying to get people accustomed that we're there every week. I'm certain it will pick up based on all the good feedback we're getting from the people that are going there."
Movie nights, held the third Friday of each month, are one example of Depot events. The movies are presented in conjunction with the Roxy Theater.
"There will be a giant LED screen, and we'll have concessions down there with popcorn and treats," Wilkerson said. "It's a family thing. We want people to come out and bring their lawn chairs, bring their blankets, sit out on the grass and watch a movie with us."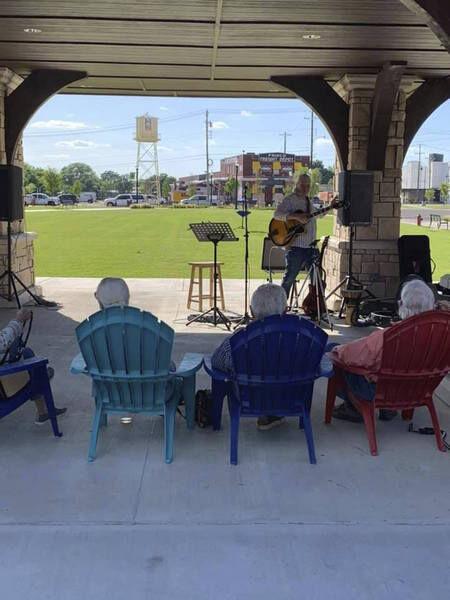 Barring rainy weather, the outdoor movie season opens 8 p.m. Friday with "Twister."
The city also hosts weekly events at Depot Green. 
Tuesday nights are fitness nights.
Muskogee Recreation Assistant Director Brooke Hall said instructors will lead different types exercise classes each week. Scheduled classes have included tai chi, pilates and yoga. Next Tuesday's class will be Zumba, a dance-style exercise class, Hall said.
Bicyclists also leave Tuesday evenings from Depot Green, the trailhead for Centennial Trail.
"We're just excited to promote the new park, new activities for the community, exercise and wellness," Hall said. "We hope people will come out and have fun."
All Aboard Thursdays runs from noon to 7 p.m. and involves food trucks, Wilkerson said.
"We've scheduled a lineup of solo local acts to come down and entertain folks," he said. "They play music and people can sit around and enjoy."
Depot Green also will have extra seating and games after 5 p.m. Thursdays.
"People can play bocce ball or corn hole and sit and relax and listen to the music," he said. "We're also trying to create an after hours happy hour. We're licensed to sell beer and wine down there, so they want to come down there after work and sit and listen to some music, have a beer, they can come join us on Thursdays."
All Aboard Thursday lets out just in time for the 7 p.m. Rockin' the Dock concert at the Oklahoma Music Hall of Fame, across Third Street from the Green.
"We decided that being on Thursday was a good thing because people that might come to our event might just walk over and participate in the Rock the Dock event," Wilkerson said. "Last week, our turnout was pretty light, but when it gets to be about seven o'clock and you look between the Depot Green and Music Hall of Fame, you'll see quite a few people gathering and enjoying the weather. There are a lot of cars and people walking around. It's really a good sight to see."
Coming events at the Depot Green, 205 Elgin St.
• All Aboard Thursdays, 11 a.m. to 7 p.m. each Thursday. Featuring live music, food trucks and concessions, lawn games.
• Movie Night, 8 p.m. Friday, "Twister."
• Zumba class, 5:30 p.m. Tuesday.
• Walk, Run, Ride the Trail, 5:30 p.m. each Tuesday.
• Movie Night, 8 p.m. June 18, "Grease."
• Movie Night, 8 p.m. July 16, "Napoleon Dynamite."