Muskogee County Sheriff's K-9 Officer Tibo noses his way past a Gospel Rescue Mission bed and alerts on the locker behind it. Chief Deputy Michael Mahan gives the coat inside a quick search, discovers nothing, and pats Tibo on the nose anyway.
"Sometimes there's just residual stuff from when the person got here or something," Mahan tells collected GRM staff, gathered in the dorm room. "It could mean any number of things when he alerts."
Friday morning's search of GRM dorms marked the beginning of a partnership between the Mission and MCSO, Mahan said. K-9 handler and Deputy Bryan Jones will help perform random drug searches in an effort to keep the mission drug-free.
Both Mahan and GRM Executive Director Rich Schaus stressed that the searches were not meant to be punitive, but rather to preserve a rehabilitation-friendly environment for guests. Schaus said the discovery of drugs in a guest's possessions would be handled on a case-by-case basis.
"We want this to be a safe and healing environment," Schaus said. "We would have a conversation with this person. If this has been a problem for a long time, then yes, they may be removed, but most of the time it's going to be a conversation about why they have what they have."
Mahan said MCSO saw random searches as a deterrent for bringing drugs into the mission, but did not want to discourage people from seeking assistance.
"If you need help, come here," he said. "We're not here to make arrests or put people in jail. I'm not saying enforcement won't happen, but that's not the goal of what we're doing here. We just want to keep this place drug-free."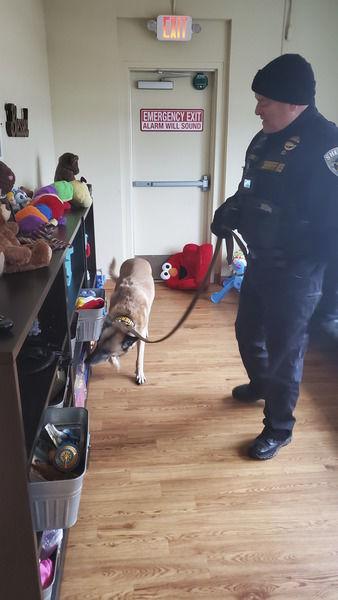 Tibo, a Belgian Malinois, seemed as eager to check out toys and brightly colored environments as he was to search, stopping every now and then for the officers to pet him. Jones discussed Tibo's methods with GRM staff as the search continued through the women's dorms and bathrooms, then the men's rooms.
"He doesn't bark when he finds something," Jones told staff. "He'll change behavior and let us know."
Tibo alerted on two lockers during his search of the men's dorms, neither of which contained any drug material. In the first instance, he sat down next to the locker, and in another he pawed at a blanket on a bed. Neither instance turned up drugs.
Keeping the environment that way was crucial to GRM's purpose as a "life change center" rather than a mere shelter, Schaus said.
"Our purpose is that our guests become God-dependent contributing members of society," Schaus said. "This isn't like the old facility where someone just got dumped off at the shelter. Here they can experience all they were designed to have and be — and we just want to make it safe for everybody."