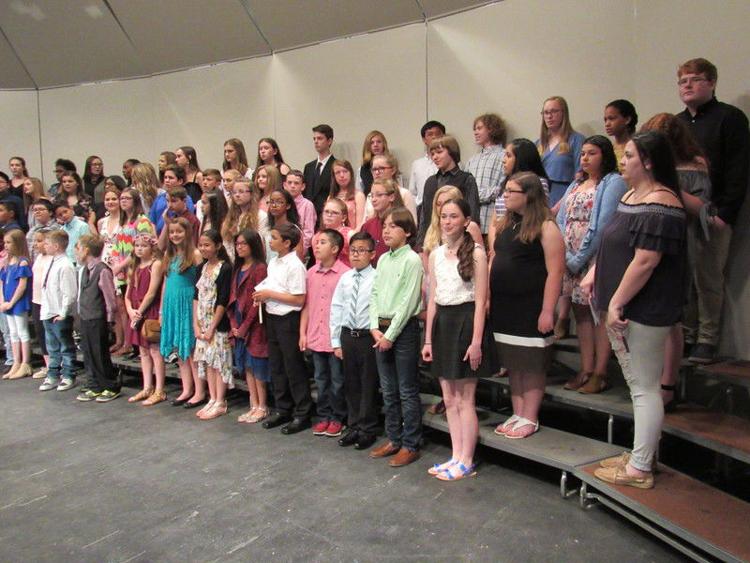 Muskogee High School choir members sang "Don't Stop Believing" Thursday at the Superintendent's Academic Honors Awards Program.
Those honored at the program could have added "Don't stop focusing, studying, reading, persevering or working."
Students from fourth grade through high school making top grades were honored with certificates and medals.
Also honored were retiring teachers and administrators, site and district teachers of the year and recipients of Education Foundation of Muskogee grants.
Superintendent Mike Garde said the evening is one of his favorite events of the year.
Students in fourth through seventh grades were honored for having the highest scholastic grades in their classes.
Students from eighth grade through high school were honored for having the highest cumulative scholastic grade point averages.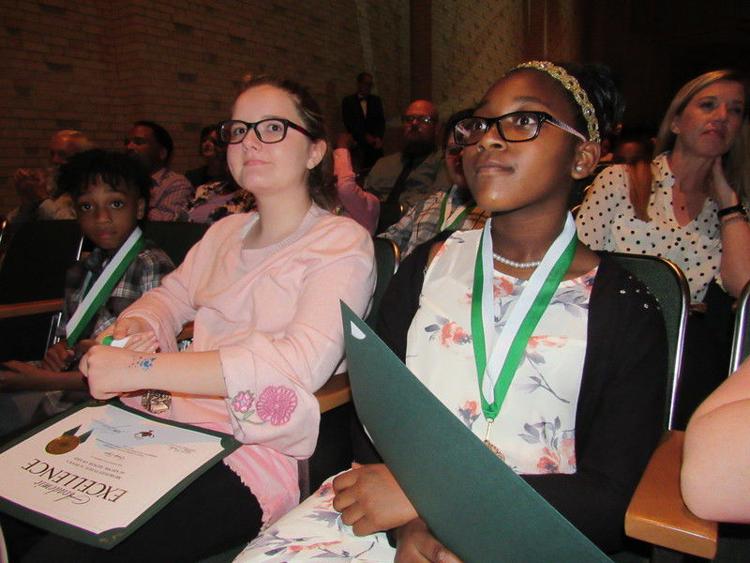 Garde said one senior, Emma Eaton, made top grades for nine years.
He said the student honor is Muskogee Public Schools' "most prestigious award, based on the highest grade point averages."
"I do not have to say what a momentous occasion this is," Garde said. "Let me assure you, these young people are a cut above."
Parents of honored students seemed to agree. 
James Felts said his son, Whittier fourth-grader Caleb Felts, is "a hard working, dedicated good Christian boy."
"He's definitely one of a kind," Felts said, adding that Caleb always has been willing to help others.
Melissa Daly said her son, MHS freshman Josh Daly, had always been focused on his studies.
"No procrastinating," she said.
Josh was honored for having top grades for five years. However, Daly said he actually got top grades for six years.
Honored students shared how they succeeded over the years. 
Senior Camryn Runyan had top grades for seven years. She said she worked hard academically ever since she was in elementary school.
She said high school has been the hardest. 
"I took several AP classes," she said.
Alice Robertson Junior High eighth-grader Jax McCutcheon said this is his first year to get the honor — and he's proud of it.
"It's nice to know people who work hard and keep up their grades get recognized," Jax said. "If you work hard, you can have a better life."
Ben Franklin Science Academy fifth-grader Moriah Nicholson is in her second year making top grades.
"I just study real hard, and I read my books," she said.
MPS honorees
Ben Franklin Science Academy —TaJuana Marshall, Hunter White, Jashawn Davison, Emily Dyer, Moriah Nicholson, Bryce Thornton, Patrick Williams, Lily McCurley.
Cherokee — Christopher Pace, Jamal Piercy, Eric Walker.
Creek — Tatum Dunn, Natalia Ashley, Brooke Mabry.
Grant Foreman — Christopher Daniels, Jordyn Craft, Nikolia Burgin, Arabella Wilson, Ai Huynh Diep, Makayla Vaughn.
Irvng — Gabriela Jacobo, Fernando Ontiveros, Daniel Olvera, Nevin Stevens, Misael Perez.
Pershing — Payton Collins, Gracie McCoin, Angel Fillmore.
Sadler Arts Academy — Ella Strickland; Charlie Rosson, Hollie Courtney, Alexandra Locke, Kyra Mackley, Landren Martin, Klaire Newell, Trenten Martin, Lexi Dansby, Klair Bradley.
Tony Goetz — Ward Johnson, Emerson Toney, Daniel Ugalde, Brianna Bryson, Trinity Knott, Addison Moffett, Jack Pool, Gabe Quemado, Serene Barnett, Phoebe Green, Chelsea Harvey, Brayd'n Henry, Jacob Jones, Alexis Love, Aidan Nicodin.
Whittier — Lizbeth Mata, Caleb Felts, Nayetzi Romero, Diego Rodriguez Coronado, Lakoda Wickson.
Alice Robertson Junior High — Jayden Bell, Courtney Boelter, Liam Church, Benjamin Fulbright, Jaydikka Hall, Alison Henson, Phat Nguyen, Ebony Oakley, Riya Patel, Diana Rodriguez Calvillo, Ella Ross, Albino Arguijo, Jax McCutcheon, Teegan Moffett, Anayeli Ontiveros, Khloe Wahl.
Muskogee High — Joshua Daly, Kylie Gioletti, Morgan Martin, Ethan Meinershagen, Abigail Mix, Phuong Nguyen, Caton Roberts, Lucy Tyrrell, Jonas Jackman, Walker John, Keyera Lantroop, Maxwell Rosson, Andrew Chapuis, Angel Edwards, Stephanie Edwards, Brookelyn Gilmore, Roy Grant, Carsen Lamont, Jayccye Mariano, Anna Mix, Taylor Myers, Abigail Page, Maci Roberts, Raylynn Thompson, Darby Church, Emma Eaton, Kendall Few, Meagan Henningsen, Riley Huston, Hannah Phillips, Camryn Runyan, Marissa Smith, Rachel Trogmorton, Ashika Patel, Mekinzie Foreman, Dominique Brown.
Retiring Teachers And Administrators — Superintendent Mike Garde, Tony Goetz Principal David Shouse, Sadler Arts Academy teacher Cindy Ball, Muskogee High School teacher Paula Elsky.
Site Teachers Of The Year — Robert Pittman, Alice Robertson Junior High; Sharica Cole BFSA; James Webb, Cherokee; Kathryn Johnsey, Creek; Ranea Poteet, Early Childhood Center; Joane Martin, Grant Foreman; Lisa Lamont, Irving Elementary; Angie Hillmon, MHS; Heather Robinson, Pershing; Renee Parkhurst, Rougher Alternative Academy; Brandy Hughey, Sadler; Debbie Voegeli, Tony Goetz; Shymekia Adams, Whittier.