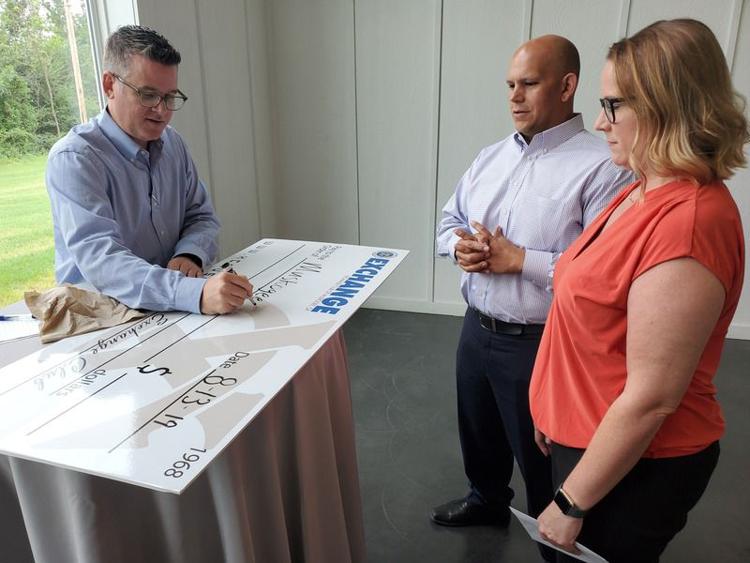 Longtime Exchange Club of Muskogee Chili and Barbecue Cook-Off Chairman Robert Smith could barely contain his enthusiasm in front of a crowd gathered in the main hall of the Eight Ten Ranch and Cattle Company.
"This is the fun part," he told attending sponsors and recipients. 
Following that announcement was a parade of presented checks, photographs, and shaking hands as the Exchange Club dispensed $30,000 raised through this year's cook-off. The money was given to nonprofit groups around Muskogee, such as Kids' Space, who received $5,500 and Court Appointed Special Advocates, who also received $5,500.
"The help means a lot," said Kids' Space Director Haley Poffel. "A lot of the grants we receive are very specific, so this money allows to do other things, as well as just the day-to-day things."
Muskogee Education Foundation representative Karra Wardour, who accepted $5,500 for the group, said the money received would go toward her organization's push to provide things for teachers that state funding can't.
"The Exchange Club is always one of our biggest donors," Wardour said. "We're very grateful."
Other recipients included Muskogee County 4-H, Kelly B. Todd Cerebral Palsy and Neuro-muscular Foundation, and the Oktaha Education Foundation
Smith said dispensing the money to the recipients was his favorite part of the whole process.
"It's very rewarding," he said. "We get to put on something that not only entertains the community but helps people in need."
It was proof of how generous the community was, Smith said, that two years in a row of bad weather didn't stop the group from raising the money they have.
"Last year was cold and miserable, some of the worst weather we've ever seen, and this year it was cold and wet," Smith said. "We've had two back-to-back down years, and we're still giving $30,000 away this year."
The Chili and Barbecue Cook-Off will only grow from here, Smith said.
"We are really proud of that specific event," he said. "The community enjoys it and we want to make sure that continues."