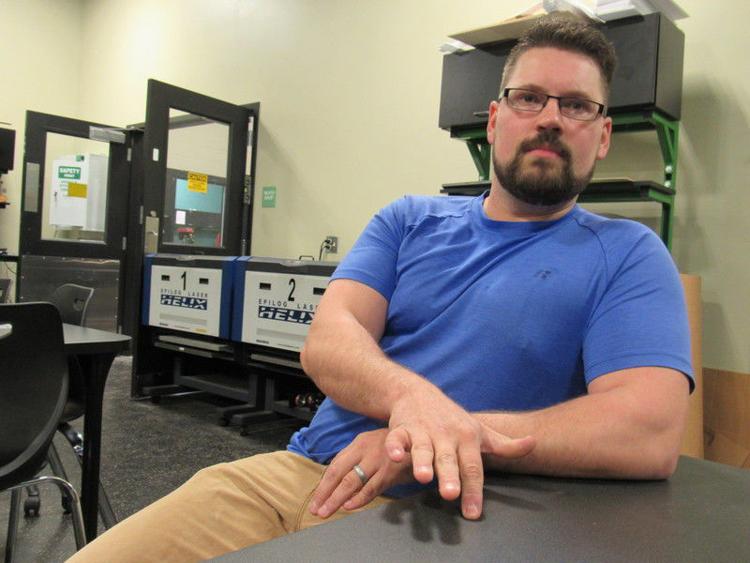 Muskogee High School's new Fab Lab Manager Collin McCawley found the right job to fit his passions.
He calls himself a tinkerer and a professional learner. The Fab Lab, which is open to the public, allows people to make items such as plaques and engraved mugs.
McCawley became Fab Lab manager in December. He said his wife Amanda, connected him up with Muskogee Public Schools Chief Information Officer Eric Wells.
He said he's still getting acquainted with using some of the technical stuff.
"But I'm a professional learner," he said. "My motto is 'always be learning."
McCawley said he sees his new job as mostly education.
"We're living in a really interesting time right now, how everything is just evolving and shifting, as far as the technical landscape," he said. "In the next 20 years, it's not going to be 'people doing tasks.' It's going to be 'people managing a fleet of automated systems that do tasks.'"
He said that being able to help people make things with a computer — a task they might face in the job market — is helpful.
The MHS Fab Lab is a place "where you can build pretty much anything," McCawley said.
"You can do your own circuit boards. You can do wood sculpting and carving. You can do 3-D printing. You can do laser engraving," he said. "Any of our customers can have access to our wood shop and our steel shop."
McCawley said he put information about the Fab Lab on his Facebook page "and got a lot of enthusiasm."
"Crafters and tinkerers, they just love us," he said. "We have people come in. They'll make plaques. That's probably one of our main attractions.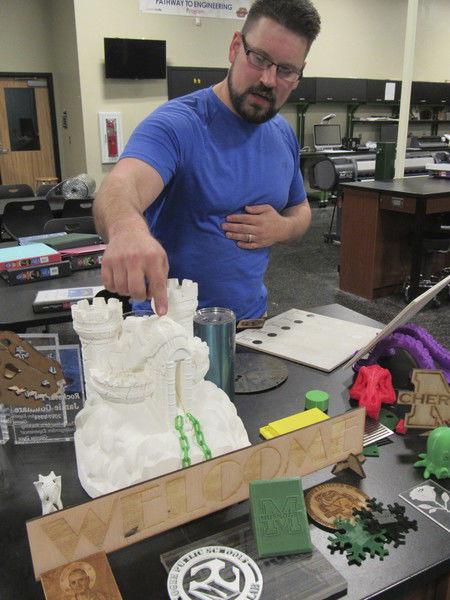 McCawley said he "grew up in the trades."
He said he was 11 years old when he started helping at his fathers heat and air conditioning business.
"I grew up banging together sheet metal ducts, learning trade stuff, doing construction," he said. "When I was 17, I joined the Navy and became a propulsion mechanic and spent some time on a submarine."
He said he worked in sales for a while before deciding he'd rather work with his hands.
"Building and creating has always been a passion of mine," McCawley said.
McCawley said he did fabrication work at Eastpointe Industries after serving in the Navy. 
"I did quality control and steel fab. They did cell phone tower fabrication," he said.
McCawley said he sees the Fab Lab as a "toy store for nerds."
"You do cool stuff and accidentally learn something," he said with a laugh.