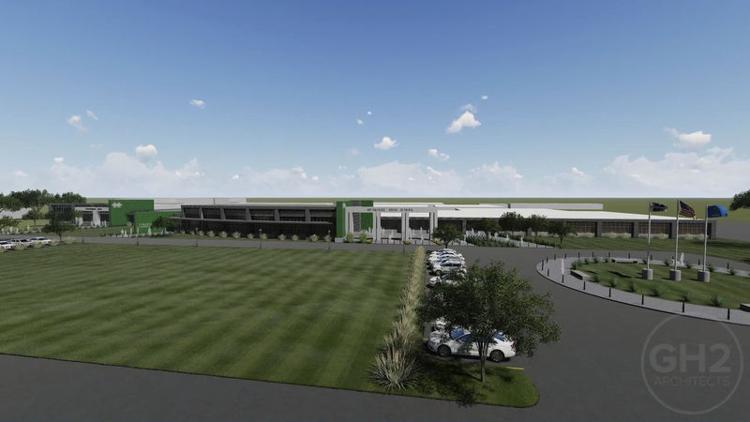 Developing a simple message for voters who will weigh in next week on a Muskogee Public Schools bond proposition may have proven problematic for the chief administrator trying to sell the $110 million package.
Superintendent Jarod Mendenhall made numerous presentations to organizations, drumming up support for the proposal that would include the issuance of a series of lease purchase bonds. During his pitch at public presentations and pamphlets distributed by mail, the district's chief administrator said the bonds, which will temporarily increase the millage rate on real property within the district, would be paid off in 12 years. 
Muskogee County Assessor Ron Dean said calls from homeowners and business owners wanting to know how the bond proposition would affect their pocketbooks after hearing a presentation prompted a closer look at the numbers. Based upon projections initially provided by the district and its bond adviser, Dean said millage rate would increase gradually to its projected high of 32 mills for 14 years before dropping below its present level for two years.
When asked about the contradiction between the messaging and the calculations, Mendenhall said he may have been overly concerned with simplifying the message. He said his focus was on the most a homeowner would pay if votes approve the package — the owner of a $100,000 home would pay about $120 a year more in taxes during those years when the millage rate peaks.
"Messaging for me is huge — I can't tell you to vote yes ..., but how do I give you the information that's that looks the best," Mendenhall said, noting the complexity of the issue and a need to simplify the message. "So I kind of went to the extreme of saying 32 (mills) because I knew we weren't going to go above 32, right? And I did the 12 years because I knew that we weren't going to do 32 (mills) for more than 12 years, but it looks to be longer now."
Ron Fisher, president of Stephen H. McDonald & Associates Inc., presented new estimates of the district's assessed valuation based upon higher projected growth. Fisher, a financial adviser who is putting together a package of lease purchase bonds, said the initial estimates turned out to be overly conservative.  
"When we heard that Saint Francis wasn't paying their taxes we didn't really comprehend how that was going to flesh out, so we dropped the projected valuation by a million bucks and then assumed no growth," Fisher said about the Tulsa-based nonprofit's decision to withhold an in lieu of payment that presently is part of a contractual dispute. "Well 'lo and behold the valuations came in and instead of dropping a million, they went up $2.6 million, so that's where we started saying OK, let's be more realistic." 
Fisher said projecting annual growth of net assessed valuation of the district's property of $4 million would shrink what would have been a 20-year period to retire all lease purchase bonds identified in the proposal to 16 years. If voters approve the proposal, the millage rate for property within the district would increase gradually from its present rate of 20.9 mills to 32 mills in 2026 and remain at that level until 2035 before dropping to 27.08 mills in 2036 and then expire the following year.
"If we have more growth than what we project, that millage rate would be less — and the converse is true: If we don't have that $4 million growth, it could increase a little bit," Fisher said. "If you look at your history, you know, I'm comfortable with it."
Dean said he concurs with Fisher's projections based upon upon a 25-year history of the district's assessed value and described projected annual growth of $4 million as a conservative estimate. The assessor said his primary concern was being able to address the concerns of property owners who had questions about the district's bond proposal. 
The $110 million bond package would fund an estimated $83 million worth of projects that would include new and refurbished schools, land acquisition and technology upgrades throughout the district. Fisher said about $1.13 million would go toward the cost of issuing a series of 15 general obligation bonds, and the bulk of an estimated $26 million would be paid to revenue bond owners.
Other expenses unique to lease purchase bond, which experts consider a "creative financing technique," are fees paid to a public trust that would issue the bonds and lease the property back to the district as those bonds are paid off. This type of bond reportedly is used by school districts "to obtain larger amounts of money for school construction than could be provided through the building bond process authorized for schools in the Oklahoma Constitution."
Fisher said school districts can get all of the money needed for big projects up front instead of having to stagger out projects over longer periods of time. In addition to saving time, Fisher said it reduces the costs of construction due to inflation. 
Lease purchase bonds are not without critics, some who question the legality school districts' use of them. Clarence G. Oliver Jr., author of "Leading with Integrity: Reflections on Legal, Moral and Ethical Issues in School Administration," writes in the book that "many questions have been raised in recent years" about school districts' use of what also has been described as "conduit financing."
Oliver's material was provided to lawmakers during an interim study in 2016, when legislation was introduced to restrict the use of lease purchase bonds. In addition to the constitutional concerns about the constitutional debt ceiling on school districts, another concern was no requirement for competitive bidding. 
Fisher said such a requirement would have been a mistake due to a loss of "institutional knowledge" about the districts served by financial advisers and bond counsel. 
"We know what they want and what they expect we know what they need from us — we know what kind of product they deliver," Fisher said about the bond counsel he works with. "If you put them all out for RFPs you're gonna get people from out of state who have no clue how the law works from the authority's standpoint, from the school district's standpoint — it's going to be a train wreck."
While the legislation never became law, Oliver states in his book "Leading with Integrity … Reflections on Legal, Moral and Ethical Issues in School Administration," that the "jury is still out" on the issue. Fisher said districts across the state use lease purchase bonds, and his firm puts many of them together. 
Mendenhall, who said the bonds were used at Broken Arrow Public Schools to keep up with the district's growth, said the projects that would be funded here by the proposed bond package could spur similar growth in Muskogee. 
"My experience has been that if you build it they will come because they want to be part of something bigger than themselves," Mendenhall said. "We're doing this because we want it for our kids — that's number one, but I do think there's some residual, too — I think there's going to be economic development."