People can boost their fitness walking around at this weekend's First Saturday Gathering, promoters say.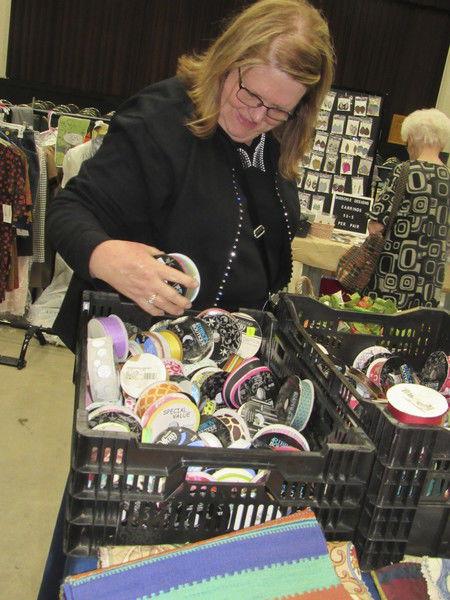 Lake Area United Way will sponsor a booth called "Move Muskogee" encouraging people to walk, said United Way Outreach Coordinator Terry Beutelschies.
She said people can register for a program to see how far they walk until the final Gathering of the year in October. Those who walk the farthest could get gift cards or cash prizes, she said. The program also is sponsored by the Muskogee Health Department.
"If they have a fitness device, a Fitbit or even a phone app, if you start recording your steps, we're keeping a log of everybody's steps," Beutelschies said. "Before they leave, if they come back to the table, we'll register the number of steps they took. Hopefully at the end of the last First Saturday Gathering, we'll say how many steps people took."
Saturday's gathering will feature two guided walks, about a mile each. Registration is 8 to 8:30 a.m. for the first and 9 to 9:30 a.m. for the second. Routes go through downtown and include part of the Centennial Trail.
"Some of our guides have information about different points of interest," Beutelschies said. "Everybody likes to go in groups."
People also can count steps taken walking to other First Saturday Gathering attractions.
"That includes the Farmers Market," she said. "The big thing for some is the market inside the Civic Center. Some of it is flea market things. Others are crafts and vendors. That's been a real big draw." 
First Saturday Gathering is Main Street Muskogee's effort to encourage people to enjoy downtown. 
Other activities include sidewalk sales and a talent showcase. 
Members of the Cruis'n Angels Car Club show off their variety of vehicles during Cars and Coffee."
Main Street Muskogee CEO and Executive Director John Newby said each gathering has drawn more than 2,000 people.
"The farmers market is always a hit," he said. "The Cars and Coffee have proven to be a nice draw and of course, the Marketplace in the Civic Center draws all types of interested community members, as well. He said the sense of community brings people back each month.
"The farmers market and all the other events work together to create an event that is much larger than the sum of the individual parts that are working together," Newby said.
Lake Area United Way also will set up obstacle courses for youngsters, Beutelschies said. One will be for ages 8 and under, the other is for older youth. Participants will get "superstar" medals.
The courses will feature tunnels, hopscotch and tires.
"The little ones will have a ball they could hop on," she said. "Then, we've got these little stepping stones so they can check their balance as they go across the stepping stones."
Older participants will try skills with hula hoops, running around cones, jump ropes, hurdles and throwing a ball through hoops.
"They can do it as often as they like," Beutelschies said.  
The booth also will feature face painting and information about the Dolly Parton Imagination Library. Beutelschies said the Imagination Library offers a free book each month to participating children up to age 5.