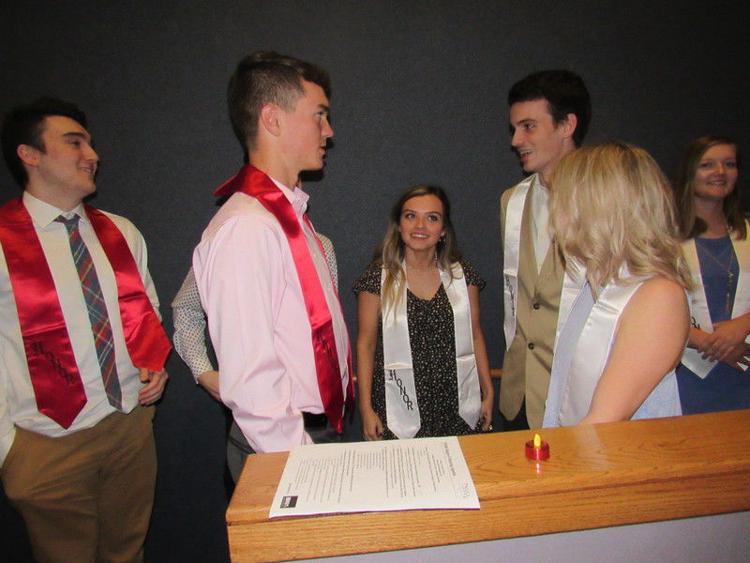 Fort Gibson High School senior Blake Faulkner said algebra teacher Taylor Deatherage helped him become an honored Red Scholar.
"She was a softball coach and hard-working woman," Faulkner said, calling Deatherage "a great mentor."
Mentors were in abundance when Fort Gibson High School's top 32 graduates were honored at the 2019 Red and White Scholars Banquet last Thursday. They will wear stoles designating their status at the high school graduation May 17.
Fourteen seniors were named Red Scholars, meaning they earned a grade point average of at least 4.0 and scored 24 or higher on their ACT composite exam.
Eighteen were named White Scholars, meaning they earned a grade point average of at least 3.5 and scored 22 or higher on their ACT composite exam.
Rossalyn Glover said she didn't realize she would be a Red Scholar until her senior year. She said she had taken AP classes, but achieving the high honors was a "pleasant surprise."
Rossalyn's mother, Keli Glover, didn't seem a bit surprised.
"She worked very hard," Keli Glover said. "She's taken a lot of extra classes."
Lauren Hess, another Red Scholar, said she had always set a high bar.
"I was self-disciplined and self-motivated to get good grades," she said. "I never really thought about being a Red or a White Scholar."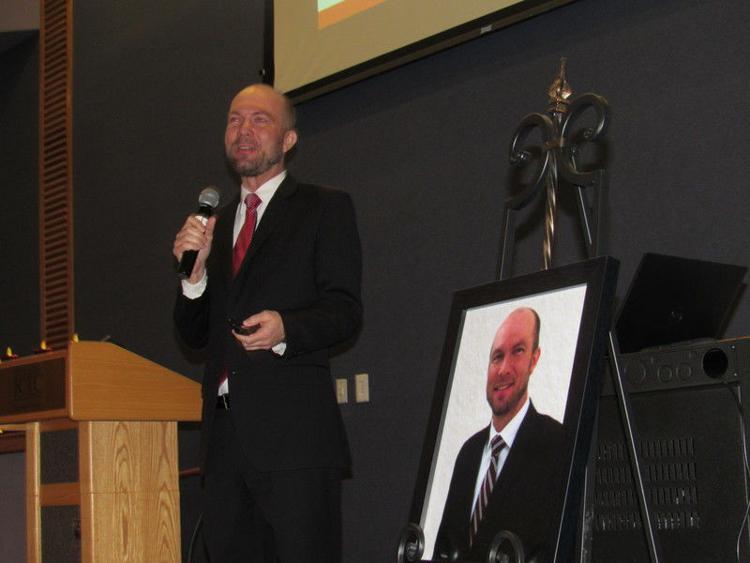 Banquet speaker Dr. Jason Slinker discussed the road he took to become head of the University of Texas at Dallas undergraduate physics program. The 1997 FGHS valedictorian shared lessons he learned and mentors who helped him along the way.
For example, he recalled having to decide between attending Harvard or Cornell.
"Sometimes, you find in your life, you have to make the really tough call," Slinker said.
He ended up earning his master's degree and doctorate in applied and engineering physics from Cornell. He studied at the University of Cambridge under a National Science Foundation graduate research fellowship.
While earning his doctorate, Slinker worked on organic light emitting devices and got to mentor students interested in undergraduate research.
"During this time, I felt maybe this professor thing might be for me," he said.
Slinker said his time at Cambridge taught him "keep your eyes open to opportunities around you."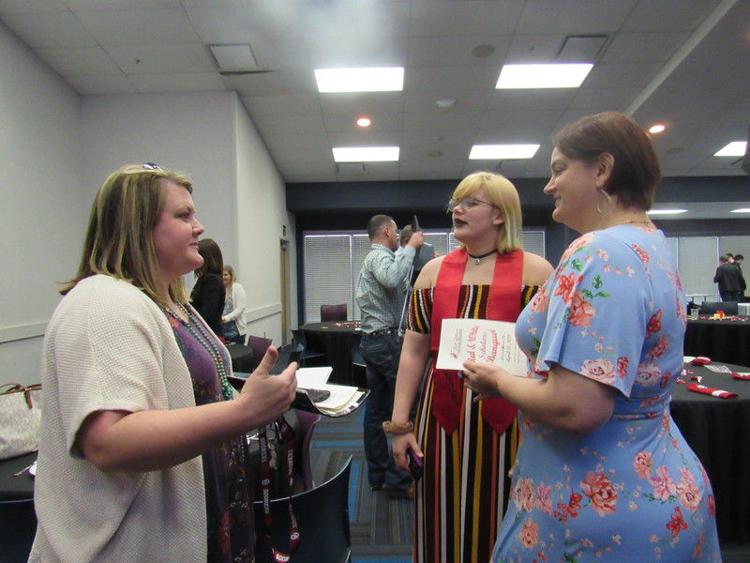 He did post-graduate work at the California Institute of Technology's biochemistry lab.
"That was definitely a big step for me because I hadn't studied biology since I was at Fort Gibson. And I avoided biology like the plague at that point," he said. "So it was definitely a step of faith."
He said that experience taught him "sometimes our success isn't defined by accomplishments at the moment, but the dedicated work following through."
Slinker joined the physics department at UTD in 2010. He works on devices that track anti-cancer drug activities.
He said he has learned the value of getting his students "drawn into the story" and sees how these advancements can help. Slinker told the scholars to think of their high school teachers.
"These are teachers who inspired you in some way to become a better version of yourself," he said.
RED SCHOLARS: Hunter Neil Bartlebaugh, Julie Ann Isbell, Jennifer Grace Crawley, Connor Allen Landers, Noah Keith Dunlap, Taylor Brooke Locust, Jeffrey Blake Faulkner, Olivia Maria Olvera, Samantha Angel-Rose Fugate, Rylee Madison Rowe, Rossalynn Mickell Glover, Kylee Jeanae Snell, Lauren Nicole Hess, Andrew Ray Storrs.
WHITE SCHOLARS: Graci Elizabeth Bradham, Levi Austin Nance, Cade Asher Clinkenbeard, Madison Mary Parisotto, Larry Dewayne Crooks, Cassie Dawn Pendergraft, Kamber Lynn Cummings, Brodee Micheal Rosson, Cora Nicole Edscorn, Jason Levi Sandersfield, Mesa Rose Gann, Cynthia Ann Starner, Audrey Madison Gilliam, Danielle Marie Tice, Noah Grey Jorgensen, Kobe Lance Wall, Lorelei Ranae Mutch, Maddison Josie Williams.