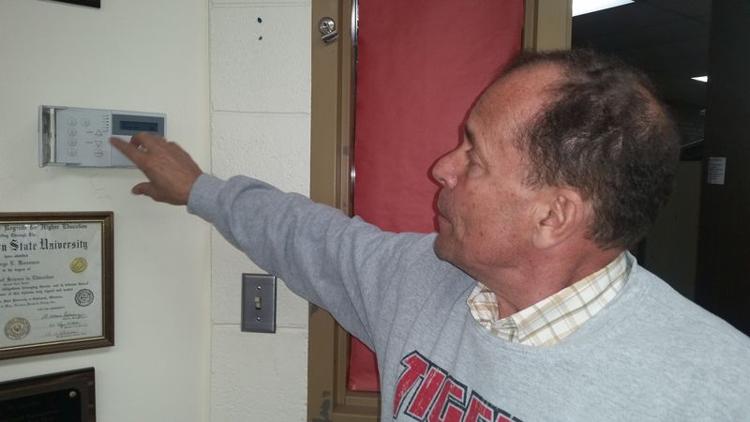 Changing light bulbs helped Fort Gibson Schools save hundreds of thousands of dollars in energy costs, officials say.
The district is replacing its fluorescent or incandescent lights with more energy efficient light emitting diode, or LED lighting. 
High School teacher George Kunsman, who oversees the change, said the campus is almost 100 percent on LED.
"We have one more outside project to do," Kunsman said. "By the end of summer, every light on campus will have the latest technology of LED lighting."
LED lights are 60 percent more efficient and have a more natural glow than fluorescents, he said, adding that 5,000 lights have been replaced so far.
"So we're saving tremendous amounts of money on our utility bill through reduced electricity," he said. "We're saving about $20,000 a year."
Kunsman said OG&E recently rebated Fort Gibson for each year the district has used LED lighting since 2016.
At a recent board meeting, OG&E presented a $107,504.33 check to the district, representing savings due to the LED lighting. The money represents a savings of 805,478 kilowatt hours of energy saved since the program started.
Kunsman said the district worked with the energy-saving company CLEAResult to change its lighting. 
He said the district initially paid $50,000 for the LED bulbs, which are guaranteed for five years. OG&E paid the district an additional $20,000 rebate, he said.
Kunsman said the district has saved more than $1.5 million over the past 13 years by encouraging other energy-saving measures. 
For example, the district has an Internet-based energy management system that can regulate heating and air conditioning from the computer. Kunsman said he could turn air conditioning on or off from any computer. Teachers can make temperature adjustments on classroom thermostats.
Also, staff members are encouraged to turn off lights when not in a room. Kunsman said there is no longer truth to the notion that repeatedly turning lights off and on wastes energy. 
"With the LED lighting, the energy you use when you turn the lights back on is less than a second's worth of electricity," he said. "If you're going to be gone for more than a second, you're actually still saving energy."