Gov. Kevin Stitt stopped Thursday in Muskogee to boast about some of his first-term successes before the 2022 election cycle begins. 
During a Muskogee Rotary Club luncheon he reviewed some highlights of the "most productive" session legislative leaders can recall. A $1.8 billion savings account and tax cuts topped his list. 
The governor also shared news about the Cattlemen's Congress, an organization formed in 2020 to conduct a stock show in Oklahoma City when the 2021 National Western Stock Show in Denver was postponed due to the COVID-19 pandemic. The fledgling organization will return to Oklahoma City for a second event in January, competing against the Denver stock show that sank roots in 2016. 
Stitt tossed out a teaser about his use of $1 million from the governor's closing fund to lure an Atlanta company to Muskogee. He said the company will be bringing 300 new jobs to town, but offered no more details. 
"I just want you to know how important your Legislature is for giving the governor some of those discretionary funds to go and make deals and compete with other states," Stitt said. "We've been trying to diversify for years, and we're specifically targeting manufacturing, rural Oklahoma, and really moving the needle."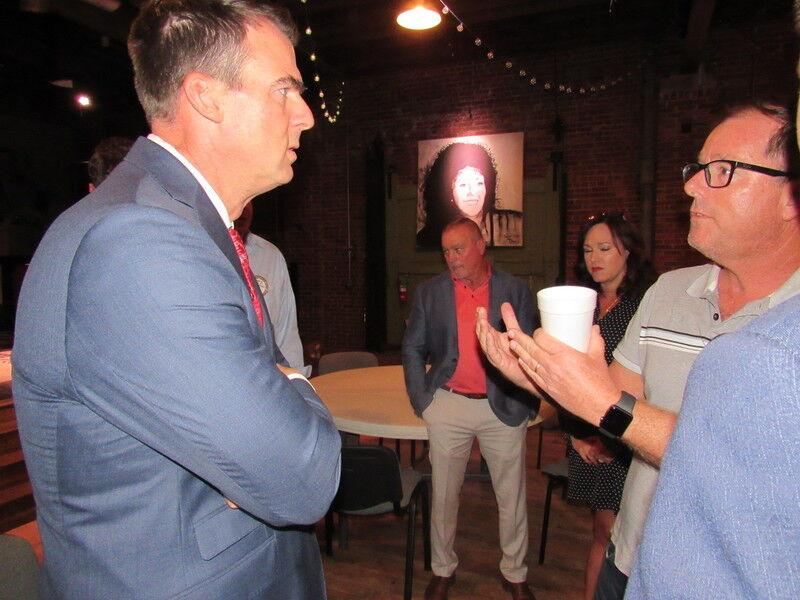 Marie Synar, industrial development director at the Port of Muskogee, said the company Stitt referenced is the one that would benefit from a tax increment finance district discussed during recent weeks. Estimated capital investments for that project could total as much as $323.5 million to construct and equip a manufacturing facility that would be built at the port. 
Stitt also spent several minutes rehashing the 2020 U.S. Supreme Court decision of McGirt v. Oklahoma, which determined Congress, for purposes of federal criminal law, never disestablished the Muscogee Nation reservation. The Oklahoma Court of Criminal Appeals subsequently determined the same applies to all Five Tribes of eastern Oklahoma. 
"This creates tremendous uncertainty, and it really threatens Oklahoma's sovereignty," Stitt said. "I'm proud of our native heritage that we all have, but this is a public safety nightmare for victims and law enforcement ... it affects the criminal side, the civil side and the taxation side."
Stitt cited as an example a new law of the Cherokee Nation. He said the tribe's anti-harassment law "allows the Cherokees to go in and potentially take firearms away without due process."
"If you're living on a reservation, you lose some of the Bill of Rights and some of the constitutional protections because it … does not fall underneath the jurisdiction of the U.S. government — it's a separate nation," Stitt said. "Scary stuff for people that live in eastern Oklahoma, now what the tribe's think is on a reservation."
Cherokee Nation Attorney General Sara Hill said the law Stitt referenced Thursday is modeled after an Oklahoma law that "is designed to protect Oklahoma citizens." Hill said victims who apply for protective orders in Oklahoma state courts "can request that a judge order the abuser or harasser to surrender any weapons in his or her possession," and they "must be surrendered to local law enforcement" if an order is entered. 
"It's not clear why the governor would object to the Cherokee Nation using the same legislative tools to protect Cherokee citizens, especially when the Nation's anti-harassment law allows for more expansive victim protection," Hill said, responding by email to questions about Stitt's comments. "Although we agree with Governor Stitt that the Cherokee Nation is a 'separate Nation' the allegation that tribes are not 'under the jurisdiction of the U.S. Government' is inaccurate and reflects the governor's misunderstanding of the legal status of the 38 tribes located in his state."
Stitt was criticized in August following similar comments he made in Tulsa. Muscogee Nation officials said remarks made by Stitt about the McGirt decision during a Tulsa Regional Chamber of Commerce event are false. 
"It is unfortunate that the Governor persists on the taxpayer-burdening litany of litigation in attempts to overturn the U.S. Supreme Court ruling in the McGirt case," the Muscogee Nation said in its official response. "He pleads that if the decision isn't overturned, 'there is no state.' That is false. 
"The U.S. Supreme Court's decision gives the tribes and the state new ways to work together for the better of everyone who lives in Oklahoma," Muscogee Nation officials state. "The Governor's goal to return to the wrong and unlawful past just because generations of Oklahomans have gotten used to it is deeply flawed and extraordinarily divisive."