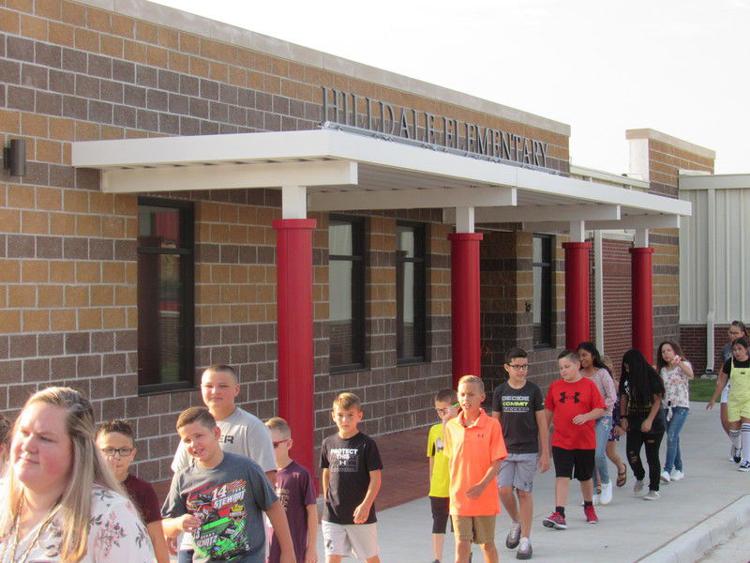 Hilldale Elementary students started the new school year Wednesday in a larger building with a single entrance.
Even the name has changed. With the new entrance Hilldale Upper and Lower Elementary combined into one school. Upper Elementary and Lower Elementary shared a campus and some facilities, but each had its own entrance and mailing address.
Hilldale Elementary Principal Patti Bilyard said the new entry is "beyond our wildest dreams."
"Now, all parents know we have one entrance," Bilyard said. "Everybody comes through here. There's no confusion."
She said student drop-off went great for the first day.
"We had a meet-and-greet last Thursday, and I had staff members stationed to help parents know where to go," Bilyard said.
Parent Elaina Murray said the new entrance is gorgeous.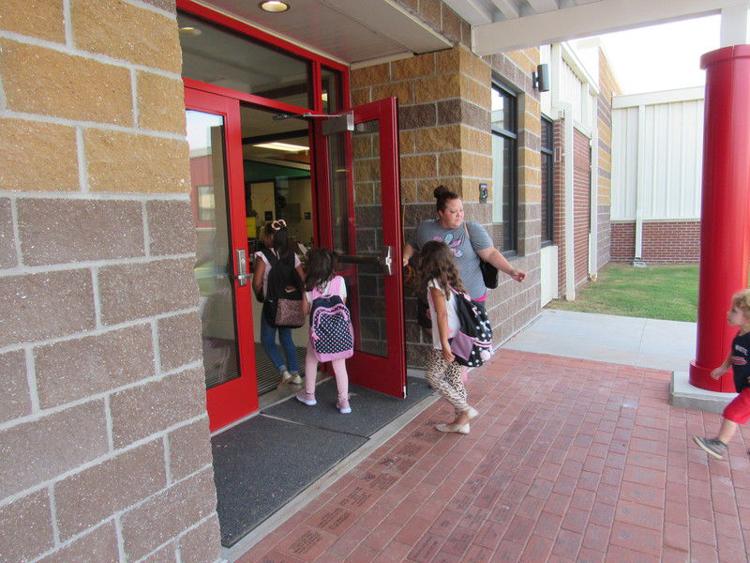 "We've got more space. It's nice to see people walk in," Murray said while dropping her child off Wednesday. "I like them to have that extra space and all the windows."
The new entrance and a 10-classroom fifth-grade wing were funded by a $15 million bond issue approved by voters in 2017. A new elementary gym, another bond issue project, will be ready for use in a month after the wood floor's treatment settles, Bilyard said. 
Fifth-grade teacher Jayme Nixon said she loves her new classroom, which is twice as big as her old one. She also has a wall of shelves and cabinets, which she did not have in her old classroom.
Lockers will be a new experience for the students, even though students had lockers in lower grades.
"We're going to be a little bit more like junior high, where they go to their lockers between class, and only get what they need for each class," Nixon said. "They're not carrying everything with them."
Bilyard said the fifth-grade wing is set up like a pod, with three teachers to a pod. One teacher focuses on math, another on language arts, a third on science and social studies. 
Nixon said the pod setup helps prepare students for junior high.
"They have to be a little more responsible and thinking ahead," she said. "They have to be a little more organized."
Bilyard said the district plans to eventually add more classrooms and bring sixth grade over, creating a fifth- and sixth-grade center.
The fifth-grade wing is on the opposite side of the new gym from the rest of the school.
The current elementary gym will become a multipurpose room and be used for indoor recess, Bilyard said. Also, bus riders will wait in the old gym to be picked up after school.
Three Head Start classrooms also have been added to the elementary building. Bilyard said the classrooms will be for birth through 2-year-olds, 3-year-olds and 4-year-olds.
Bilyard now has two assistant principals, Christina Hamm and Donna Lorenz. Hilldale Elementary's mailing address is 315 E. Peak Blvd.