See old friends in a new light at this year's Garden of Lights.
There's the angler trying to catch that ornery fish.
Up the path, lighted children toss fresh white snowballs while others sled downhill.
"Everything old is new again this year," said Muskogee assistant parks and recreation director Rick Ewing. "We actually reworked some of the old animated scenes.
The animated scenes return to the Garden of Lights, which runs Thanksgiving night through New Year's night at Honor Heights Park.
Ewing said the animated scenes, done in white lights, are among visitors' favorite Garden attractions.
"One of the things we get asked about probably more than anything is the displays that John Vecchio and his crew worked on way back when we first started, probably 25 years ago," Ewing said.
He said the crew created a new display each year.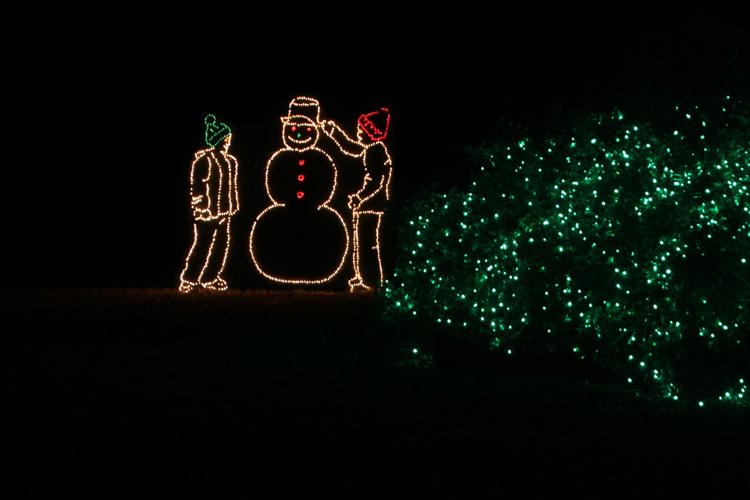 Ewing said Muskogee Parks and Recreation workers dug them up and got them back into working order.
"There's jumping deer, there's a dog catching a Frisbee," Ewing said. "There's the sled scene, the fish jumping out of the water and spitting in the boat. The frog jumping across the water. We have several of those we had fun with over the years."
Of course, the garden will feature millions of colorful lights on trees, azalea bushes and along paths.
Even the playground has lights this year, Ewing said.
There also will be a tall colorful tree and other attractions in the ball field.
"We have a few little surprises in nooks and crannies we're playing with this year," he said.
Special activities this year include the Garden of Lights run, Dec. 14, and a visit with live reindeer, Dec. 15.
Holiday traditions also continue during the Castle Christmas, which runs Thanksgiving through New Year's Eve at the Castle of Muskogee.
North of Honor Heights, Castle Christmas features inflatables, animated light displays and thousands of lights.
Pony rides will be Fridays through Sundays, weather permitting. They are $5 per child.
Tractor-driven hayrides run Fridays through Sundays at $5 per person and $1 for children 12 and younger.
The Castle Train runs Thanksgiving through Sunday; Dec. 6-8; Dec. 13-25; Dec. 27-29, weather permitting.
Camel rides are $5 per person.
The castle also will feature visits with St. Nicholas, gift shops and craft merchants. Soups, sandwiches, cookies and cocoa are served in Rudolph's Cafe. Holiday movies will be shown in Chalice Hall.