Native Americans will share their traditions and lore Monday during the Indigenous People's Day Celebration.
The celebration, beginning 11 a.m. Monday outside Muskogee Civic Center, is hosted by Muskogee Oklahoma Native American Association (MONAA).
"We want to let everyone be aware of our culture, our history," said MONAA Chairwoman Mary Crawford. "There will be Native American food. There will be a lot of tribes represented."
The celebration also honors Native American veterans, she said. 
MONAA Public Relations Director Sarah Megan Kelley said the celebration will be held at the Civic Center pavilion to ensure social distancing. 
Festivities begin with an indigenous march around the Civic Center.
"We're going to ask our local schools' Native American organizations to participate," Kelley said. "Muskogee Public Schools is going to participate with us by carrying tribal flags."
Princesses with area tribes or Native American organizations also are invited to wear their traditional regalia, she said.
Cherokee veteran Mike Stopp, a graduate of West Point, will sing the national anthem.
Stacy Leeds and Jack Reavis will be keynote speakers.
"We want people who may not know about our culture and our heritage to be education about our culture and our values, which is why our panel has two world renowned educators," Kelley said.
Reavis, also a Cherokee, teaches history at Muskogee High School. 
Leeds, a Cherokee, is dean emeritus for the University of Arkansas School of Law. The Muskogee High School graduate completed a 950-mile Remember the Removal bicycle ride and lives near Tahlequah.
Kelley said Leeds has worked in several capacities with Indian law and has worked with the Cherokee Nation,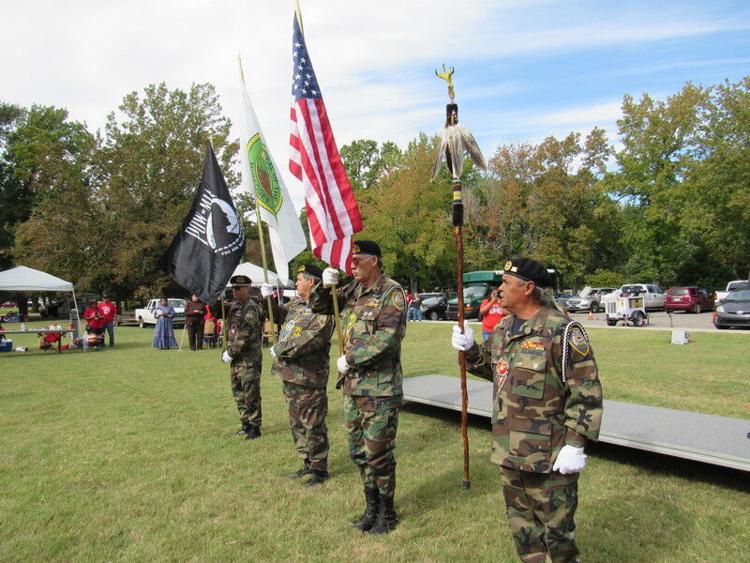 "She is very resourceful," Kelley said. "In this role as being one of our speakers, she wants to be known as a community ambassador for Muskogee."
Cherokee Sarah Cowett will demonstrate how to make cornhusk dolls. 
Kelley, who is Cherokee, Comanche and Osage, will tell Native stories.
"I will tell a Cherokee story about how the cardinal got the color red," she said. "Another story will be about how the Comanches put a monster on the moon. Since I represent three tribes, I know a couple of children's stories."
A gourd dance will be at 3 p.m.
"We're going to show people how the men dance with gourds," Kelley said. "They will be shaking gourds. We will have a few singers at a drum singing gourd songs."
MONAA women will show fundraising shawls they made.
"Because of COVID, we really haven't been able to do as much gathering of our tribal leaders because of all of the tribes canceling," Kelley said. "This is just a celebration of our people, our tribal sovereignty and our culture."