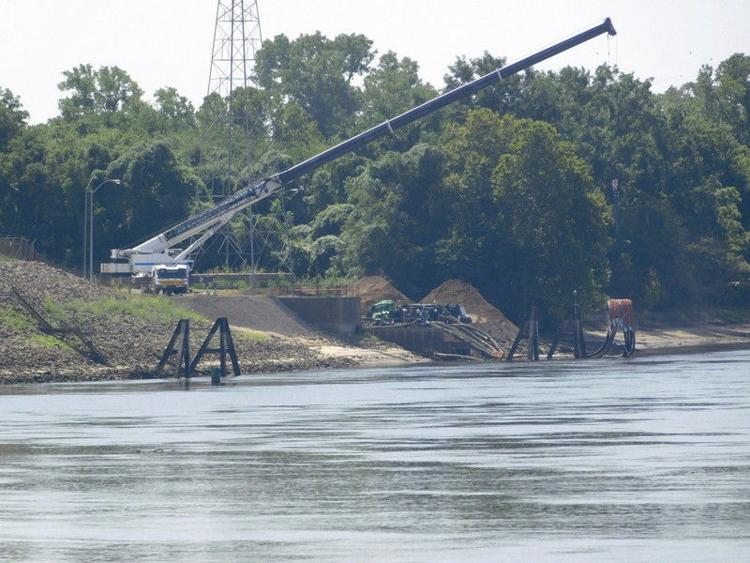 Water levels in the Webbers Falls pool of the McClellan-Kerr Arkansas River Navigation System continued to drop, prompting local industries to take steps that will accommodate continued operations. 
Tim Thompson, OG&E's community affairs manager at Muskogee, said the utility's generating plant was among those that had to make accommodations for falling water levels in the navigation channel. He said water drawn from the Arkansas River circulates through cooling towers, which are used to cool the turbines that generate electricity at the company's Muskogee Generating Plant.
"Since the water levels have been forecasted to go down and are being lowered for what they are doing at Webbers Falls, we are making accommodations for the plant," Thompson said Wednesday. "This is solely a temporary situation to get water out of the river for our operation."  
Public Information Officer Preston Chasteen at the U.S. Army Corps of Engineers Tulsa District Headquarters said water levels were raised upstream from Webbers Falls Lock & Dam 16 on Aug. 12, allowing commercial barge traffic to vacate the pool. After raising the pool to an elevation of about 491 feet on Aug. 13, the Corps began lowering it. The agency reported a pool elevation of 480.57 feet at 4 p.m. Wednesday. 
Water levels in that reach of the navigation channel were lowered to accommodate efforts to salvage two barges swept away by floodwaters in May from the Port of Muskogee. The runaway barges sank immediately after striking the Webbers Falls Dam, where they have been "pinned tightly against" the structure since the collision.
Chasteen said salvage workers used what was described as "large sheers" to cut and remove sections of the sunken barges. The Corps has deployed maintenance personnel who are at the site and attempting to lower the gates as conditions permit. 
"They're steadily lowering the pool at Webbers," Chasteen said. "They're targeting a rate of about two feet per day until it gets down to where the salvagers can effectively do what they need to do or they can free up the barges enough where we can operate the gate and shut off that flow."
Tom Strother, a spokesman for Georgia-Pacific, said accommodations were made to maintain operations at the company's Muskogee mill. He said the mill draws water from the navigation channel for a "variety of different uses, but it all goes toward operations." 
"We were made aware (of plans to lower water levels) a couple of weeks ago, and since that time we have been doing internal evaluations and determining what our next steps were going to be," Strother said. "We have installed some additional pumps outside our normal system in preparation for the water levels as they continue to drop." 
District 1 Commissioner Ken Doke said earlier this week the push to salvage the barges at Lock & Dam 16 was driven in part by the "huge economic impact" of the navigation channel's extended closure. He said there were reports of about 300 barges docked in Mississippi due to the closure, and more than half of those are loaded with cargo bound for Oklahoma ports.  
"The state's taking a big hit from the inability to move barges along the navigation channel," Doke said. "It's affecting a lot of folks ... there's a huge economic impact, and that's the impetus of wanting to get this salvage done."