TAFT — Daniel Roberts went to prison for simple drug possession in early 2017 — but a January 2019 ruling on State Question 780 retroactively designated his crime as a misdemeanor, not a felony. Roberts is one of 700 Oklahoma Department of Corrections inmates due for release in November as a result.
Roberts, therefore, could be released as early as Nov. 4 alongside fellow inmates at Jess Dunn Correctional Facility in Taft, and he wants to be ready for the change.
"It gives us confidence in having something positive," Roberts said. "You need that, or a lot of times you go right back into prison."
That's where the Oklahoma Department of Corrections Transition Fair came in — a collaborative effort between DOC, the governor's office and nonprofit recovery organizations connecting inmates with a variety of transition houses and services intended to help them re-enter society and stay out of prison.
"This is kind of a historic event," said Jess Dunn Deputy Warden Terry Tuggle. "There's always been a lot of efforts for things like this, but it's never come together. This is the first time we've put those things together."
Tuggle said the event was important because of the wealth of information available to the inmates about transitional resources.
"There's not really any answers they can't get here," Tuggle said.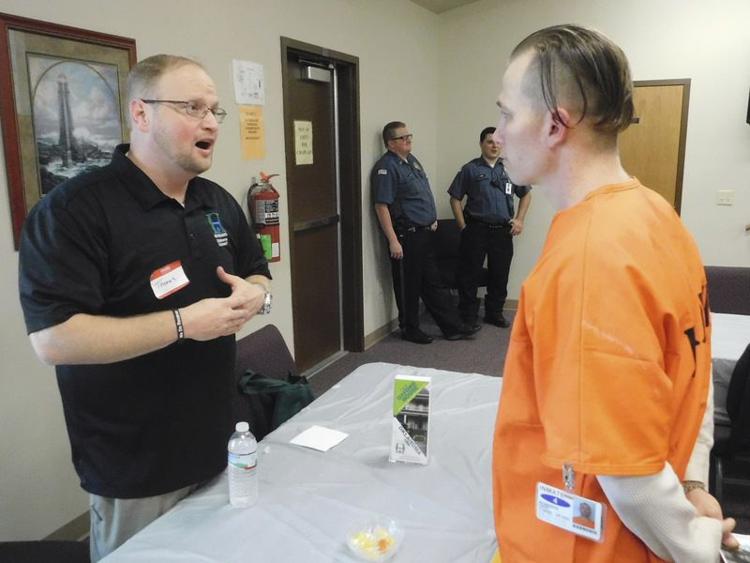 Prisoners first heard from the different organizations there to speak with them, then moved to the Eddie Warrior Chapel, where they met individually with organizers and representatives about their post-release plans.
One of those organizers was Tricia Cox, with Family and Children's Services, who said the event was "phenomenal."
"This is really encouraging," Cox said. "It makes me very hopeful. It's important to invest in people, and I think something like this benefits everyone. I'd rather fund these men being out than fund them being kept in."
Another one of the organizers, Chris Rose, runs a transitional house in Claremore called Don't Look Back, primarily for drug offenders.
"I just think this is going to help these men see they can change," Rose said. "I think this is outstanding. They didn't have this when I was in prison. This is a whole new day for them."
The organizers provided information that Roberts doesn't plan to waste, he said.
"If you do what you always did, you get what you always got," Roberts said. "I'm going to make some changes."
The optimistic mood of the event was perhaps best summed up by the cheer DOC Transition Coordinator Lovie Byrd received when she told prisoners with whom she'd worked that she expected to see them doing well outside of prison.
"I wish you all the luck in the world, and I know each and every one of you can do it," Byrd said to the crowd, amid applause.