U.S. Sen. James Lankford spent Monday in Muskogee meeting with various constituent groups in public settings as concerns about exposure to the novel coronavirus wane and vaccination rates climb higher.
During a morning meeting with local pastors Lankford discussed how churches adapted and continued to spread the gospel during a deadly pandemic that persisted much longer than anticipated. COVID-19 pushed churches, he said, "into some new places" as outreach continued during a year of social distancing. 
"It's been quite a year for everybody and their congregations, and we've all been pushed to technology in a way like never before," Lankford said, referencing outreach efforts during the past year. "It's a truly horrible event that's happening, but it pushed the church to go where it should have gone a long time ago."
Lankford said it has been remarkable to see how churches have used technology to "push the gospel" during the pandemic and expand outreach. He said it will be interesting to see how that technology will be used as the nation moves past the pandemic.
Later, during a luncheon sponsored by the Greater Muskogee Manufacturers Alliance and Greater Muskogee Area Chamber of Commerce, Lankford marveled about the miracle of COVID-19 vaccine development. He described the development of the Pfizer and Moderna vaccines as a "remarkable story" that began 10 years ago, when those companies began developing new flu vaccines based on genetic code rather than the virus.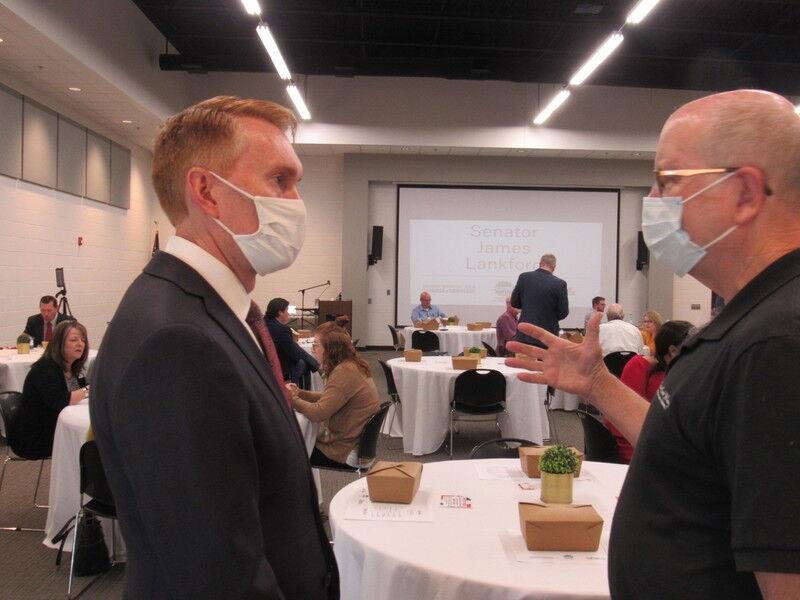 "Right before they identified how they were going to inject it or define the code for the flu, COVID came along and they got the genetic makeup for that and inserted it," Lankford said. "When everybody saw this miracle — eight months of developing a vaccine — they would never have been able to do that if they hadn't already been working on it for a decade."
The state's junior senator in Congress encouraged those who have not been vaccinated to do so. 
"The world changes for us pretty dramatically when two people sitting next to each other have been vaccinated," said Lankford, who was nearly overcome by emotions when he shared a story about his mother-in-law, who was able to venture outside of the assisted living center and have lunch on Easter Sunday at his family's home. "That was her first time to be out in months and months — it was a big deal for her and our family."  
Lankford said his mother-in-law's day trip "was a revolution" for her, and was possible because "she is vaccinated, and so are all of us." The growing number of people who are fully vaccinated, he said, also is "a huge asset to the country" because it "helps us economically" and "helps us get back to normal."
"I think we should continue to do what we can to encourage it and continue to see this celebration," Lankford said. "Some states are much more effective than other states at actually getting it (the vaccine) out — our state was really good at it ..., and it's great for us, great for our economy."