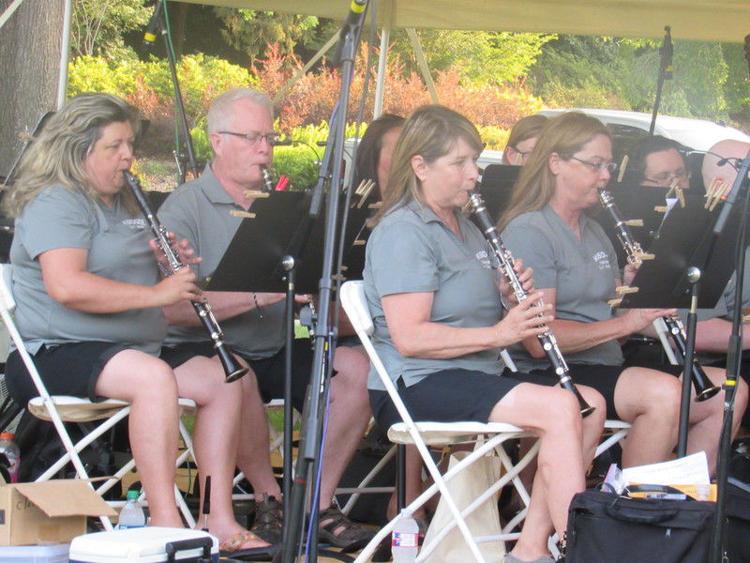 American composers inspire artists, as well as musicians at this year's Symphony on the Park. 
The Muskogee Community Band will perform music of American composers at the annual symphony, 7 p.m. Saturday at Honor Heights Park.
Now in its 29th year, Symphony in the Park follows a cherished American tradition, said Muskogee Parks and Recreation Special Events Coordinator Joel Everett.
"These concerts have been a form of entertainment for a long, long time," Everett said. "It's an old tradition. A community band plays. People come out and listen. I know it's been going on for way before television. I'm glad we still have it."
Everett said not every community Muskogee's size has its own community band.
"And we've got a beautiful place to have it," he said. "That brings people out, too."
Muskogee Community Band Director Jerry Huffer said the concert will feature music from Broadway musicals, jazz pieces and Dixieland. There also will be famous American marches and standard ballads.
A brass ensemble will play Leroy Anderson's "Bugler's Holiday," and a trombone ensemble will play "Trombone King." Muskogee soloist Ken Beard will sing.
The concert will feature an auction of canvas banners, painted by Muskogee artists. 
The artists have their own take on American composers.
George Gershwin's famous symphonic piece inspired Sara Taylor to paint her own Rhapsody in Blue, featuring a field of bluebonnets. She said a musical line streams from the flowers.
Carole Cole said she couldn't find a way to focus on a specific composer in her banner.
"I found an image of a jazz bass player," Cole said. "I know there are bass players who have been composers."
She said this is the second time she painted a banner for Symphony in the Park. She said she did one years ago.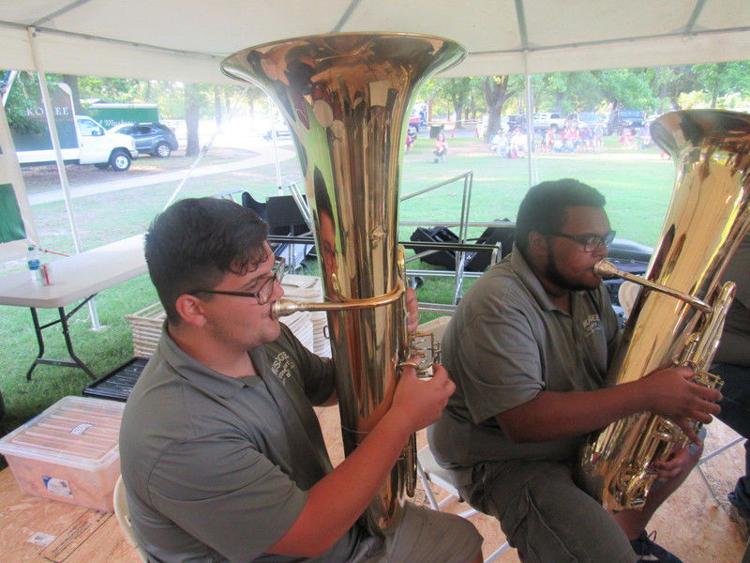 Becky Lucht takes a more canine theme with her work.
"A couple of years ago, I did one that was pretty popular, it was called the Basset Bassist. It was a basset dog in a striped turtleneck, like an old hipster, " she said. "This year, I decided to kind of revisit that theme and I'm calling it the Boston Pops and it's going to feature a Boston terrier playing a violin."
She said she likes how banners spur community interest in art.
"There's just such an excitement around it, so much interest in the community," she said. "It's rewarding and fun that way, that people seem to get excited about art once in a while."
Concert-goers also have the opportunity to help people in need. The Muskogee Community Food Pantry will have a trailer set up to take donations of nonperishable food items, such as beans, peanut butter, canned fruit, canned vegetables and canned fruit. Huffer said a Play Away Hunger concert the Community Band scheduled in May was cancelled because of a storm threat. 
The Quarter Note Club, a booster for Muskogee High School Band, will offer a concession stand. A fireworks display will conclude the evening.
If it rains, the concert will move to Muskogee Civic Center.