Azalea Festival banners could make a unique gift this Christmas.
The 2020 Azalea Banner Auction will be held online Sunday through Black Friday, the day after Thanksgiving. About 100 hand-painted banners touting the annual festival adorned city lampposts through April. People can view and bid on each banner at www.charityauctionstoday.com.
Joel Everett, Muskogee Parks and Recreation Department Special Projects manager, said the city usually has a live banner auction the first weekend in May.
"But we didn't see fit to do it because of the virus," Everett said, referring to COVID-19, which has canceled many events since mid-March.
"We thought we could save it until fall and do it then," he said. "Of course, we're in an even more serious boat now."
Bidding for the banners begins at $25 and runs in $10 increments. Payment will be online through credit cards.
People may pick up their banners Nov. 30 or Dec. 1 at the Spaulding Scout House in Spaulding Park.
Everett said bids will be visible on the website so people can see which 10 sold for the largest amount.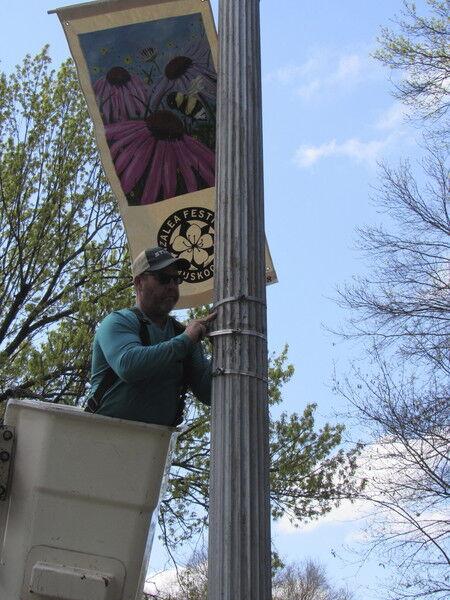 In the past, banners have sold for as much as $1,000, Everett said.
"The range is wide," Everett said. "Being online, I have no idea what effect that will have. We might have some new people on the market, people who haven't been to the auction before."
The banner auction raised an average of $10,000 a year over the past 30 years, he said. "Last year was the biggest one we've ever had, $16,000 gross."
Proceeds go to the Muskogee Parks and Recreation Park Development Fund, as well as to Muskogee Art Guild and Friends of Honor Heights Park.
"The Art Guild has been our partner," Everett said. "They help us with the labor from one end to the other. Friends of Honor Heights help, too."