Participants put their heart and soul into vehicles they enter into the Bedouin Shrine Clowns Car Show, a show official says.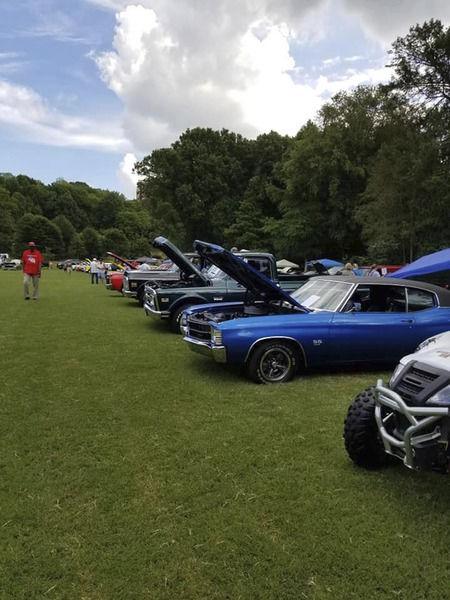 "These guys spend thousands of dollars to turn an old rusty car into a like-new vehicle," said coordinator Jonathan Seltenreich. "You're talking about spending countless amount of hours and plenty of elbow grease getting these cars to the point where it looks like a brand new vehicle."
People can see the end result of work and elbow grease at the seventh annual show, 8 a.m. to 3 p.m. Saturday at Honor Heights Park. People can still enter their top cars for $20, from 8 a.m. to noon the day of the event.
Seltenreich said he has seen cars from the 1920s, '30s and '40s that owners "have brought back."
"Sometimes they'll have before and after pictures," he said. "It's phenomenal to see. These guys are really dedicated to making something. The neat thing is a lot of these times, these guys will have stories: 'This is my great-granddad's car' or 'This was like the first car I ever had.'"
He said the show attracts between 80 and 125 cars.
"So, it's a pretty substantial, pretty decent-sized car event," he said. "It brings in people from several different states. We have several active car show organizations that participate — Cruis'n Angels, Corvette Club. There are definitely a bunch of different groups that attend."
People also can expect variety.
"You're talking about old cars, Model Ts, all the way up to large pickups that have been customized," Seltenreich said. "Classic cars, really a plethora of older cars, American muscle cars, foreign sports cars, even up to modern day customized brand new vehicles."
The Muskogee Police Department will bring some of its vehicles, and the Muskogee Fire Department will bring a truck, he said.
Seltenreich said there will be several craft vendors, children's activities and a variety food vendors, including one selling shaved ice. 
"So it's a blended show, not just for your car enthusiasts, but people who want a day out with the family," he said.
With proceeds from entries, vendor fees and sponsorships, the car show is the clowns' biggest fundraiser, Seltenreich said.
The clowns participate in a lot of events each year, particularly area parades.
"We also hold our annual Easter egg hunt at the temple, which is a pretty big turnout, we feed everybody who comes," he said.
And, of course, the clowns always show up at the annual Shrine Circus. 
"When you go to the Shrine Circus in October, you'll see a bunch of us clowns out there," he said.
There also are clown competitions each year, he said.
"It helps the operation of our Shrine, and operation of our temple," he said. "Inevitably it will help our Shrine patients. Everything we do is for kids."