Easter pageantry will be subdued at several area churches this Sunday as the COVID-19 pandemic lingers.
The joy of Easter will remain, however, church leaders say.
"We decided we still needed something really big to celebrate the resurrection of Jesus," said Muskogee First Assembly Lead Pastor Steve Rose. "This thing is pretty powerful."
Muskogee First Assembly presented Easter musical productions before 2020. This year, Rose wrote "Then Came Jesus," which described as a dramatized illustrated sermon about the disciple Peter's encounters with Jesus.
It has three characters and will be presented at two services, 9 and 10:30 a.m. Sunday.
"It's creative acting where you come on stage and there's a prop," said Rose, who portrays Peter. "We have singing, we have extended video work."
Ken Catlett portrays the disciple John, and Rocky Anderson plays the disciple Andrew.
"You take these three disciples and they're interacting through the entire play," Rose said. "The title is 'Then Came Jesus,' and so that's brought through all the different things."
Muskogee First Assembly Fine Arts Director Debra Rose said the production is refreshing "because we didn't get to have one last year."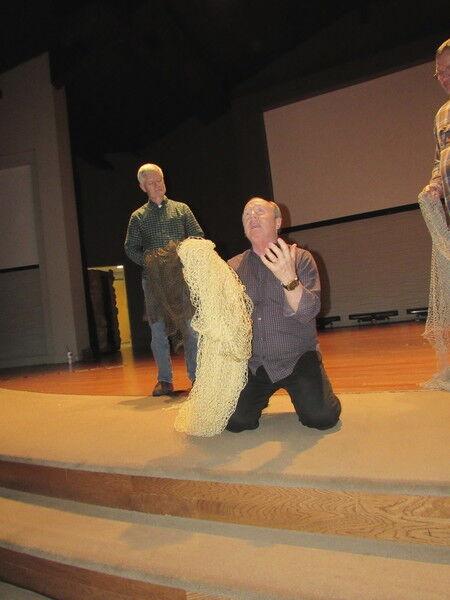 "It felt strange last year not being able to do anything," she said. "We are thrilled we can do this, and we'll involve just a few people. Hopefully, we can get rolling soon as more people become vaccinated."
Eastside Community Church will have online and in-person services on Sunday.
The congregation will enjoy an Easter breakfast at 9 a.m. with the service beginning at 10 a.m.
"We'll have a photo area for anyone who wants to get an Easter picture," Pastor Gary Underwood said. 
Boulevard Christian Church Lead Pastor Steve Moss said Boulevard's Easter services seek to "appeal to a number of senses as people come in." Services are 9 and 10:35 a.m. Sunday."
"As they come in this year, there's going to be a sense of celebration," he said. "The foyer will be decorated. There will be live music in the foyer. We want to create a sense of expectation before they even walk into the auditorium."
The stage will be decorated with the tomb and the cross, he said.
Boulevard takes social distance precautions by keeping family groups apart, Moss said. However, the distance between the groups is not as large as in the past. Boulevard's "coffee cafe" now has a someone serving coffee instead of allowing people to pour their own coffee, he said. 
Timothy Baptist Church Pastor Kelly Payne said he's happy to see people gathering for Easter.
"I'm excited to be able to have people be in the building instead of just being me preaching to an empty room," he said.
He said the church will host two Easter services, 9 and 10:45 a.m. Sunday, "so people can be spread out a little more."
The church still continues to take other COVID-19 precautions.
Masks are required at Timothy services, he said. The pastor and the distanced church choir even wear masks.
"We started in June wearing masks," Payne said. "My view is that even though I am way away from them, I cannot ask them to wear them and me not. So I wear one when I preach."
The church also will celebrate Easter with outdoor photo booths on Sunday so families can take pictures, Payne said.
"We're excited to be about being on God's house on Easter," Payne said. "That's one thing we learned as God's church is not to take for granted being together."