With carolers outside and rockers inside, people made music all over the Depot District on Tuesday.
Make Music Muskogee, part of the Make Music Alliance, brought a variety of musicians to town Tuesday evening for Make Music Winter.
"Part of the initiative is that it's participatory," said Lauri Henderson, event coordinator. "We involved the audience. The caroling was to have people sing along if they wish. And we have the various performers this evening."
The evening ended with a "Jingle Bells" singalong. Henderson said organizers distributed jingle bells so people can provide their own instrumentation.
"The beauty of this whole program is that it is celebratory for all ages and all ability levels, all genres and all cultures," she said. "It's really a cool thing."
Wagoner carolers James and Whitney Bradley, dressed in Victorian Era garb, enticed visitors to join their singing at the Depot Green shelter.
Whitney Bradley said they have performed at several venues from Broken Arrow to Tahlequah.
At 6 p.m., the music went inside Oklahoma Music Hall of Fame, which featured a variety of acts.
Ramona fourth-grader and guitarist Lila Kay opened the show with four songs. They included Journey's "Don't Stop Believing."
Lila, 10, said she was a little nervous while preparing for her performance.
"But when I got on stage, I didn't feel it," she said. "I was really excited."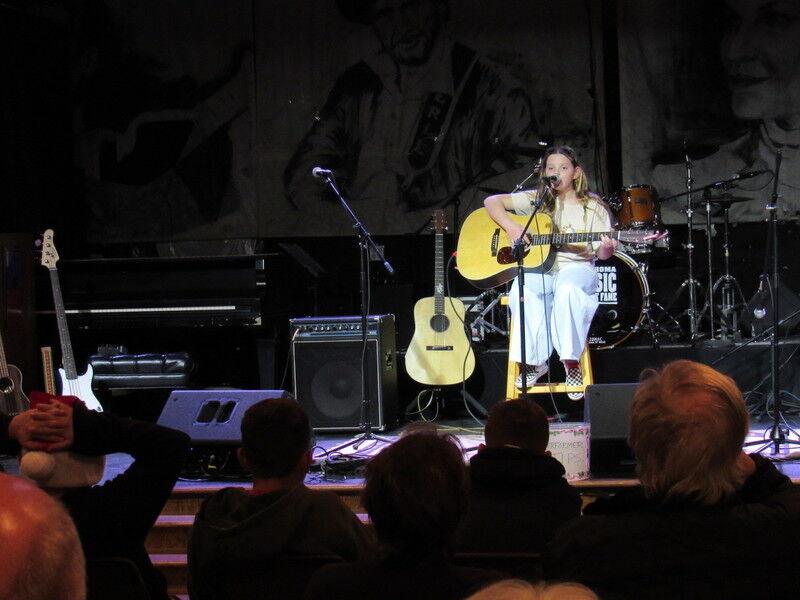 She smiled demurely when people applauded. She said she's used to it.
"I've done a couple of the things like this, so it kind of felt normal," Lila said. "But it's always kind of exciting to get applause."
Rock guitarist Millisa Henderson, who grew up in Muskogee, also performed. She now lives between Boston and Providence, Rhode Island.
"I now do just random gigs," she said. "I perform everywhere from weddings to shows with other musicians. If someone asks me to play a pop gig, I play a pop gig. If someone wants metal, I play a metal gig."
Lauri Henderson said Make Music Muskogee attracted musicians through social media.
"Through that, the Kevin Price band responded," she said. "Of course, Millisa was coming home for Christmas."
The older Henderson said she also talked to Brooke Hall with Muskogee Parks and Recreation about bringing musicians to Depot Green before the OMHOF event. Depot Green is open for children's train rides and food trucks during holiday evenings.
"I put out another call about carolers because of the participatory element," she said. "Sometimes things work out by a wing and a prayer."