WAGONER — United Church member Garry Moore said worshipping in a new facility felt "just a little different."
"I spent my whole life in the small church we had," Moore said. "We could put our whole old church, Sunday school and everything in the new sanctuary."
United Church converted the former Fred's Discount Store into its new church and held its first worship service there on Aug. 31.
The store offers 27,000 square feet, compared to the old church, which was 6,000 square feet.
Pastor Micah Wisdom said the congregation needed more space because it was growing. He said about 140 to 164 people attended services before the COVID-19 pandemic hit. Now, about 125 attend service. 
"Our other church was really small," he said. "We were maxed out of seating, parking. We were looking to build, then this building came available."
Wisdom said the church has remodeled about 15,000 square feet so far.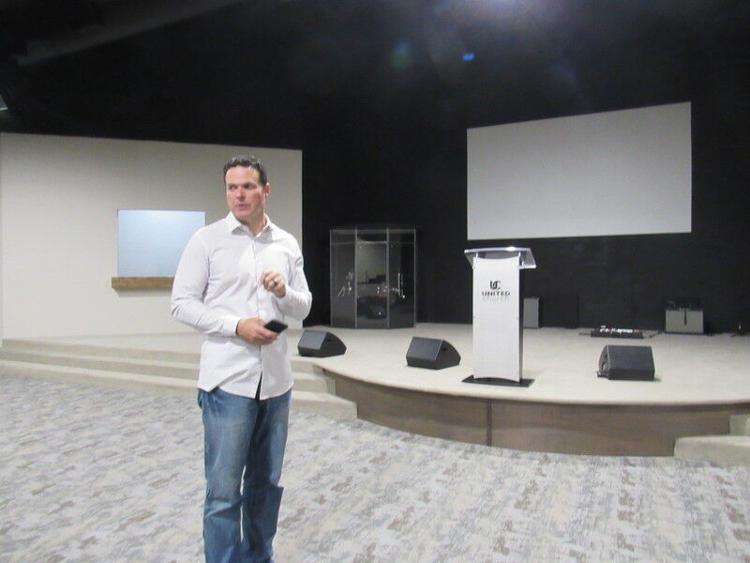 "We have 12,000 for phase 2 warehouse space," he said.
Moore said Jamie O'Neal of Kingdom Builders helped design the new church.
"He was the one who showed us what we can do with the place," Moore said. "He laid it all out. I don't think we would have taken the project on without him."
However, Wisdom said church members did a lot of work.
"We had a group of about six guys who had retired in the past few years," Wisdom said. "They came and worked almost every day they were down here."
Moore said he and other church members spent about a year working on the building.
"Carrying stuff out, demolition," he said. "When your son-in-law is the pastor, that's what you get to do."
The 3,900-square-foot sanctuary features carpeting, a new sound system and new lights.
Wisdom said a new pulpit and sanctuary chairs are on order. 
The immersion baptistry is on one corner of the stage.
"Eventually, we'll have it set up to where people can watch it on a screen," Wisdom said.
Moore said the new sanctuary allows more social distancing space.
The church has several classrooms and a large room for its youth ministry. He said there are six classes from nursery through adult.
The church foyer features ample space to gather. Curved spaces on the ceiling cover recessed lighting.
"It's such a big space, we just didn't want big flat walls," Wisdom said. 
Wisdom said the church has plans for remaining space, the store's old stockroom.
"Since we don''t have a lot of green space outside, turn it into a kids' playground back here," he said. "One thing with our old building is we had a yard."
The church also hopes to use space for a fellowship hall with a kitchen at one end.
"We love to have room to expand under one roof," he said. "Before everything went haywire, we were growing pretty quickly and we're expecting that to continue."
He said the church is welcoming a lot of young families. 
"We've got a lot of space to expand," Moore said. "We're getting a lot of visitors."