Four churches will hand out food boxes the Saturday before Thanksgiving during the ninth annual Hands Halting Hunger giveaway.
"We were excited to be able to put it together and do it this year, because I wasn't sure we would be able to, with everything going on," said Timothy Baptist Church Pastor Kelly Payne.
Mt. Calvary will join Timothy Baptist, Ash Street Baptist and New Hope Assembly of God to hand out Thanksgiving meal boxes, starting at 11 a.m. Nov. 21.
Payne said the need for food is always great around Thanksgiving.
"But I have no doubt that it is greater" this year, Payne said, alluding to the COVID-19 pandemic and its affect on the economy. "A number of people are unemployed, or not getting as many hours as they once did."
He said many groups helped distribute food throughout the pandemic. 
The Hands Halting Hunger food box features a Thanksgiving meal and a $15 voucher to buy meat from Mini Max Foods, Payne said.
Ash Street Pastor David Yarbrough said the ministry helps reach people's physical needs, as well as spiritual needs.
He said it's a way to share the love of Christ in a physical, tangible way.
"Mini Max has been gracious enough to put the food boxes together for us to give out," Yarbrough said. "We purchase the boxes from them. But the manager has been good about giving us a good price. They put the boxes together."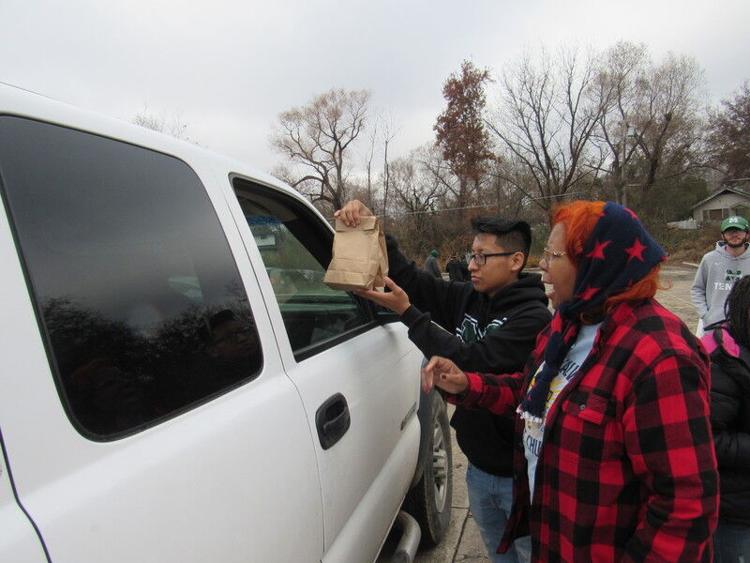 He said about 30 people volunteer to distribute the boxes.
"We actually have a ministry while they are waiting in line," she said. "We have home-baked cookies. We put together candy bags for children in the car. We also have a prayer team that goes around to each car." 
Timothy Baptist will distribute 150 boxes, and other churches will distribute 100 each, Payne said.
"The traffic lines up down Okmulgee and the police come and manage that for us, which we appreciate," Payne said. "When they first pull in, they are given hot chocolate and cookies if they want. When they pull up, they get a goodie bag with coupons, gift cards to places in town. If they have prayer needs, we pray with them. Then when they go up again, they get a box put in their trunk, back end."
He said it usually lasts less than an hour because traffic moves so quickly.
This year, Timothy volunteers will wear face masks.
"Any contact we have with them will be us outside of the cars," he said.
If you go
WHAT: Hands Halting Hunger Community Food Box Giveaway.
WHEN: 11 a.m. Nov. 21.
WHERE: 
• Timothy Baptist Church, 5530 W. Okmulgee Ave.
• Mt. Calvary Baptist Church, 622 N. Sixth St.
• New Hope Assembly of God, 110 W. 58th St. S.
• Ash Street Baptist Church, 1521 Ash St.