Books fill James McCracken's offices at his home and at Boulevard Christian Church.
"My three daughters, about five years ago, bought me a Kindle, and said 'do not buy any more books. The foundation of our house is sinking and we don't want to have to move it all out whenever you die,'" said McCracken, Boulevard's executive pastor.
He said most of his books at the church focus on counseling or church leadership.
McCracken recalls seeking a different type of leadership growing up in Sapulpa.
"In high school, I had lots of opportunities to lead — student council, Boys State," he said. "My goal was to get a degree in political science or law school and run for some sort of public office."
He recalled also being focused on playing high school football, basketball and tennis.
"I realized how totally selfish I was," he said. "Every desire I had revolved around making myself a hero. I needed to have a greater understanding."
He attended Oklahoma State University, but switched to Ozark Christian College.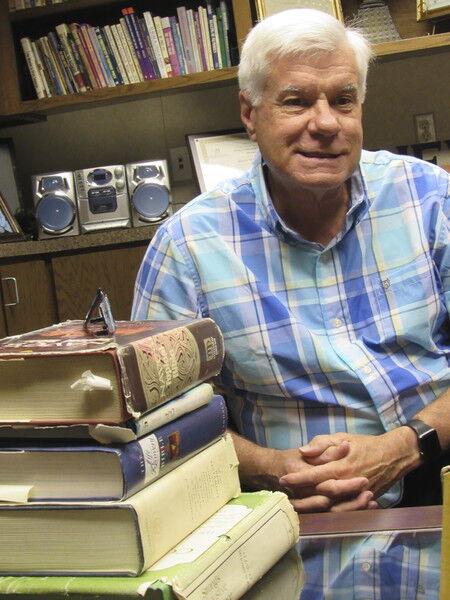 "The idea of servant leadership was so much of a theme there, It captured my imagination," he said.
After earning a master's degree from Lincoln Christian University, McCracken served a church in Illinois.
"Things were going well, but I had this restlessness," he said, adding that he prayed whether he should leave the church or stay.
"Within a month's time, there were four different churches that contacted me," he said. "Boulevard was not one of them."
McCracken first served at Boulevard from 1983 to 1990. He served a Broken Arrow church before Boulevard leaders asked him to return in 1993.
"And I said, 'You just don't do that," McCracken said, adding that one of the men answered "'give me book, chapter, verse on that one.'"
"We ended up coming back, and it's been the most fun and exciting time in my life."
Finding a home at Boulevard
James McCracken credits his mother-in-law for bringing him to Boulevard the first time.
"My mother-in-law did not like it that she had two grandchildren and they lived 12 hours away, she was always trying to get us to move to Oklahoma," McCracken said. "She was visiting some friends in Muskogee and she said, 'I never get to see my grandchildren.' And this person said, 'one of the Christian churches here in Muskogee, the pastor just resigned.' My mother-in-law called one of the elders and said 'my son-in-law would make you a great pastor.'"
He said a Boulevard official called for his resume and called him in June 1983. 
When McCracken returned to Boulevard in 1993, he worked with church officials on "changing the whole way we do things."
He recalled the church studying the book of Acts, when he became intrigued with the idea that God gives people spiritual gifts.
"Since that time, with all of our ministries, if we don't have someone gifted to lead in those areas, we don't do those ministries," he said.
He said the church developed a mission statement to say it was a "caring community of Christians."
A change in duties 
In January, McCracken moved from being Boulevard's lead pastor to executive pastor.
"That transition started because I'm getting older and I look old," he said. "The transition had been a four-year project in which we talked about training, and we discussed do we hire someone from within or do we hire someone else?"
The switch was not about reducing his workload.
"We need to have a younger person within," he said. "Every pastor is temporary. Even though I've been here 30 years, I'm still temporary."
He said the church has worked hard in developing leaders.
McCracken said he has worked with former family pastor and current lead pastor Steve Moss "from day one."
"He's an incredible people person," McCracken said. "He embodies what our DNA is like no one else. He is a very good communicator."
McCracken still serves several ways as executive pastor.
"I think my job description's changed about four times since they wrote it," he said, adding that the job involves church administration.
It also involves discipleship, he said.
"When a person comes into the church, what is a clear path so he or she can continue to grow and walk with Christ," he said. "We have people in every stage of life, and in every stage of growth."
At one with God's creation  
McCracken recently found time to experience what he called God's creation.
In September, he and his wife hiked through Canyonlands, Capitol Reef, Zion, Bryce and Arches national parks in Utah, plus the Grand Canyon in Arizona. 
"There were two times I thought I was going to die," he said. "One was at The Needles, where we were edging along this edge, but we had to hop across a ravine. 
McCracken recalled hiking through rushing water nearly a chest high at Zion National Park's The Narrows. He said his wife kept slipping in the water.
"And I thought she was going to kill me," he said.
Park rangers hosted astronomy programs at night.
"I was amazed how you could actually see with the naked eye, when there's not any ambient light, how many satellites are up in space," he said. "The Milky Way, especially that night at Bryce, you saw just saw an ocean in the sky."  
Most hikes were times to marvel.
"You're spending a lot of time gazing around, just being stunned by God's awesome creation," he said. "If you come away from a trip like that and not believe there's a creator, there's something wrong with you."
Q and A.
HOW DID YOU COME TO BE AN OKIE FROM MUSKOGEE? 
Hired as Boulevard Christian Church pastor in 1983.
WHAT DO YOU LIKE BEST ABOUT MUSKOGEE?
"Muskogee is a really diverse town. In Muskogee, we have about every economic strata there is. You have lots of diversity as far as ethnic diversity. That poses some challenges, but also a great opportunity. I love the music scene here in Muskogee. It's just a different town."
WHAT WOULD MAKE MUSKOGEE A BETTER PLACE TO LIVE?
"Strong economic development. I see the community coming together. If we can find some way to create some jobs that would be sustainable living for people, I think Muskogee could thrive."
WHAT PERSON IN MUSKOGEE DO YOU ADMIRE MOST?
"Jerry Huffer. I hope I have half his energy when I am his age. He has invested in the musical and band community unlike anyone else. He really has a heart for this town. Leroy Walker, pastor at Rayfield Baptist Church, sharp guy who's been in management with ONEOK in Tulsa, does a great job as a pastor. Dr. Reubin McIntosh for the effort he's doing at New Tech at Cherokee Elementary."
WHAT IS THE MOST MEMORABLE THING TO HAPPEN TO YOU IN MUSKOGEE?
"Biggest challenge was when we relocated here. Boulevard has always been on the same corner, East Side Boulevard and Okmulgee, and we were running out of parking. We decided we would relocate."
WHAT DO YOU DO IN YOUR SPARE TIME?
"Generally get with a bunch of guys and we play golf together. My wife and I love going to the mountains. I love to get with my grandkids. I don't get to do that often enough."
HOW WOULD YOU SUM UP MUSKOGEE IN 25 WORDS OR LESS?
"Diverse. Lots of challenges."
MEET James McCracken
AGE: 67.
HOMETOWN: Sapulpa.
EDUCATION: Sapulpa High School. Oklahoma State University; bachelor in theology degree, Ozark Bible College; Master's in counseling, Lincoln Christian University.
PROFESSION: Executive Pastor, Boulevard Christian Church.
FAMILY: Wife, Tria; three daughters, Tara, Jamie, Mallory; six grandchildren.
CHURCH: Boulevard Christian. 
HOBBIES: Reading, sports, hiking.