When Earl Cobb isn't baling hay on the family farm, he teaches and fixes computers at Muskogee High School.
When he's not at MHS, he leads the congregation at First Baptist Church of Braggs.
When he's not in Braggs, he might be back on the farm.
"I was always told, if you do what you love, you'll never work again in your life," he said. "And I do what I love."
Cobb grew up on an 80-acre farm in Okay. He said his father butchered his own beef.
"The best part about it was there was always fresh hamburgers at night," Cobb said. "And there were always one or two steaks that couldn't fit in a package, they had to be cooked."
Cobb was active at Okay Schools, where his father was a custodian and bus driver. Cobb was a 4-H Club county officer, excelling in speech.
He also followed his father into the ministry, committing his life to the call as a high school sophomore. He was youth minister, pastor and other positions at churches in Muskogee, Okay and Oktaha before coming to Braggs in 1997.
When I went over there to Braggs, I was asked how long I'd stay," he said. "My comment to them was I came to birth them, marry them and bury them."
Cobb just completed his 38th year of teaching. He spent 32 years at Hilldale and six at Muskogee. Cobb also is the information technology fix-it man at MHS. His classroom/repair shop in the bottom of the MHS A unit features part of his extensive eagle collection. 
He said he loves working with his high school students. 
"I am a people person," he said. "My wife says my gift is servanthood. I like helping others. That kind of thing sticks out to me."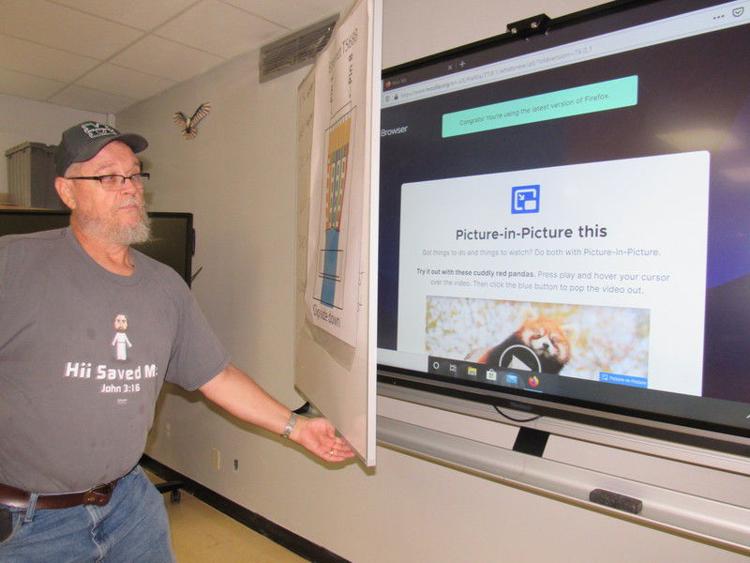 In it for the
long term
Earl Cobb started teaching at Hilldale before he even finished his internship in 1982. He originally taught math, but moved to computers in the late 1980s.
"My sister had started the computer department at Hilldale, and she took an outside job," Cobb said. "They walked in and said 'since you're the only one that wants the computers, do you want them or do we assign them.' I volunteered and never looked back."
He was at Hilldale when they bought the first IBM compatible computers.
"With dual floppies (floppy discs) on them and 512 megabytes of RAM," he said. "We were excited! Nowadays, they wouldn't even do anything. I remember our first color monitor."
Cobb stayed at Hilldale for 32 years before coming to Muskogee High School. He replaced a retiring teacher.
"Many thought they'd bury me in the mortar out there, because I'd been there for so long," he said. "If God had not opened the doors to move me out here (to Muskogee), I'd probably still be there." 
He said the best part of his work is making a difference in young people's lives. 
"I had a girl from Hilldale who is now one of the leading network specialists for Facebook corporation," he said. "I've had a young man who worked at NASA."
Work at church
where needed
Cobb sees a difference between pastoring and preaching.
"A pastor shepherds. They are there to take care of the sheep," he said. "A preacher, many times, he can get up and preach the Word, but he doesn't have the concern for the people within the church. I want to be that person who, when they're hurting, they can come to and say, 'I need help.'"
He said his Braggs church family is almost as close to him as his real family. 
However the size and age of the congregation has posed challenges. 
"And, being bi-vocational at a small church, not only are you the pastor, but sometimes you're the carpenter, you're the electrician, you're the plumber," he said. "I spent a number of hours at the church fixing plumbing and helping fix wires."
Another challenge is reaching a younger, more online, generation.
Cobb said his biggest reward has been friendship and fellowship.
"They're very loving," he said. "They care about people. They really do care. Those young ladies who were killed (in a car wreck) back in the spring, we sent money to help the family. Their heart poured out to them."
Work to be
done on farm
Cobb works on the farm where he grew up. 
"We used to grow soy beans, wheat, milo," he said. "We raised beef cattle. He ran a dairy for a while. I was too small to help with the dairy, but I've always been on tractors plowing, baling hay."
Originally, the family had 80 acres. Now Cobb and his two sisters have 40 acres, where they run beef cattle and grow hay.
The time Cobb spends out there varies through the year.
"When it's hay season, I'm out there for a week or two until it gets baled," he said. "We still make square bales, haul them, put them in the barn. I haul anywhere from 600 to 1,000 bales a year."
He uses an Allis Chalmers hay baler his father bought new in 1972.
"You can't buy parts for it," he said. "Many times you have to make your parts. I have actually had to build a sprocket for a header to pick up hay."
He also makes larger bales later in the summer.
Cobb said there's always something to do on the farm.
"There's a fence to fix, you've got a cow down you have to vaccinate," he said. "You can stay busy every day out there if you really want to."
Q and A
HOW DID YOU COME TO BE AN OKIE FROM MUSKOGEE?
"I was pastoring in Oktaha and living in Okay, with a 3- and 5-year old. We found a middle ground. A house she grew up in was available and we moved into it. We moved to Muskogee and lived here ever since."
WHAT DO YOU LIKE BEST ABOUT MUSKOGEE?
"I like the friendliness of most of the people. There seems to be a genuine care for each other you don't see in a lot of cities. You still see people stopping to help each other, rather than just driving on by."
WHAT WOULD MAKE MUSKOGEE A BETTER PLACE TO LIVE?
"If we can get people to take more pride in our city. When you look at how our parks are taken care of, and it's not the workers, but the way people take care of it in general. You go to Tulsa and the parks are nice and clean. You come up here and they trash the parks. I'd like to see people take more pride. I think it would affect the students' education. It would change their mentality."
WHAT PERSON IN MUSKOGEE DO YOU ADMIRE MOST?
"Dewayne Pemberton. Dewayne has always been a man of character. He sets pretty high standards. Worked with him 19 years at Hilldale and two years at Muskogee High. He truly cares. He's not afraid to tell you you're wrong, but at same time he's very loving about the people he works with."
WHAT IS THE MOST MEMORABLE THING TO HAPPEN TO YOU IN MUSKOGEE?
"I married my wife. She is a Muskogee graduate. I was living in Okay and teaching at Hilldale. We'd been friends for years."
WHAT DO YOU DO IN YOUR SPARE TIME?
"I enjoy spending time with my wife and my family. When I get the chance, I like to do woodworking. It's very satisfying to be able to do things."
HOW WOULD YOU SUM UP MUSKOGEE IN 25 WORDS OR LESS?
"It is small enough to have a small-town mentality, but big enough to offer some of the things of a big city."
MEET Earl Cobb.
AGE: 60.
HOMETOWN: Okay.
EDUCATION: Okay School; Bacone College; degree in math education with minor in chemistry from Northeastern State University; Bachelor's degree in ministerial studies, Oklahoma Baptist University.
PROFESSION: Career tech information technology instructor, Muskogee High School. Pastor, First Baptist Church of Braggs.
FAMILY: Wife, Patricia; two sons, Calen and Travis; three grandsons.
CHURCH: First Baptist Church of Braggs.
HOBBIES: "Woodworking, collecting eagles. I do a lot of other things. I'm a jack of all trades, but master of none."