Bucking bulls and broncos offered Lex Katich life lessons in perseverance and hard work. 
"I feel that, in rodeo, you get the crap kicked out of you, and you get back on," Katich said. "No different than in the business world, you get a good butt-kicking like we're getting with this coronavirus, and you keep going."
Katich is a co-owner of The Break, a coffee shop and cocktail lounge in Muskogee's Depot District. He also owns several other buildings in the district. Katich does this while working full-time as territory sales manager for Shred-Tech.
He traces his work ethic to his family.
"Mom and dad were definitely hard-working people," he said. "People don't give you anything, you've got to earn it. You've got to work for it."
Katich grew up on the Colville Federated Tribes Indian reservation, where his grandfather was on the tribal council. 
He participated in rodeo, 4-H Club and various sports at his tiny high school before earning a track scholarship at Washington State University.
After getting married to a Muskogee native, Katich and his family moved to Muskogee about seven years ago. He was part owner in a marketing company, but was hired at Shred Tech in 2016. He said he was fortunate to find a job that allows him to work from home.
A few years ago, Katich and his wife Stephanie began buying old buildings around the Depot District to renovate and develop. 
When he's's not working on his properties, Katich loves to go fishing and spend time with his family.
"We usually go up to Fort Gibson dam," he said. "My son likes to go fishing, too. We've gone spoonbill snagging. I've got a picture where I'm holding Linkin by his ankle, and the spoonbill, the fish, is bigger."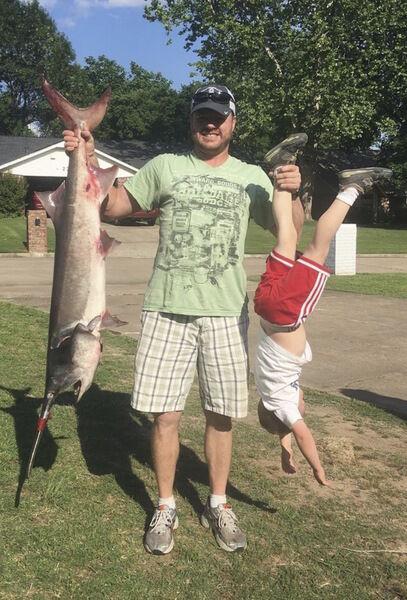 Life on the reservation
Lex Katich developed his work ethic early while growing up on the Colville Reservation in northeastern Washington.
"We fished, hunted, all kinds of stuff," he said. "I could ride a horse before I learned to ride a bike.... I rode a horse all the way through that reservation."
Katich recalled learning tribal traditions. 
"I remember in kindergarten, making a full headdress," Katich said. "We had powwows when I was a kid."
He also recalled the wild scenery.
"We lived right on the Columbia River," he said. "One side of the river was timber and mountains. On the other side of the river was wheat fields and flat, rolling hills."
However, the family ranch was in a desert area.
High school was a 45-minute commute, Katich said. 
"One way, across a ferry," he said. "I literally had to take a ferry ride twice a day going to school. Keller Ferry."
He said the high school had about 150 students.
"When I got into high school, I did 4-H, I did football, basketball, track and field and rodeo," he said. "Every single sport available.... Growing up on an Indian reservation in a small community, you had to. You didn't have enough kids for a team if you didn't."
Taking the good and bad with sports 
Katich said sports and rodeo also taught him about hard work.
He said his track coach at Washington State instilled such qualities.
"He's definitely one of the top three or four influential people in my life," Katich said. "I learned a lot from the guy — hard work, determination, never give up, don't quit. For four years, for lack of a better term, he beat it into us. He battled cancer and won. He was hard-nosed. He wasn't going to give it to you."
In rodeo, Katich roped calves and rode bulls and bucking horses.
"With the rough stock events, bulls and bucking horses, you just hang on," he said. "You learn how to get up, dust yourself off and get back on."
Katich said he was lucky in rodeo.
"I cracked some ribs, handful of concussions, broken hand, separated sternum, nothing major," he said. "I did break my back. The worst one was probably a torn groin, that was the hardest one to heal."
Calf roping taught him to rely on his horse.
"If your horse doesn't do his job, you can't do your job," he said. "You've got to keep him trained. Keep him in shape."
Aging building transformed 
Developing properties and operating a business also take hard work, Katich says.
"When we moved here, we were struggling," Katich said, recalling he and his wife lived with her father for two years. "We wanted to put ourselves in better financial shape."
He said they bought several old buildings around the Depot District.
"A lot of these buildings were in bad, bad shape," he said.
One building that was falling down ended up being The Break.
"Our dream wasn't to own a coffee shop," he said. "We just couldn't get anybody to rent this space at the time. It wasn't built out yet."
He said he and his wife were still seeking customers when the Rollie Pollie ice cream opened in the space next door, he said.
"Brandon Nickell and my wife and I were BS'ing one day and we said, 'Let's just start a coffee shop.' We just kind of went with it," Katich said. "My wife did all the decorating and picking out the furniture. I did all the build-out, the exposed ductwork, the beams, shelving. My wife, Brandon and I figured out how to lay out the bar."
They've operated The Break for the past two years. 
"We wanted to appeal to everybody, but not be a bar," Katich said.
Q and A
HOW DID YOU COME TO BE AN OKIE FROM MUSKOGEE? 
"My wife's dad owns a real estate appraisal business. She wanted to come down here and get certified. I can work from anywhere. Shred Tech hired me in 2016. I was fortunate enough to have a job where I could work from home." 
WHAT DO YOU LIKE BEST ABOUT MUSKOGEE?
"Nice, quiet little town. You can get across town in under 10 to 15 minutes. There is a lot of opportunity here — investment opportunity. People are nice." 
WHAT WOULD MAKE MUSKOGEE A BETTER PLACE TO LIVE?
"There needs to be more to do in Muskogee for kids. If you start there, people will come. Also, better local support. A lot of times people talk about supporting local. I'm a big believer in actions over words."
WHAT PERSON IN MUSKOGEE DO YOU ADMIRE MOST? 
"Mayor Marlon Coleman. Marlon's a guy who's involved. Actions over words, for sure. The guy's been involved in working hard since I've known him. John Cruz is another guy who has done quite a bit for the downtown community, been an advocate for Muskogee. County Commissioner Ken Doke, he puts a lot of his personal time in helping our community."
WHAT IS THE MOST MEMORABLE THING TO HAPPEN TO YOU IN MUSKOGEE?
"The birth of my little girl. My son was born in Washington, and she was born in Oklahoma. She's my second child and first baby girl."
WHAT DO YOU DO IN YOUR SPARE TIME?
"Work on the buildings. That's number one in my spare time, come work on the buildings down here, trying to improve the look. Spending time with family. We try to do a lot of different things, explore, fishing. Whenever there's an event downtown, we try to go."
HOW WOULD YOU SUM UP MUSKOGEE IN 25 WORDS OR LESS?
"Muskogee's a very diverse, underpopulated, historically cool little town."