Trains make up some of Tom Harrington's earliest and fondest recollections.
"At some point, my mom took me to a small scale train that was up on a fencepost," he said. "She set me on there, that was the biggest, earliest memory I could recall. She put me on that train, the guy told me to keep my feet out from underneath so it wouldn't hit the fencepost, and around that track I went. That's when I was hooked."
He remains hooked.
Anyone passing his home on Harris Road can see that. He has a railroad crossing, and he uses it for an 1/8 scale train, which rides on thousands of feet of tracks. Tinier sets of tracks are inside a garage, where he keeps several HO scale (1:87) electric trains.
He uses a yellow caboose as a guest house.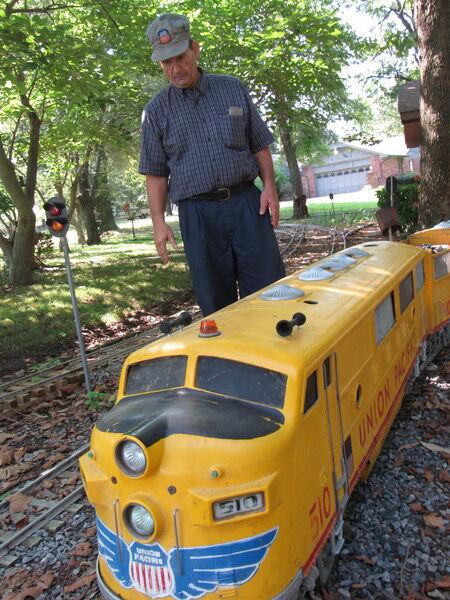 "In 1990, 23 cabooses came to Muskogee, and they were sitting downtown in the railroad yard," he said. "They were going to be moved out to the Port to be sold."
He also has two railroad speeders, former rail maintenance vehicles that Harrington and his wife like to ride. 
Harrington came to Muskogee in 1978 to work for Fansteel. He recalled being struck by the town's courtesy. He got transferred out of Muskogee in the early 1980s, but returned in the late 1980s. He since has made his home in many ways, beyond turning his home into a rail haven.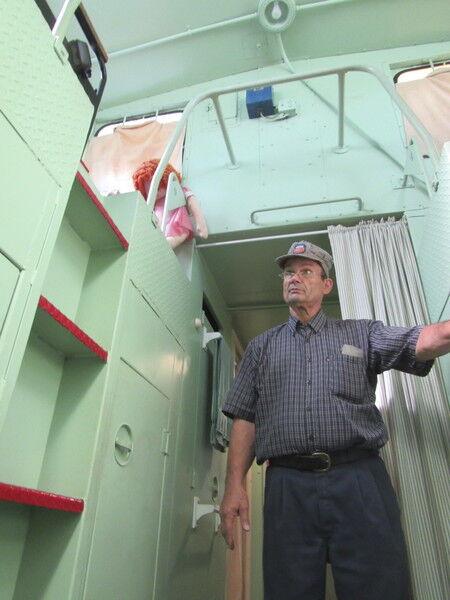 He worked at Georgia-Pacific for nearly 23 years. He also spent 23 years as an adjunct algebra instructor at Connors State College. 
Harrington remains active at Grace Episcopal Church, where he served as an ordained deacon. 
"At 72, they have a mandatory retirement age," he said. "I can still do my duties, but I don't have any obligations."
Finding another way to work on the rails
It seemed only natural that Tom Harrington would want to work for the railroad. 
In 1970, Harrington fulfilled his childhood dream and got a job with the Chicago and Northwestern Railroad.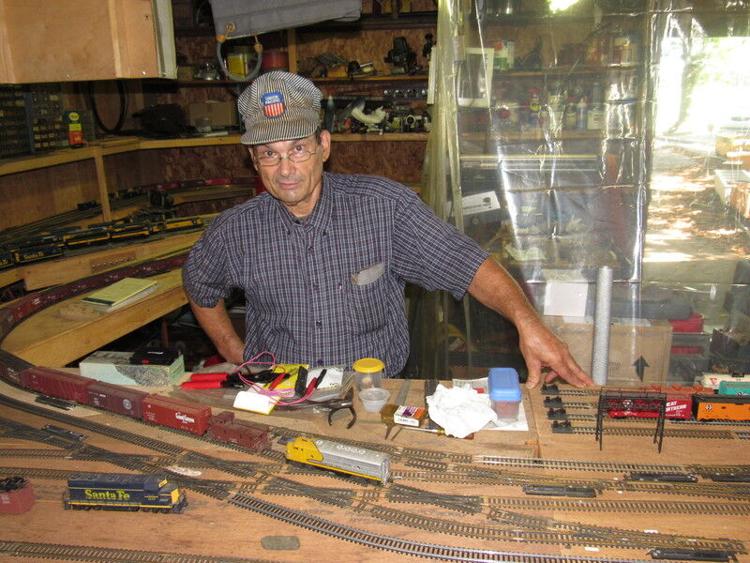 The job didn't live up to his dream, however.
"They decided I was going to be moved around quite a bit," he said. "I was working hours opposite of what my wife was working, and I thought I don't think I'm going to love this life, so I gave it up."
After moving to Muskogee, he eventually found a railroad job more to his liking. 
"From 1994 to '97, I worked out at the Port. I decided to start up a railroad operation for the port," he said. "Union Pacific brought railroad cars out to the marshaling yard. Our job was to switch those cars for the various industries that are in the port, We would pick up cars in the morning, the empties, then we would wait for them to come in and drop cars off, then we would switch the new cars off in the afternoon, then we repeat it again in the morning."
He said he liked the conductor's job more than an engineer's.
"I liked thinking out the puzzles, how to get the cars in and out most efficiently," he said. "One can spend all day switching a car if they don't know what they're doing.
Bringing a caboose home 
Harrington brought the yellow caboose home in 1991. Contractors laid a pair of railroad tracks to set it on.
"It was all set up," he said. "All I had to do was tell them where I wanted it."
Harrington said he and his wife converted it into a guest house. He said his daughter has stayed in the caboose with her family. He said it took two to three years to remodel the caboose.
"We kind of modernized it," he said, adding that they put in a closet, sink, a pair of bunk beds and a shower. The final step was to lay the carpeting.
They also tried to keep things, including the steel toilet, as original as possible. Ladders on each side of the narrow hall lead to the cupola.
"That's where the conductor used to sit and watch for trains," Harrington said. "He was the boss of the trains, and he'd keep records of all the cars."
They kept the conductor's original desk and chair in the corner. It even has an old conductor's log.
"When they wrote train orders, they were put on thin paper called flimsies," he said. "That was just part of the railroading activities." 
Harrington says he never thought he could afford an 1/8 scale railroad. Yet, he managed to find a railroad engine through a railroad club in Phoenix.
"He made an offer to sell, and I said I'm going to go for it," Harrington said. 
The electric locomotive runs on six batteries, 36 volts, he said. He said he made some cars out of wood. A caboose is under construction. 
"It's very simple to operate," he said. "You have to make sure you can stop it, because when you got several cars on there and a pile of people, it can weigh many thousand pounds."
Harrington began laying tracks for the train in 1986. The tracks now wind 3,000 feet around a couple of acres. One track go over a wood bridge he made. Another track goes around a pond. He said he had to be careful not to make the grades too steep. He even built an unloading track for visitors wanting to bring their own 1/8 scale locomotives. He takes his trains to other tracks.
He since has bought several other locomotives. 
"There's two more locomotives in the workshop and two more locomotives in Phoenix," he said. 
Q and A
HOW DID YOU COME TO BE AN OKIE FROM MUSKOGEE?
"I was transferred to Muskogee in 1978 and worked for a company called Fansteel out at the Port. Fansteel later moved me back to North Chicago. I began an odyssey of different jobs from 1990 to '97, different positions at six different companies. Got a call from a friend who said they had an opening at Georgia-Pacific. Wound up at Georgia-Pacific in 1997 and have just now retired."
WHAT DO YOU LIKE BEST ABOUT MUSKOGEE?
"I like the size and the people. It's easy to get around in. We have everything we need. There's no desire to travel to Tulsa for anything. We enjoy Honor Heights Park. I can get anywhere from one side to another in 20 minutes."
WHAT WOULD MAKE MUSKOGEE A BETTER PLACE TO LIVE?
"It's nice like it is. We have a mix of good things and bad things in there. I think it's fine like it is."
WHAT PERSON IN MUSKOGEE DO YOU ADMIRE MOST?
"There have been many people I've come into contact with. Teachers at the high school. Scott Robinson at the Port when I worked out there. Rodney Bond at Georgia-Pacific. These are people who made decisions and kept things going. There are people in churches I've met. I like Rick Ewing at the parks department."
WHAT IS THE MOST MEMORABLE THING TO HAPPEN TO YOU IN MUSKOGEE?
"When we moved in 1984, and I left, I figured I'd be back in Muskogee. And it happened two years later in 1986. I thought deep inside me that we'd be back."
WHAT DO YOU DO IN YOUR SPARE TIME?
"I was an ordained deacon at Grace Episcopal Church and I recently retired. I just retired from Georgia-Pacific. Now I have a clean slate, I worked all my life, so I have to go through a period of adjustment as to what I'm going to do with my time."
HOW WOULD YOU SUM UP MUSKOGEE IN 25 WORDS OR LESS?
"Great place to live."
Meet Tom Harrington
AGE: 72.
HOMETOWN: Racine, Wisconsin.
EDUCATION: William Horlick High School, Class of 1966; Bachelor of Science in mechanical engineering, Tri-State College, Angola, Indiana.  
PROFESSION: Mechanical Engineer.
FAMILY: Wife, Shelia; daughter, Heather; two grandchildren.
CHURCH: Grace Episcopal.
HOBBIES: "I enjoy trains the most. I like to travel, visiting museums."