Muskogee High School graduate Yesenia Ochoa Hernandez seeks to break down barriers wherever she finds them.
The Tia Juana, Mexico, native recalls how her family overcame barriers.
"My parents were agricultural workers, so they used to move with the job," she said, recalling that her family lived in Laredo and Tyler, Texas, as well as Alabama, Louisiana, Oklahoma and Florida.
"I got to enjoy it because I got to socialize with people," she said. "I can make friends pretty easily. And it was fun because you got to meet a lot of people in a lot of different communities."
The family settled in Muskogee by the time Hernandez was in high school.
"Muskogee just stole our heart," she said. "I like the quiet and peace of it," she said. "It's a very calm place to live and to raise kids as well. In many places you see a lot of violence. I grew up in a part of Texas where schools weren't safe. They had a lot of gangs in schools You never knew what was going to happen to you."
Hernandez attended Indian Capital Technology Center during her junior and senior years at high school. She studied to be a nursing assistant and studied medical coding.
Her interests changed when she got a legal assistant type job with Neighbors Building Neighborhoods.
She now puts her socialization skills to use as a Hispanic success coach for Bridges Out of Poverty, an organization that empowers low-income families ​to change their lives by discovering and overcoming barriers.
Hernandez also breaks barriers by referring Spanish-speaking women to the Women Who Care breast cancer awareness/advocacy group.
She said she seeks to be a certified interpreter for health care or the court system.
"I do like to break barriers," she said. "I don't think anyone should have a barrier in their life. Everyone should have the same chance and opportunity as everyone else."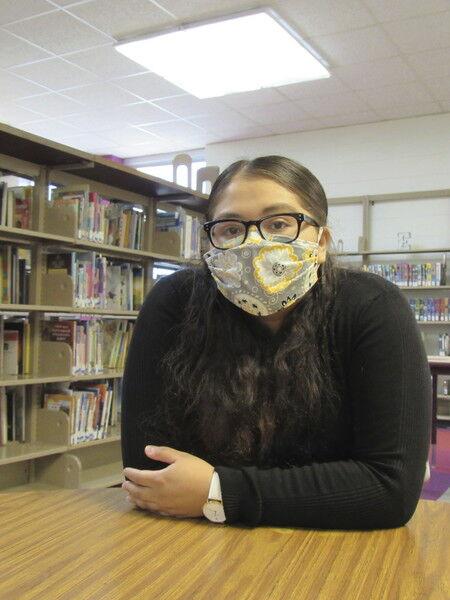 Venturing into new directions 
Yesenia Ochoa Hernandez first encountered community service when she was a student at Muskogee High School.
She got involved with the Youth Volunteer Corps, YVC, of Muskogee. She volunteered at St. Joseph Catholic Church, as well. She also helped MHS Librarian Jennifer Kilgore at the MHS media center.
"I used to spend all my lunch there helping her in the mornings," she said. "Any free time I had, I was there."
Hernandez was active in MHS Rougher soccer and cross country. 
She played soccer for two years until she hurt her knee. Then, she became the team manager.
She recalled the impact the coaches and the sports had on her.
"I know my teacher, Coach Hillmon in cross country, would push me to do better because she knew what I could do," Hernandez said. "She saw potential."
Hernandez said she wasn't the best cross country runner, "but I could keep up."
Cross country running improved her mood.
"If I ever felt any anger or stuff like that, running helped a lot," she said. "It still does. I try to do it at least twice a week."
Finding just the right path 
Hernandez' job with Neighbors Building Neighborhoods changed what she wanted to do with her life.
She said part of her job involved helping find attorney help for people who could not afford one. 
"There were a lot of people having problems with misdemeanors and they needed an attorney," she said. "That problem used to give them access to an attorney if they could not afford it."
The program also helped remove warrants, she said.
"We have a lot in Muskogee and that gave them a chance to restart their lives and get jobs," she said. "We did it with the county and the city for a while. Overall, I think it was between 400 and 700 people who had their warrants removed."
She said she saw how she was helping people.
"That's when I decided I wanted to do something in criminal law. I wanted to figure out, exactly, what I wanted to do there," she said.
Hernandez is taking criminal justice classes at Connors State College.
Bridges program helps people thrive 
Hernandez called Bridges Out of Poverty an amazing program.
"A lot of them don't know they can change their lives," she said. "This gives them hope, opportunities. They can meet more people."
The program introduces people in poverty to first responders, social workers or assistance programs.
"In one meeting, they met police officers, and they were excited because they got to ask questions they never knew the answers to," Hernandez said. "They used to think 'they're just here to tape me and arrest me.' Now they have a relationship and they can call and ask questions. Or if they feel there is racism with an officer or something, they could talk to them directly and break that barrier."
Hernandez said she helps many Hispanic participants overcome a language barrier. It's a challenge.
"I'm only one person, and sometimes 130 of my graduates don't speak English," she said. "We need more English classes for them."
She said she helps participants "investigate" such issues as coping with bills, avoiding predatory lenders, finishing school and finding work. 
Hernandez said her biggest reward comes when she sees how the program changes participants' lives.
"And their smile," she said. "Seeing how happy it makes their family."
HOW DID YOU COME TO BE AN OKIE FROM MUSKOGEE?
"The first time my parents came was in 2007. I was 8 years old. They loved it, except an ice storm came. After the ice storm was over, we left. My parents got divorced and my mom moved to Florida after that, but my mom kept coming here for vacations, and she just loved it. She thought it was safe, so we moved back in 2013."
WHAT DO YOU LIKE BEST ABOUT MUSKOGEE?
"The safety in the community. I traveled a lot when I was younger and I got to see a lot of the communities. This has got to be one of the safest ones. You can walk here calmly and feel safe. It's a very calm place."
WHAT WOULD MAKE MUSKOGEE A BETTER PLACE TO LIVE?
"If we had more things to do as a community. Different activities, more entertainment. I know a lot of people will want to have more for the younger kids. I know there are a lot of language barriers, to have more bilingual people so they don't have any barriers."
WHAT PERSON IN MUSKOGEE DO YOU ADMIRE MOST?
"Wren Stratton. She was a former teacher of mine back in high school, and she supported me in a lot of things. When I didn't have hope for myself, she helped me a lot. I just kept learning from her. She pushes every single one of her students to do their best."
WHAT IS THE MOST MEMORABLE THING TO HAPPEN TO YOU IN MUSKOGEE?
"That I got hired at Neighbors Building Neighborhoods. I started working there with Bridges Out of Poverty and also a legal assistant program they had. That opened my mind to meeting a lot of leaders in our community, and how we can always help."
WHAT DO YOU DO IN YOUR SPARE TIME?
"I like to spend time with my family, travel, take adventures, go hiking. One of my favorite things to do is cook."
HOW WOULD YOU SUM UP MUSKOGEE IN 25 WORDS OR LESS?
"Muskogee is an extraordinary place. It's quiet, safe and has a lot of very friendly people. It's a wonderful place to raise a family."
MEET Yesenia Ochoa
Hernandez
AGE: 21.
HOMETOWN: Tia Juana, Baja California, Mexico.
EDUCATION: Muskogee High School, 2017; studying business administration and criminal justice at Connors State College. 
PROFESSION: Part-time Hispanic success coach at Muskogee Bridges out of Poverty; part-time clerk, Muskogee Public Library.
FAMILY: Husband, Fernando Hernandez.
CHURCH: St. Joseph Catholic Church.
HOBBIES: Reading and running.