Matthew Price has considered many ways to help make Muskogee a better place. 
"I always wanted to help people, and the best place to do that is to start at home," Price said. "The city is just like anything else in life, you care about it, give time to it, do what you can to help it grow, make it better."
Price started out, at age 5 or 6, wanting to be on stage. He fulfilled that dream early at area theater productions.
He said he then considered being an emergency medical technician or another occupation in the medical field. He was a certified nursing assistant at the former Muskogee Community Hospital for a while.
"I didn't want to work those hours," he said. "I didn't enjoy the more mechanical aspects of the science courses I had to take in school."
Price said he switched to education, even interning with Muskogee High history teacher Jack Reavis. He recalled that, toward the end of the internship, he met with an old school chum, John Tyler Hammons.
"He and I had been talking about what the next step would look like, where we were going next, what we wanted to do," Price said. "We wanted to do something where we could help the most amount of people, the opportunity came up for us to go to OU law school."
Price and Hammons now partner in a law firm with Jeremy K. Hamby. Price's specialty is criminal law.
He also makes time to be with his family, perform on stage and serve on boards for Muskogee Little Theatre, Muskogee Area Arts Council and Neighbors Building Neighborhoods.
"I could live in this office if I wanted to. I could let it dominate my entire life," Price said. "I chose not to do that. I keep office hours so can have a family life."
Walking clients through process
As a public defender, Matthew Price said he sees himself as an educator, as well as an advocate.
"A lot of these people don't know how the system works, what the procedures are, what their rights are," he said. "Part of that is letting them know what to expect."
He said he approaches each case by getting informed on the case and to help his client make the right decisions.
"You do that by getting the police reports, you go through and understand what type of evidence would be used against your client in the event they went to trial," he said. "That way you can tell them what a trial would look like, this is the information they'd present against you and this is the likelihood you might get convicted. That way you can tell them if a plea deal is a better idea or pleading before the judge is a good idea or a jury trial."
Some cases are harder than others.
"Emotions run high. You're talking about people's freedom," he said. "Sometimes you'll have cases where the client is reasonable and understanding and you can't  help them. Other times you'll have cases where they're very unreasonable, but you can help them quite a bit."
Finding time for performing 
Price spent a lifetime performing on stage — and watching others perform.
"My grandmother and I always watched all the movies on Turner Classic Movies, all the Fred Astaire, the Gene Kelly musicals," he said. "I always liked the stage, musicals in particulars." 
He started with the Muskogee Little Theatre production of "Oliver" when he was about 8 years old. 
"I liked it early on, and my mom and dad encouraged me," he said. "Every chance I got a play I could be in, they were right there backing me up, taking me to all the practices. As fun as they are, they're a time commitment. Every one of those shows takes up two months of your life."
Price said he remained interested in theater through high school and college. He said it's hard to find a favorite show in which he performed.
He has been in a couple of community plays since he's been practicing law.
"The time constraint, it is difficult, but you move some things around, you can make it work," he said.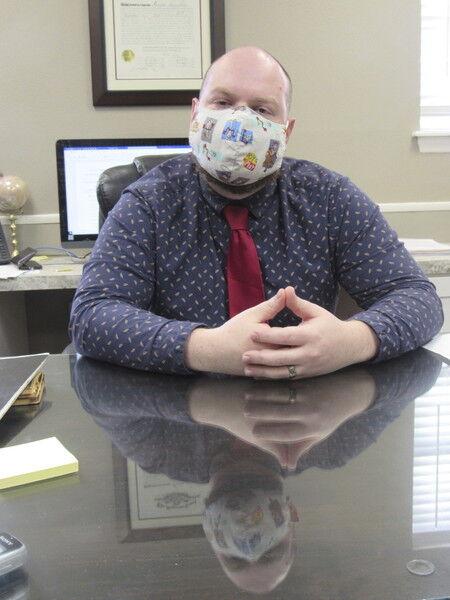 Giving back to community  
Price makes time to serve community organizations. This means doing work beyond board meetings.
"It's important to give back," he said. "When we're all entertained, when we're all fed and warm, it allows us to all be better. It allows us to help each other be better." 
Price said he got involved in Neighbors Building Neighborhoods when his law firm worked with the Bridges out of Poverty program. At the time, the Bridges program was at the Nonprofit Resource Center, the same building as NBN.
"We got to be pretty involved with a lot of the events they put on and get involved with the nonprofits that exist at the center," he said. "They have several programs I'm a big fan of. Over at the Martin Luther King Center, they have a summer program called Community Treasures. It's a program that allows kids to learn, do arts and crafts, go on field trips."
He said Muskogee Area Arts Council supports programs that range "from teaching people guitar to murals on buildings." 
"Art in a community is that community's personality," he said. "Making sure that art is visible, where not just members of the community, but people outside the community can see it, tells everyone else who we are, what we value."
Q and A
HOW DID YOU COME TO BE AN OKIE FROM MUSKOGEE?
"I was born and raised here. My first job out of law school was in Enid.... There was an opening at the Muskogee County District Attorney's office. I love this place, I always wanted to practice here. When that happened, I jumped right at it." 
WHAT DO YOU LIKE BEST ABOUT MUSKOGEE?
"It's got an interesting feel to it. It's got that small town feel, but we are so much larger than that, which has given us the ability in the last few years to start the kinds of businesses we have downtown."
WHAT WOULD MAKE MUSKOGEE A BETTER PLACE TO LIVE?
"I think it's happening right now, investing in your community, the downtown events and activities that are going on right now. The Farmers Market. Right now, the Muskogee Area Arts Council and several other area organizations have been putting a lot of resources into Depot Green and investing in the Depot District. Keeping those festivals alive is what's keeping people here."
WHAT PERSON IN MUSKOGEE DO YOU ADMIRE MOST? 
"Ann Ong. She has been part of movements, organizations, start-ups, planning organizations to better Muskogee for at least the last 30 years. She is one of those people who truly want to make Muskogee better, and she's never looking for the credit either."
WHAT IS THE MOST MEMORABLE THING TO HAPPEN TO YOU IN MUSKOGEE?
"To be part of the first show at the new Muskogee Little Theatre, 'Mary Poppins' in 2016. That was the first time anyone got to be inside that building and, just the experience at the time and interest was truly great to see."
WHAT DO YOU DO IN YOUR SPARE TIME? 
"Spend time with my wife and kids. They keep me pretty busy. I like to make sure they get to experience what Muskogee has to offer." 
HOW WOULD YOU SUM UP MUSKOGEE IN 25 WORDS OR LESS?
"A place with people who truly care about bettering their community."