Nicole Six loves finding ways to help people and the dogs they love.
She lives with three dogs — a 15-year-old Jack Russell terrier named Little Bit, an American pit bull terrier named Star and a Chihuahua named Chi Chi.
The lifelong animal lover grew up seeking a career in criminal justice. She said some friends and family members were in law enforcement. Six recalled joining an Explorer Cadet program while growing up. She rode along with police and helped provide security at sporting events.
Six studied criminal justice, sociology and psychology at Bacone College and worked at Muskogee County/City Detention Facility and the Juvenile Detention Center.
A little more than three years ago, she switched careers and was hired as a dog trainer at Muskogee's Petco. She said she became interested in training while learning to be a "pet parent" for Star.
"Now I can help people and love on animals," she said. "It's all kind of worked out."
In 2004, Six was diagnosed with maternally inherited diabetes and deafness (MIDD). She recalled the diagnosis was a "double whammy" considering she has a family history of hearing impairment and tinnitus.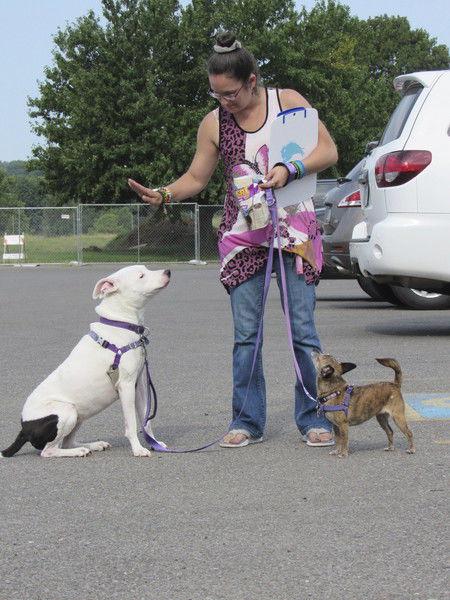 "It's a constant, very high-pitched tone for me," she said. "Luckily, the hearing aids I use have a white noise."
Six wears an insulin pump to steady her sugar levels. She said she also must avoid fruits and fruit juices, and watch intake of corn and carrots. 
She said the illness and handicap have made her want to help dogs that are "handi-capable."
"I'm hoping to eventually become a business and do individual training, maybe even be mobile and help veterans and elders; be a little more accommodating," Six said. "That would be a big thing to help with."
Working with
inmates impactful
Nicole Six recalled learning a lot while interning and working at the jail.
"I had to do a lot of paperwork because I had to do a lot of watching from the tower," she said. "I had to make sure nobody got into any fights, and medications were brought on time."
She made an impact in that short time.
"I never asked them, but at the end of the nights prisoners in the female tank would include me in their prayers," Six said. "Makes you feel good and feel special." 
Her two years at the Juvenile Detention Center were "definitely hands-on."
"I made sure I was on the floor with the juveniles," she said. "It was very structured. We had meals at certain times, and the employees would actually eat with the juveniles."
At that time there were 10 cells, each with a juvenile.
"We had to make sure things were safe and secure and there were no escapes, make sure they didn't have or make any dangerous objects," she said.
The biggest rewards came when the youths were on good behavior.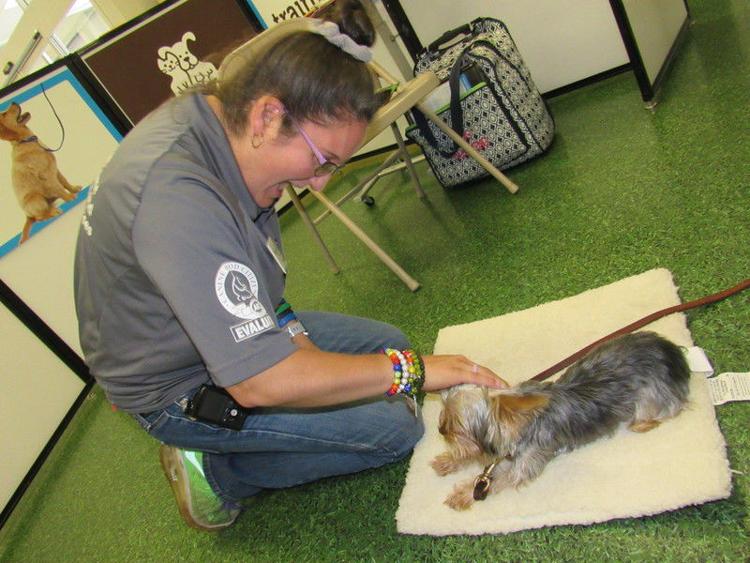 Six said her short stature proved to be her biggest challenge.
"They maybe did not take me seriously because I was small and petite," she said. "I just had to stay adamant. I had to make sure I backed my coworkers and that my coworkers backed me. I was serious. I didn't play around. I didn't do too much joking."
Training dogs 
with disabilities
Partly because of her hearing impairment, Six uses hand signals in her training.
They include a making fist for "sit," and actively pointing to the ground for "down." She moved her finger back and forth, saying, "'leave it' would kind of be a 'no-no' hand signal."
She said she used the hand signals on a deaf dog, which she had trained for a year. 
"When I started with the deaf dog and the parent, the challenge was to get them to communicate appropriately and to understand each other," Six said. "For me, it was really easy because I relate to it being hearing impaired."
However, she also uses hand signals with hearing dogs.
"It has been tested and proven that hand signals are more effective," she said.
She said she has been asked to work with what she calls "handi-capable" dogs, including a blind dog and one that has seizures. Six said she would train the blind dog with gentle touch commands.
"Maybe one signal would be touching the head gently," she said. "Maybe very gently touching the rear end. That would indicate 'sit.'"
Training dogs 
and their owners 
Six uses positive reinforcement to train her dogs and her clients' dogs.
"I do not include force or fear," she said. "No choke, no chain, no prongs, not even retractable leashes and no electric collars. That's a big one. The only time I would consider an electric collar would be vibration only, and that would be on a deaf dog with a long-distance recall."
Positive reinforcement might include starting out with treats, then possibly wean them off treats.
"The dog will expect the treat every time, but not necessarily get the treat every time," she said. "It has to be a high value, before the dog is consistent and repetitive to what we want. It takes a lot of patience, for sure."
She said she mostly trained herself to train dogs.
"It pretty much came natural for me," she said.
Six said dogs differ in how easily they're trained. Breeds don't make much difference to her.
"I work with the same breed multiple times, and each dog is different," she said. "One dog is easier than the other."
Sometimes the biggest challenge comes with the dog's owner.
Six said pet parents must reinforce what their dog has learned.
"It's supposed to be a team effort, honestly," she said. "Training the owner is a big part of it's a lot of information also, learning their breed better, learning how to read their dog's behavior better."
Q and A
HOW DID YOU COME TO BE AN OKIE FROM MUSKOGEE?
"I moved here with my grandmother in 2003. We lived in Tulsa for six months, then moved to Muskogee."
WHAT DO YOU LIKE BEST ABOUT MUSKOGEE?
"Sometimes the advantage of being such a small town, you know a lot of people. It helps with word of mouth. Sometimes the community can be very helpful in coming together in tragic situations, or offering support to help somebody with an injury."
WHAT WOULD MAKE MUSKOGEE A BETTER PLACE TO LIVE?
"Getting rid of the vacant buildings and actually utilizing those spaces for businesses that come into Muskogee, not just improving the downtown area, but actually using spaces that actually are up to date."
WHAT PERSON IN MUSKOGEE DO YOU ADMIRE MOST?
"A retired police officer named Fred Winters. When I was at Bacone, I did STOP, Students On Patrol. I was working with him. He was very supportive and very helpful. He has always been a good friend of mine. He actually happens to live down the street from me. He has been helpful in various situations. He's just an all around great personality, very positive."
WHAT IS THE MOST MEMORABLE THING TO HAPPEN TO YOU IN MUSKOGEE?
"When I was back in college, when my husband and I first got together, I went to a person's house in Okay and I had my vehicle broken into." 
WHAT DO YOU DO IN YOUR SPARE TIME?
"I spend a lot of time with my family. We do almost everything together. I spend a lot of time at my mom's house in Broken Arrow. I like bowling. My husband and I were in a fun bowling league recently." 
HOW WOULD YOU SUM UP MUSKOGEE IN 25 WORDS OR LESS?
"Small town. Can be friendly, interesting." 
Meet Nicole Six
AGE: 35
HOMETOWN: Lived in Indianapolis from age 3 to 18.
EDUCATION: Warren Central High School, Indianapolis; Associate's degree from Bacone College.
PROFESSION: Dog trainer at PETCO.
FAMILY: Husband, Larry; two children, ages 10 and 3.
RELIGIOUS AFFILIATION: "I'd like to think I'm more spiritual. We have a mixture in our household."
HOBBIES: "I'm very DIY, Miss Fix-it at our house. I like to do arts and crafts. I love to put things together."