As Antioch Temple of Hope's new executive pastor, Dr. Sarah Cooper seeks to expand ministry beyond church walls.
"The executive part is how do we put plans and actions in place to help people get what they need within the four walls, so they could go out and function outside the four walls," Cooper said. "What drew me was seeing people grow in here, then go out to the hospitals, the day cares, the gas stations and be the best person in God they can be, then start to realize 'this is ministry too.'"
Antioch lead pastor, Marlon Coleman, said he is excited Cooper joined the staff.
"We finally have a member of the leadership team with the education and the ministry background to help us move the church forward," Coleman said. "And it couldn't have happened at a better time than COVID-19, because so many churches are struggling to get their membership back and discovering what the new normal is going to be at the church."
Cooper is responsible for the day-to-day operation of the church, he said, adding that Cooper will preach at times and bring some Sunday school lessons by audio, as well as live Bible studies.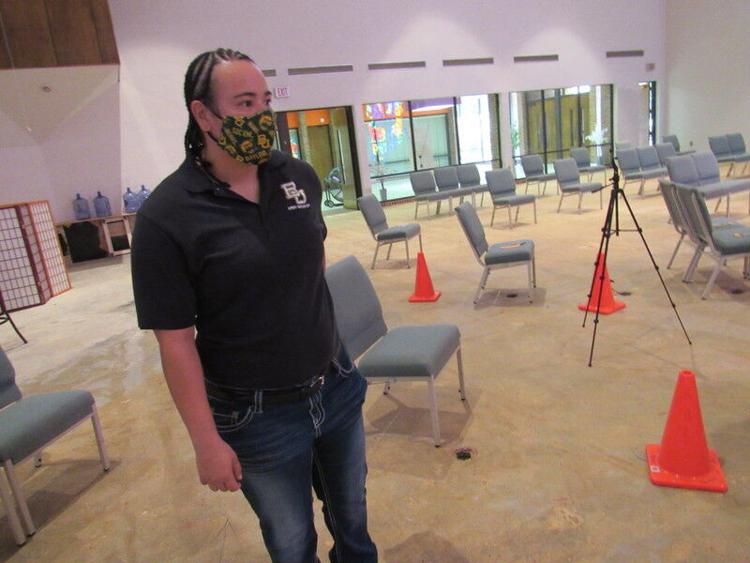 Coleman said Antioch had needed an executive pastor even before he was elected Muskogee mayor last July.
"She came to us at just the right time," he said. "She has been here for a few years. and she has just evolved in her leadership and in her education."
Coleman said Cooper wrote a detailed plan for church growth.
"We hope that once we implement that plan for our church that it will be a model for other churches," he said.
Cooper said she would like to see how the "huge space" inside the Antioch facility could be put to use.
"Where can kids go to learn that's not just church," she said. "Or, what can adults come and figure out about financial literacy or 'how do I find a job. How do we have community-type things where they can find it here and don't have to go searching everywhere."  
She said her vision matches Coleman's vision, to make ministry "real, relevant and relational."
"If people think God is a god of 2,000 years ago, the legacy will die," she said. "We want to see God as the god of now and of the future." 
Cooper grew up in the tiny west Texas town of Sundown. She said she heard about God from an early age. However, she said she didn't seek to know God until she was in high school and got involved with such groups as Fellowship of Christian Athletes.
Her faith developed further when she attended Angelo State University in San Angelo, Texas. She earned a degree in physical therapy there. She went on to earn a doctorate in physical therapy through the Army-Baylor University DPT program.
She said she felt a call to the ministry while working in physical therapy.
"People would say, 'we created this program that is so life-changing,' and I'd say, 'it kind of physically changed your life, but did it really change your whole life," she said. "Then in my mind, it was like how to connect ministry to every gift and talent God gave me."
Cooper earned a master in divinity degree from the Liberty University seminary.
She came to Muskogee in 2018 to work as a physical therapist at the Jack C. Montgomery VA Medical Center.
Meet Sarah Cooper
AGE: 35.
HOMETOWN: Sundown, Texas.
EDUCATION: Seminole High School, Seminole Texas; bachelor's degree in kinesiology from Angelo State University; doctorate in physical therapy from Baylor University; master's of divinity degree from Liberty University.
PROFESSION: Executive pastor at Antioch Temple of Hope; physical therapist at Jack C. Montgomery VA Medical Center.
FAMILY: Husband, Goldie Cooper; one daughter, Phoebe.
HOBBIES: Outdoors, fishing, playing the drums.
MOST MEANINGFUL BIBLE VERSE: Proverbs 16.