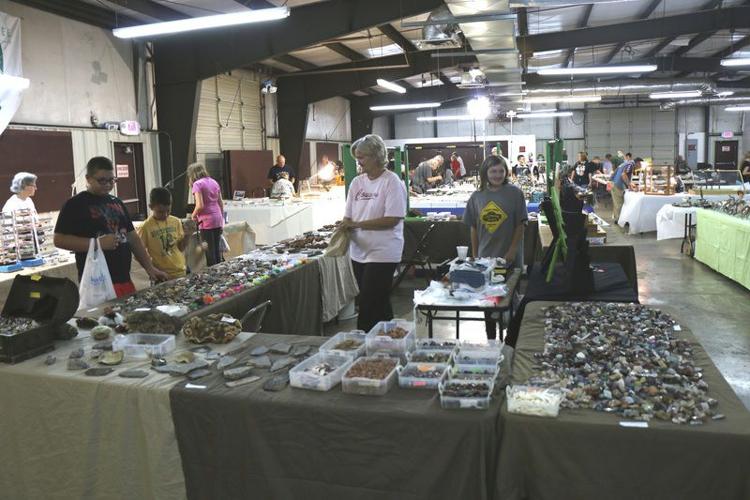 What looks like a pile of rocks can dazzle with colors when shown in the right light, according to area rock hounds.
Visitors can watch these rocks glow at the Tahlequah Rock and Mineral Society's annual show, Friday and Saturday at the Cherokee County Community Building.
Admission is $3 for people 13 and older. 
Club member Roger West will bring his collection of fluorescent rocks, which will be displayed under an ultraviolet lamp. West said people cannot see ultraviolet light, which is beyond the light spectrum.
"The rock absorbs it and changes it to visible light," West said. "It can be very pretty colors. Sometimes kids will say 'it's fluorescent paint you put on the rocks,' but you can crack them open and it's the same pretty colors all the way through."
West said certain minerals make the rocks glow, or fluoresce.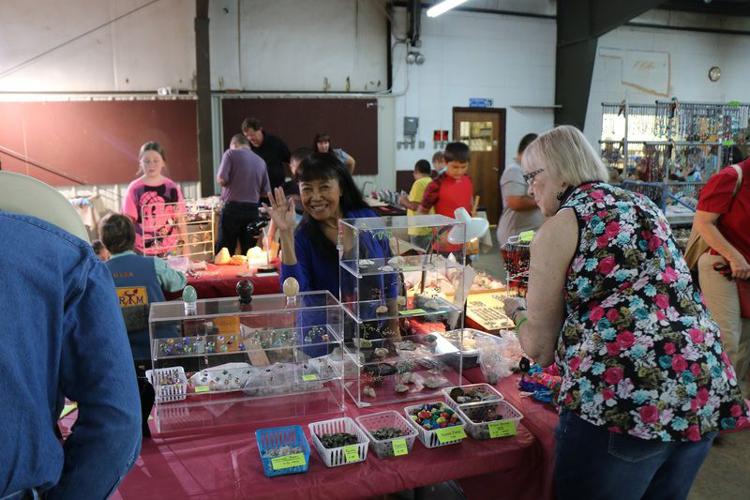 "Sometimes common minerals that don't fluoresce will fluoresce if some other element contaminates it," he said. "Some minerals will fluoresce on their own."
For example, calcite will not glow unless it has some contaminating minerals in it.
"Then, it's one of the brightest fluorescers," West said. "It will fluoresce a bright red color." 
Wilowmite glows a bright green, he said.
"Some of these rocks will continue to fluoresce when you turn the light off. It's called phosphorescence," he said.
West said the fluorescent lights are a particular hit with area students, who come by the busload on Friday.
"They're very light and colorful," West said about his rocks. "Some of the students come back for more than one year after having seen it."
West said he inherited his collection from his father, who got the rocks by mail order. They come from Franklin, New Jersey, which he said is a world famous site for fluorescent walks.
"You can't just walk out in a field and find pretty rocks like those," West said. "They come from a deep mine."
The show also features educational exhibits from Oral Roberts University's Elsing Museum and the Correll Museum in Catoosa. Vendors will have exhibits featuring rocks, minerals, gemstones, fossils, jewelry and nature-craft related products.
The show will feature demonstrations in flint-knapping and sphere-making.
Geology experts can help collectors identify unknown items in their collections. Hobbyists can look for equipment and tools. 
Maxine Woods said the annual show draws a lot of visitors.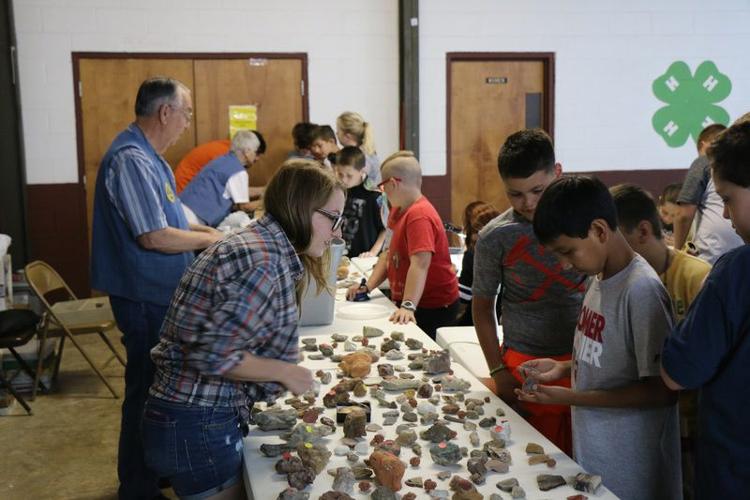 "The vendors do a wonderful job showing," Woods said. "There's lots of people who like rocks. I talk to people all the time, wherever I go, they have a collection of rocks.
"We have one whole corner for the kids," Maxine Woods said, adding that the corner will feature a gem dig.
"They're given a magnifying glass and a scoop and tweezers, and they pick out their gems," Woods said. "We have tables and we just line them up. We have lights and everything for them."
A silent auction will be Friday and Saturday. Proceeds from the show go toward a $1,000 per-semester scholarship for a Northeastern State University student studying earth sciences.